Nobody's Wondering if Rory Gilmore Won a Pulitzer
She's 32 years old. We're just hoping she has a job.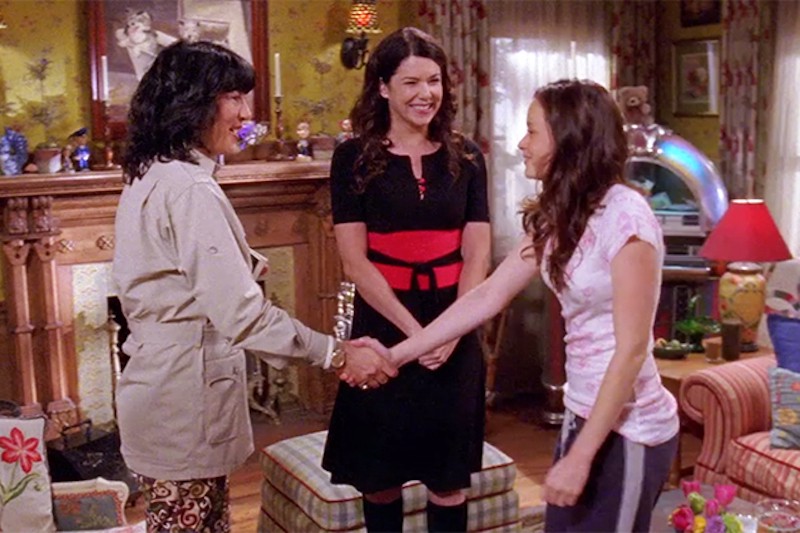 This week, Gilmore Girls showrunner Amy Sherman-Palladino asked why we were more interested in Rory Gilmore's boyfriends than in Rory's career:
Gilmore Girls Creator Amy Sherman-Palladino Wishes You Weren't So Obsessed With Rory's Boyfriends
The fact that people love [the boyfriends] and are excited about them is great. It's just such a small part of who Rory is. I don't see people debating "What newspaper is Rory's working for?" "Did she win a Pulitzer yet?" It's all about Dean and Jess.
Okay. Um. The reason nobody is debating whether Rory might have won a Pulitzer is because we already know she did not win a Pulitzer.
Rory Gilmore turned sixteen in November 2000. There was a whole episode about her two birthday parties. That means she is just now 32 years old—like, literally this month.
Leonora LaPeter Anton, who won a 2016 Pulitzer for investigative reporting, "joined the [Tampa Bay] Times in 2000, the same year she won the American Society of News Editors award for deadline reporting."
Alissa J. Rubin, 2016 Pulitzer winner for international reporting, joined The Los Angeles Times in 1997 and The New York Times in 2007.
Even younger Pulitzer winners have an enormous head start on Rory, in terms of their careers:
10 Things You Need To Know About 24-Year-Old Pulitzer Prize Winner Sara Ganim
Ganim worked at Florida's "Sun Sentinel" while still in high school, majored in journalism at Penn State, graduated in three years, and was working at the "Centre Daily Times" by 2007. She started covering the Sandusky story at 22. At age 24, she's already on her third reporting gig.
Not to be all Mitchum Huntzberger about it, but Rory does not have what it takes to be a Pulitzer-winning journalist right now.
She may never have what it takes, honestly. Her first post-grad journalism job was working the 2008 Obama campaign trail for an unnamed "online magazine." It's meant to signify the future—Senator Obama! The internet!—but it also signifies that Rory is starting down a specific path that does not necessarily lend itself to Pulitzer-style investigative reporting.
We aren't asking what newspaper Rory is working for because we're pretty sure she's not working for a newspaper. If she's still on the journalism side of writing, she's working for a place like Mic or Vox or maybe Politico. (Politico's editorial cartoonist Matt Wuerker won a Pulitzer in 2012, three years after online news sites became eligible for Pulitzer prizes.) Rory could also have transitioned into content marketing, lifestyle writing, or any of the other journalism-adjacent web content out there—and, honestly, that world might be a better fit for her. (It's certainly been a good fit for me, another quiet, bookish smart kid who doesn't have what it takes to do investigative journalism and, thankfully, never wanted to.)
Of course, Sherman-Palladino's comment leads me to believe that she might have a very different plan for Rory in the upcoming Gilmore Girls: A Year in the Life. One where Rory might actually be employed as a full-time journalist instead of a freelancer working for multiple web outlets. One where she might already have won a Pulitzer, apparently.
But no matter where her career might have taken her, Rory's still going to spend part of A Year in the Life hanging out with her old boyfriends. That actually feels realistic, since Millennials are connected to everyone they ever knew forever. Rory would have to see these exes clogging up her Facebook feed every day, and once they knew she was coming back to Stars Hollow they would totally message her about getting together for coffee.
So yeah, of course we're obsessed with Rory's former boyfriends. That's the one part of her life that we absolutely recognize.
Related reading:
How Gilmore Girls Do Money: Richard Gilmore
(I did a whole Billfold series on Gilmore Girls and money. Start there.)
---
Support The Billfold
The Billfold continues to exist thanks to support from our readers. Help us continue to do our work by making a monthly pledge on Patreon or a one-time-only contribution through PayPal.