How a Horticulturist-Turned-Entrepreneur Excels With Etsy
Jenna Koopmans runs a small jewelry business through Etsy.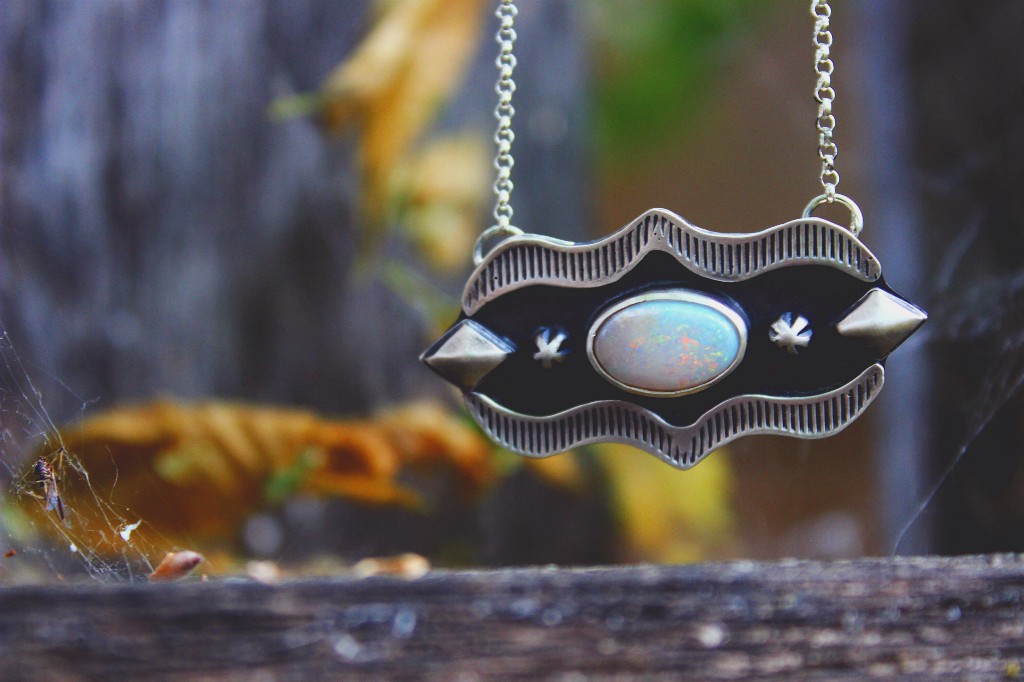 In September, I interviewed Suzette Sundae about how she earns a living from an Airbnb listing in Brooklyn. Before that, I interviewed Garnet Henderson about working as a professional dancer (and personal trainer/freelance writer) in Chelsea.
This month, I reached out to Jenna Koopmans, an entrepreneur located in Fort Collins, Colorado. She runs her own jewelry business through Etsy, a peer-to-peer commerce website focused on crafts and other handmade goods. We talked about word-of-mouth marketing, business expenses, and managing a small business online.
>>jewelry for the rogue spirit<< by jennakoo
Describe your living situation and expenses.
I live in Fort Collins. My husband and I moved here about four years ago from Wisconsin. I was doing horticulture for about eight to ten years and I made great money. After moving here, I tried landscaping, but it didn't pay as well, even for the city government. I was debating what to do, because at that point I was a stay-at-home wife. (I don't have kids.)
Jewelry fell into my lap. I started doing small projects with friends with beads and gem stones. Metalsmithing came naturally with that.
As far as our biggest expense, we own a home now, so our mortgage is the most expensive priority, but I spend more every month on my business. Every single dollar goes almost back into the business.
Did you start your business before you were on Etsy?
I did needle felting with lamb's wool and things like that as a hobby to keep my mind occupied when I didn't have a job. I opened up an Etsy to make extra money on the side. I made little animals and root vegetables. That didn't last too long, because the work was tedious and long. I didn't enjoy making them for everyone, but I really liked making them for my friends. However, the needle felting never boomed. I ended up getting a job and took a break from Etsy for a while.
I started making jewelry in September 2014, so it's been two years. It started word-of-mouth, even by Facebook. My friends wanted pretty earrings, and then everyone else wanted them. I ditched my previous Etsy shop and completely revamped to making jewelry.
When I opened up my Etsy shop, it was easier to get paid compared to being mailed cash or a check. Customers could pay with a credit card or PayPal. Of course, it helped get my name out to the world, because Etsy advertises for you. You can Etsy or Google search whatever you want, and millions of listings pop up.
How do people find you? Is it still word-of-mouth?
It's mostly word-of-mouth, but I'm also on social media. I can look at some of my insights now, like on Facebook and Instagram, to see where the main audience is coming from. I also do a little bit of Google Analytics. Surprisingly, my biggest audience is from Milwaukee, which is where I'm from originally, and Denver. It means my friends, originally buying from me in Milwaukee, helped spread the word around.
Etsy is funny. They'll push your items out there and show people what they're looking for, but it's oversaturated right now. It's hard to get a customer that way because there's so much to choose from. The chances [of a customer] clicking my picture and buying it [from a search] is slim. You can pay to boost your listings on Etsy, but that's never worked well for me, either.
I do all my own advertising instead, such as boosting Facebook advertisements, but word-of-mouth is biggest when people wear my products. A potential customer can see how it looks, including the quality.
Tell me more about boosting paid content on social media.
Up until a couple of months ago, Instagram was in chronological order but now it's in a different order. They have different settings for business profiles, compared to a personal account, which allows you to boost posts. You can choose an audience and pay as little as you want. I think it starts at two dollars. Instagram then will push your photos out to that specific audience you chose. I don't do a lot of this, because it's brand new and I think they're still figuring out what they're doing. If I boost a post for even ten bucks, it won't get that many likes. I'll get more likes than my other [non-sponsored] posts organically.
For some reason, Facebook is amazing. I'll boost photos to my friends and their friends, which gets a great response. I mainly do that before I have a shop update. Instead of adding items little by little on Etsy, I do a big update every couple of months. That way, I can build up the hype a little bit and gain interest.
Did you try sites that weren't Etsy in the beginning?
I have not, but I've looked into a few e-commerce sites. I don't have the time to build a website. I love the look of Etsy, which looks more professional. As far as the cost [of other e-commerce sites], I think it's almost the same [as Etsy]. Etsy can be quite expensive if you're making good sales every months, because they charge 20 cents just to list an item and another 20 cents every time you need to update that item, every three months. It's not that much money, but they also charge credit card and shipping fees.
Etsy now has a new version, too, where you can build your own website as well. It's their answer to e-commerce, so you can pick a pretty layout and a domain name for fifty dollars a month, but that's on top of all the other expenses. I haven't tried it yet, because Etsy is working for me. There's also a lot of big-name jewelers out there also on Etsy.
My friend, who's also a big jeweler on Etsy, was talking with me about the recent Instagram change. We think those on their websites possibly got hit harder than those on Etsy. At least with Etsy, you still have that community going. You're still getting a couple of views, here and there, which could lead to sales. You can still be in groups to help get the word out.
What kind of groups?
I used to be in a group called Etsy Colorado. It's a closed group within Etsy, like a Facebook group, with people local to me. We all makers of different sorts. Some people made jewelry, others made other knick-knacks. We'd favorite each other's shops and posts. It's also nice with encouragement. People can give you advice, such as rephrasing [your listings] and making your shop look better. We did craft shows in one spot together. It required a lot of time and energy, so I'm not in it anymore because I couldn't keep up.
What are the biggest pros and cons to having a shop on Etsy?
The biggest con is oversaturation. If you search for a silver cuff or bangle, you'll get a million different pictures before you see mine. That's difficult because your pictures have to stand out over everyone else's for [customers] to click on your picture and like it.
Also, if you buy something from Etsy, and someone asks you where you bought it from, you could say Jennakoo or, what most people say, "oh, thanks, I got it on Etsy." Then [those interested] search for that on Etsy [without knowing to look for Jennakoo].
As far as the pros, there's so much I love about Etsy. You can favorite shops and see their updates. I enjoy following shops, and when I shop on Etsy, they'll show me what's new on my favorite shops. I love that.
Additionally, I love the reviews. I have mostly five-star ratings. I love that my potential customers can read my reviews and learn what other customers enjoy about my products — heavy silver, great communication skills, replies quickly, etc. If people are on the fence about purchasing [from me], I'll tell them about my reviews. I have 150 positive reviews, which I'm proud of, since I've been only doing jewelry for two years. It feels like a community.
Would you have the business you have today without Etsy?
I don't know. It's hard to say.
Do you think you would have been successful without Etsy?
Yes because I work really hard on outside advertising without Etsy being involved. Etsy is basically my website; it's not necessarily like they boosted me to popularity. I love the community part of Etsy, but for myself, I have to say I'd still be successful. I have the drive to advertise myself, which is a learning process.
At the beginning, Etsy was essential to get my products out there with paid advertising. I had a small following then, including the customers I didn't know personally. Now, if I were to move to a different website, I think I would be just fine.
Danielle Corcione is a freelance writer. Their work has appeared on Esquire, the Establishment, and more. Follow them on Twitter via @decorcione.
---
Support The Billfold
The Billfold continues to exist thanks to support from our readers. Help us continue to do our work by making a monthly pledge on Patreon or a one-time-only contribution through PayPal.