Working for Free, for Profit, and Sometimes for Fun at the Local County Fair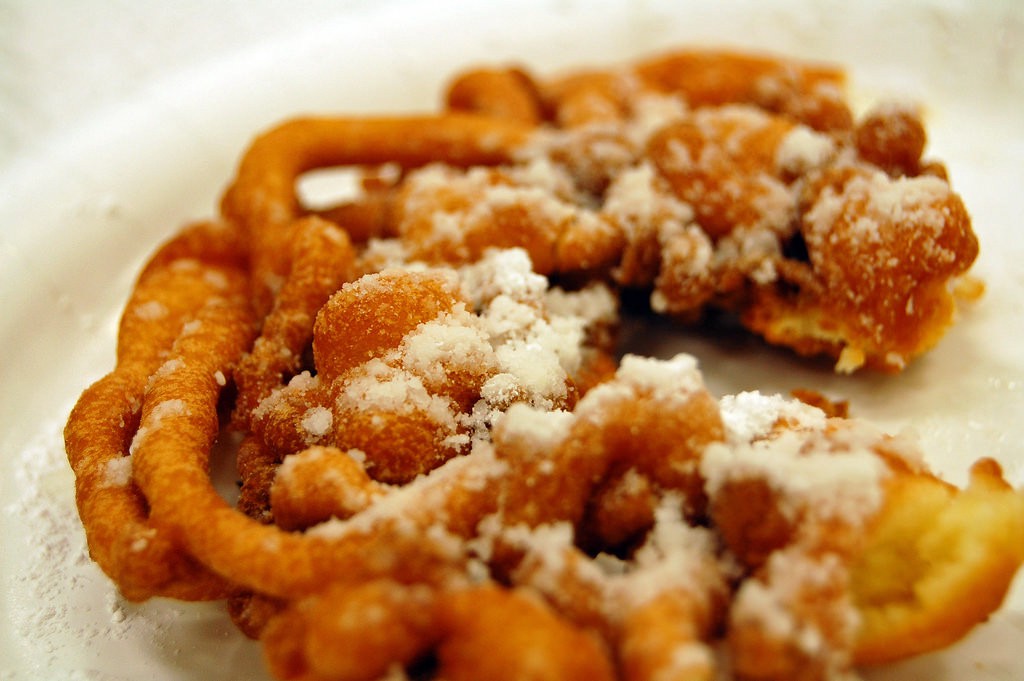 There were several constants to my childhood summers. I turned a year older every July, I went swimming nearly every day, and the local county fair ran for ten days from the end of July through the beginning of August. My church had a food booth in between a local Methodist church and the Old Trails Lions Club, which I remember best because they served ice cream cones.
By the time I was in middle school, I was a regular food booth volunteer. For the first couple of years, I loved working there. Kids manned the front windows, taking food orders, while older teens and adults handled cooking and food prep. Our system of yelling out orders could be a bit chaotic, but I loved being bossy.
After I got a little older, I moved on to making pizzas and working the fryers, and more responsibility was exactly what I wanted. When we weren't busy, the booth was the perfect place for people-watching and when I saw someone I knew walking by, I'd call out their name so they could come over and say hi. There was always food to munch on and pop music blasting on the radio. If I ever got bored, I'd tell my mom or another adult that I was going on a quick walk and slip away for fifteen minutes to wander the fair. There was always something to see — animals, arts and crafts, giant vegetables. The food booth was work, but not work.
Of course, working the food booth was fun because I hadn't actually worked yet. It was felt like work, because it could be, but unlike work, I had no real obligations. I could still leave when I wanted and although I had some responsibility, it was clear that all of the real responsibility belonged to the adults. I'm sure they were exhausted, but I didn't think about it too deeply at the time. They were much better about not complaining than I was.
My feelings about the fair changed by the time I got to high school. The fun of working for free had worn off. My clothes always smelled like fried dough and I couldn't go a day without getting pizza sauce on me. The busy dinner rushes would stress me out. There were also complicated feelings towards my hometown as well. The area is one of the poorest counties in Pennsylvania with a not-great reputation for drugs and crime. Even a recent article on Frank Lloyd Wright's Fallingwater in The New York Times described the area as a "rolling landscape littered with a backcountry potpourri of churches, crumbling barns, gun shops and fast-food restaurants."
In Frank Lloyd Wright Country, Architecture and Apple Pie
By the time I was a teenager, my interests were drifting away from what the environment around me had to offer. I could care less about demolition derbies or country music, but I pretended like I did at fair time to fit in. I wished I lived closer to Pittsburgh, the nearest big city, instead of the rural suburbs.
I applied to work at the fair the summer before my junior year of high school. I figured if I was going to have to go to the fair, I might as well get paid for it. My friend Jess from chorus had spent the previous two summers as part of the sanitation department. From the booth, I saw her riding around in a golf cart, stopping occasionally to haul trash bags in the back. I didn't really want garbage duty, but getting paid $5.15 an hour was better than nothing.
Instead, I got hired as a ticket seller, and it was the best job I've ever had. I knew it at the time too. I was so grateful to spend the ten days wearing a yellow polo shirt and sitting in the shade instead of flinging around trash or sweating in front of a pizza oven. There were four entrances to the fairgrounds (main, amusement, commercial, and livestock) and the majority of my time was spent at the commercial entrance. Most of the people who came in through that entrance had a table or small section advertising their business, so they came in the morning and stayed all day. Few new cars parked in our area, meaning I rarely had to sell any tickets.
Most of the other ticket sellers thought working at the commercial entrance was boring. It was, and I read two Stephen King books while working there. It was so great. Maybe now I would spend it on my phone, but at the time, I knew I was lucky to get paid to read. It ended up being the only summer I spent working at the fair. I was already tied up in a part-time job by the next summer. I volunteered a couple more times at the food booth until I moved away.
As much as I would have rather spent my summer doing anything else, I've come to cherish my fair memories, especially at the food booth. I got closer with kids from my youth group, fellow Catholic school kids, public school kids I barely knew. It gave me good stories and provided an anchor to the end of my summer. No matter what else happened, I knew I'd spend those ten days at the county fair. It taught me responsibility, teamwork, and cooperation. It brought into my life people that I wouldn't have met otherwise.
Whatever my weird feelings I have for where I'm from, it's my background, my hometown, like it or not. Sometimes I even feel protective of where I'm from in a way that I would have never predicted when I was younger. I can still find an appreciation for it, even if I'm not a big fan of tractor pulls.
Andrea Laurion is a writer from Pittsburgh. Her favorite fair memory was the year she won a pony.
---
Support The Billfold
The Billfold continues to exist thanks to support from our readers. Help us continue to do our work by making a monthly pledge on Patreon or a one-time-only contribution through PayPal.