The Cost of Things: Supporting Your People
As a feminist who cares about media, I had to pay to see GHOSTBUSTERS opening weekend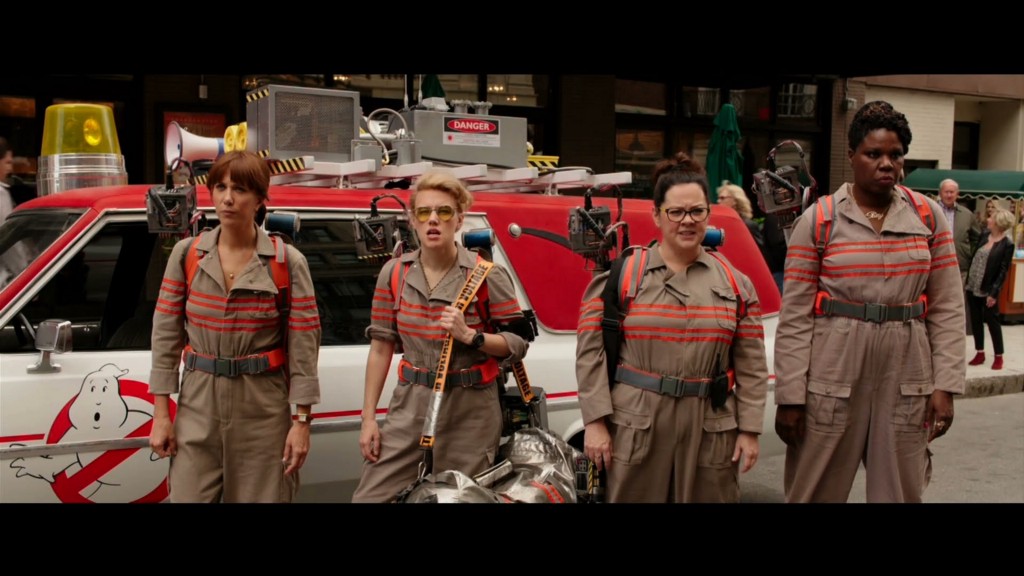 An episode of the new NPR podcast Code Switch recently addressed the phenomenon of "rep sweats," or the idea that, even if you yourself may not be crazy about something, because it reflects a minority position or ideology that you support, you still want it to win.
On The Podcast: Rep Sweats, Or, 'I Don't Know If I Like This, But I Need It To Win'
Reading the initial reviews of Ghostbusters, the new Paul Feig reboot of the classic 80s comedy, that's how I felt: I wasn't sure I wanted to see the movie, but I wanted it to succeed. Feig is like the Howard Hawks of this generation, a male director who is smart and savvy enough to build crowd-pleasing movies around female stars, and I wanted his most recent gamble to pay off. Since I was nearly killed laughing by Bridesmaids, made giddy by The Heat, and then thrilled by Spy, I felt confident I would like this effort, even if I wasn't able to use some of my carefully guarded stores of money or time.
At some point over the weekend, maybe while reading the comments on this NY Mag piece, I realized that wanting Ghostbusters to succeed wasn't enough. The movie itself had become such a flashpoint, and tempers were so high on both sides, that it didn't seem like enough to sit on the sidelines and cheer for my team. I had to join in. And so, on Sunday night, Ben and I did.
No doubt you've heard this before, but watching a movie in a theater, once you have kids, becomes a production, a bit like deciding to stage a circus. You have to get the babysitter in place. You have to decide whether to buy the tickets online in advance, even though the security of doing so costs you an extra buck or two. You have to decide what you and your partner are going to have for dinner: will you go out to eat close to the theater, so that the evening is more of a date, or pour leftovers down your throat without even tasting them before rushing off to the theater, so that you can limit the amount of time the babysitter is in charge, and charging?
Likewise, how will you get to the theater? Walk and save money, but get there only in time to grab a first-row seat for an uncomfortable, craned-neck experience? Or pay for a cab so that you can arrive in a timely fashion and choose where you want to sit?
We decided:
Taxi there, walk back. Total: $11
Pay for tickets in advance. Total: $26
Eat dinner in advance (leftovers). Total: $0
We left at 6:15 for a 7:00 show and were back at 9:45. Three and a half hours of babysitting cost us $70.
The total cost of my supporting this film that I wanted to succeed was $107. Not nothing, especially considering how stressed out about money I feel these days. But, for real, I started laughing at the first line and kept laughing throughout, and so did Ben. The movie wasn't perfect — especially during the third act, there were some strange moments and gaps in logic, like, how did those scientists afford the materials for the loopy, magnetic Kate McKinnon to engineer into lethal super-toys? — but it was always enjoyable, and smart, and fun. Plus, I got to feel good about acting in accordance with my values.
Once the numbers came out this morning and people started to play the perception game, I was extra glad Ben and I were able to give the film a boost. It made over $45 million, which, as Box Office Mojo points out, is "the largest domestic opening for both director Paul Feig and Melissa McCarthy." Sony execs are emptying buckets of green goo on each other in celebration, or so claims the New York Times. The great Scott Mendelson at Forbes, who can always be counted upon for context, writes:
It scored the biggest opening weekend ever for (deep breath) Paul Feig, Katie Dippold, Melissa McCarthy, Leslie Jones, Kate McKinnon, Cecily Strong, and Andy Garcia. It is just behind the $54m opening of The Martian for Kirsten Wiig's best live-action opening. This is even big for Chris Hemsworth, coming in below only the MCU films and Snow White and the Huntsman ($56m). No, I'm not counting his Star Trek cameo.
It's the biggest live-action comedy debut since Pitch Perfect 2 back in May of 2015. It's the third-biggest live-action opening of the summer behind X-Men: Apocalypse and Captain America: Civil War. And just this year, it's the second biggest live-action/non-superhero opening thus far behind only Walt Disney's The Jungle Book. So in a summer of many underperforming would-be franchises, this one broke out about as big as could've been hoped.
But, he asks, is that enough? It was made with a huge budget, the costs of which it must recoup, and it also came in second behind The Secret Life of Pets, which doesn't look great. (Perhaps it encourages even more Internet people to make more jokes about "bitches.")
Whatever happens with Ghostbusters, though, it's going to be a notable year in film for the ladies. After blowing the lid off of the box office in its opening weekend, thanks partly to female moviegoers, Finding Dory, Pixar's sequel that foregrounds the sweet, forgetful fish voiced by Ellen DeGeneres, is now the most successful animated film of all time (domestically). It's the #1 movie of 2016. I've long had a soft spot for Dory, since she's one of a few characters who's female for none of the typical movie reasons: she's not a mom, a love-interest, or a princess. Although she could be male, she just happens to be female. You'd think that wouldn't be revolutionary but unfortunately it still more or less is, even among the geniuses at Pixar: the characters they make still default to dudes unless there's some need for them to be otherwise.
The #2 movie of the year so far, Deadpool, is "actually pretty feminist," according to some critics. Zootopia, which is also female-driven, is at #5 on that list. Even The Secret Life of Pets seems to do okay when it comes to gender balance, offering star turns by Ellie Kemper, Jenny Slate, and Lake Bell. They're outnumbered, like the women of Deadpool, but they too seem to hold their own.
So: progress. Ridiculously slow, careful, highly contested progress. Progress in a field that should have been conquered long ago. But progress nonetheless, and I enjoyed contributing to it.
---
Support The Billfold
The Billfold continues to exist thanks to support from our readers. Help us continue to do our work by making a monthly pledge on Patreon or a one-time-only contribution through PayPal.