The Cost of a Weekend Away With Two Long-Distance BFFs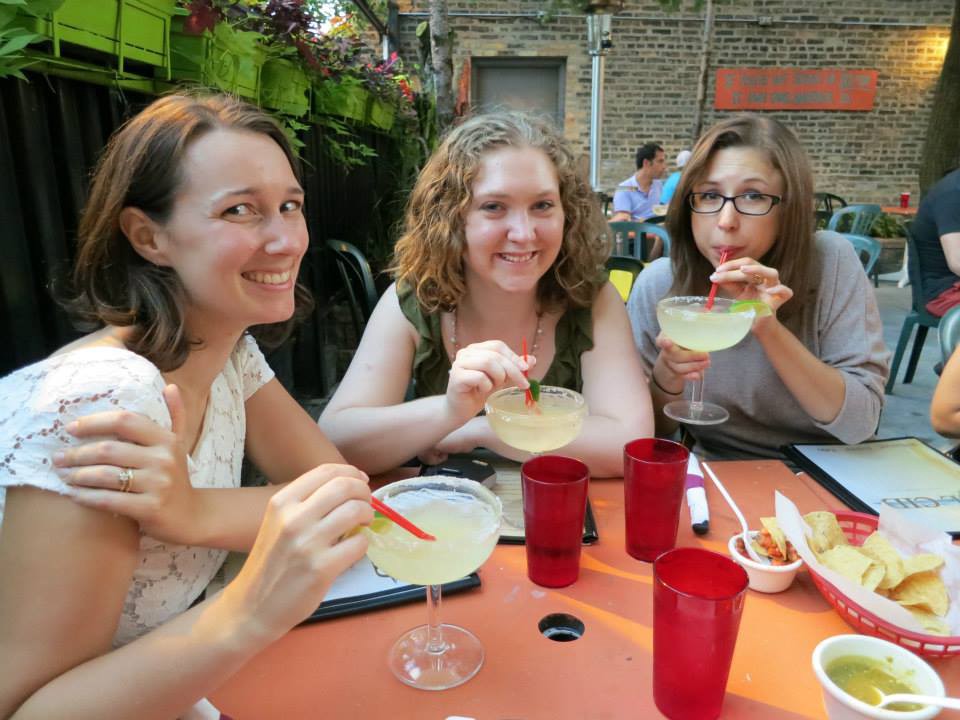 Five years ago, I met two of my closest friends thanks to a book club full of smart women in Chicago. I was relatively new to the city, and my then-coworker Sarah invited me to a meeting. That's where I met Stefanie, and after bonding over our distaste for a melodramatic Joyce Carol Oates novel the three of us ran around Chicago together pretty much from that day forth.
But Sarah moved to Salt Lake City two years ago, and last summer, Stefanie and I also defected for Boston and Portland, respectively. Aside from Thanksgiving 2014 spent together in Utah, we don't get to be in the same city that often anymore. While our friendship continues through group texting and remote, yet shared, enjoyment of live television events like The Bachelor and the NBA Finals, we still miss each other's company.
This spring, I got an email from our friend Kate, a fellow book club member. She asked me for my address so that she could send me an invitation to her upcoming June wedding in Chicago. Kate said she understood if I couldn't make it, but that she'd love to invite me just in case. When I got Kate's email, I had just gotten out of the hospital after an unexpected two-week visit. My initial thought was that I was in no shape to plan a long flight to Chicago. But, the optimist in me had a second thought: I was in dire need of having something to look forward to.
The Cost of an Unexpected Medical Crisis
I knew Sarah and Stefanie would be invited too, so I reached out on the chance that they were considering going. I knew it was unlikely; Sarah had had her first child just a few weeks earlier, and Stefanie has a pretty demanding work life. Still, I had to try. I told them I wanted to go, and once I'd taken a stand, they miraculously agreed to follow suit. After all, how many chances did we have to get to be in the same city together, among our old stomping grounds? I bought my airfare that night.
Stefanie found us the perfect Airbnb, blocks away from the wedding reception venue and, amazingly, equipped with a crib. We'd need it, since Sarah's husband and baby were coming along for the ride. I flew into Chicago several days early, since my company has a Chicago office, and Stefanie flew in Friday morning. Sarah and her family got into O'Hare Friday afternoon, and I picked them up in a rental car. We pointed out local landmarks to Sarah's husband on the drive down to the Bridgeport neighborhood to meet Stefanie—and we also pointed out Historical Friendship Landmarks, such as my old house and the soccer field across from it, where I used to go watch Stefanie and Sarah play with a rec league.
That night, we met up with the bride and groom at their favorite Bridgeport bar, Maria's, and sat out on the patio with them and their guests until it got dark. After that, the three of us walked a few blocks to Palmisano Park, where Mount Bridgeport offers a great view of the Chicago skyline. It felt bittersweet to be back in my old city with two of the people who so fully defined my experience of living there for five years. We took a slightly blurry picture together and walked back.
The next morning, Stefanie and I made a breakfast run for the four of us. After grabbing pastries and fruit and brewing a pot of coffee, we lounged around the Airbnb together before meeting up with a group of our old Chicago friends for an indoor picnic. The wedding was at 5, and the reception followed shortly after. We danced until 1 a.m. with a ton of friends we hadn't seen in a long time, and had a great time celebrating with the bride and groom.
Stefanie rode back to the airport with me the next day so I could drop off the car before my flight. Sarah and I made plans for me to come to Salt Lake in August for a concert, and I told Stef and I wanted to come to Boston for New Year's again like I did last year. It was only early June, and December felt like a long time away. I tried to just be glad for the present.
Here's how much it cost to make our weekend together happen:
Airbnb in Bridgeport for four people (and a baby) for two nights: $608 ($152 per adult)
Airfare: $382 (mercifully comped by my company, since they let me combine this wedding travel with a work trip)
Car rental: $624 (only $312 of which I was responsible for, since my company picked up the tab for the work days during I used it)
Breakfast pastries and fruit for four: $15
Picnic snacks: $10
Bar tab at Maria's: $34
Wedding gift: $60 contribution on Honeyfund
It's one thing to talk about taking a trip together with your long-distance friends, but it's another thing to actually do it. If I can do it weeks after a long hospital stay, if Stefanie can get a Friday off, and if Sarah and her husband can fly with a three-month-old baby, hopefully we can make it happen again under slightly less frantic circumstances at some point next year.
I vote that we go to Montpelier next time. Why not? #Vermont2017
Meryl Williams is a Portland writer who is chronicling her life as a roller derby girl via her awesome TinyLetter. She loves Rilo Kiley and most cheeses.
---
Support The Billfold
The Billfold continues to exist thanks to support from our readers. Help us continue to do our work by making a monthly pledge on Patreon or a one-time-only contribution through PayPal.