What Children's Literature Teaches Us About Money: Katherine Paterson's 'Bridge to Terabithia'
Jess and Leslie create Terabithia to escape the reality that Jess's parents live and Leslie's parents are trying to find.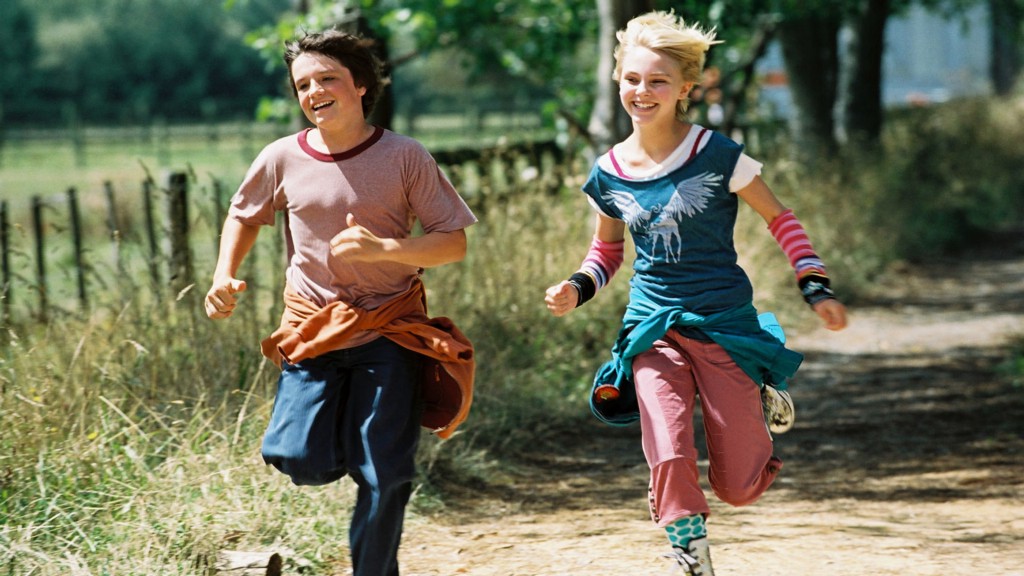 Okay, Katherine Paterson's Bridge to Terabithia was Billfolder Alisha Huber's suggestion, and jiminy pixies does this book just crumple me up every single time.
Like, even before we get to Leslie's death. Like, on page three:
Lark Creek Elementary was short on everything, especially athletic equipment, so all the balls went to the upper grades at recess time after lunch. Even if a fifth grader started out the period with a ball, it was sure to be in the hands of a sixth or seventh grader before the hour was half over. The older boys always took the dry center of the upper field for their ball games, while the girls claimed the small top section for hopscotch and jump rope and hanging around talking. So the lower-grade boys had started this running thing.
Jess's single goal is to be the best runner in the lower grades, because that's the only goal he can have. The only thing his family offers him, at least from his point of view, is work; the only thing his school offers him is this chance to run (on a playground where the ground isn't even fully dry) and the one hour a week his class spends with music teacher Miss Edmunds.
But whenever possible, he stole a few minutes on Friday just to stand close to her and hear her voice, soft and smooth as suede, assuring him that he was a "neat kid."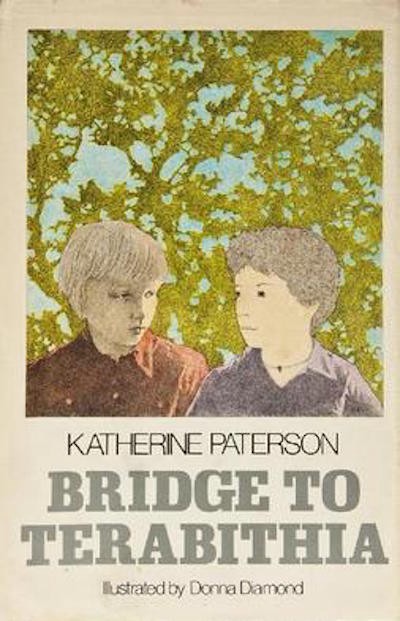 Jess's parents don't spend much time telling Jess he is a "neat kid," in part because they are so busy earning money and keeping the house and small farm running. This is the kind of farm that doesn't generate income but does allow a family of six to save a few bucks on food and unpasteurized milk. When the Burke family buys the Perkins place and Jess meets Leslie, he tells her straight-off: "You can't make a go of a farm nowadays, you know."
But Leslie's parents didn't move to the Perkins place to run a successful farm. As Leslie puts it: "My parents are reassessing their value structure." The Burkes moved because they had enough money to pretend to farm and paint living rooms gold and imagine that they are doing something meaningful and important.
I loathed the Burke parents, on this most recent re-read. They say at the end of the book that they moved to this low-income, rural area for Leslie's sake, but the idea of deliberately choosing to move a child to a town where the only school doesn't have balls or art class or current textbooks, and saying you're doing it for your child's benefit, infuriates me. They're Joe Veix's trust-fund travelers, exploring noble Appalachian poverty and commenting on how real everything seems now that they're living with people who aren't, to quote Leslie quoting her parents, "hooked on money and success."
Why I Quit My Job to Travel the World – The New Yorker
But Leslie knows that her parents moved for themselves. (Yes, they had a family discussion about it, but as Leslie tells Jess: "You never know ahead of time what something's really going to be like.") Jess knows that everyone around here is equally "hooked on money" because they barely have enough to get by. The two of them create Terabithia to escape the reality that Jess's parents live and Leslie's parents are trying to find.
Let me recap that in huge letters: LESLIE'S PARENTS MOVE HER TO RURAL APPALACHIA SO THEY CAN PLAY POVERTY TOURIST AND LESLIE IMMEDIATELY CREATES AN IMMERSIVE FANTASY WORLD TO HELP HER COPE WITH THIS NEW ENVIRONMENT.
AND THEN IT KILLS HER.
AND JESS BLAMES HIMSELF.
I told you this book crumples me up, every single time. When I was a kid it was because Leslie died. When I was a teenager it was because Jess wanted so much to escape his circumstances and the adults around him were so casually dismissive of his needs (and the one day he takes an opportunity for himself by accepting Miss Edmunds' invitation to the art museum, his best friend dies). When I was an adult it was because of the beauty of Katherine Paterson's language. Now it's because of the Burke parents' casual thoughtlessness, and everything they and Jess and Leslie lose as a result.
The other scene that destroys me on every read is the chapter where a grieving Jess throws the paints Leslie gave him into the creek where she died—which is sad enough on the surface, but even more devastating when you think about the paints being a gift from Leslie and the one possession Jess wanted since the very beginning of the novel and the representation of the possibility that Jess might leave his small town someday and the way Jess's guilt and grief drives him to destroy the only item of value he owns, that his family cannot afford to replace—and then the discovery that Jess's father has followed him, and the conversation they have about Leslie's death, and the understanding that Jess's parents do care about him.
(Bridge to Terabithia is about so many things, but you could say it's also about two children who wonder if their parents really see them. Leslie's proud statement about how she's beginning to understand her father, for example, and how you know it should be the other way around.)
What does Bridge to Terabithia teach us about money? Jess tells us in the very first pages, and Leslie figures it out after her first week of school: Having fewer resources does not make people happier. Every happy moment in this book comes with an accompanying increase in resources: May Belle's Barbie, Leslie's puppy, Jess's paints, the books Leslie and Jess share, the hour of music, the trip to the art museum, even the gold paint the Burkes buy for their living room.
And, in the end, the bridge Jess builds so nobody else will die swinging across the creek on a broken rope. Yes, he gets the lumber for free because the foolish Burkes bought more than they were able to use, so you could say it cost him nothing.
Or you could say it cost Jess, and the Burkes, everything.
Next week: Katherine Paterson's Jacob Have I Loved.
(We could do an entire Katherine Paterson June if you wanted, because there's a lot to discuss in The Great Gilly Hopkins and Lyddie, so let me know if you're into that or if you want to move on and do greenfields5000's suggestion, The Witch of Blackbird Pond, in two weeks.)
Previously:
---
Support The Billfold
The Billfold continues to exist thanks to support from our readers. Help us continue to do our work by making a monthly pledge on Patreon or a one-time-only contribution through PayPal.