Is This San Francisco Man Living In a Box, or Sleeping In a Custom-Designed Pod?
Is This San Francisco Man Living In a Box, Or Sleeping In a Custom-Designed Pod?
He's either living an untenable life or revolutionizing the options available for group house shares.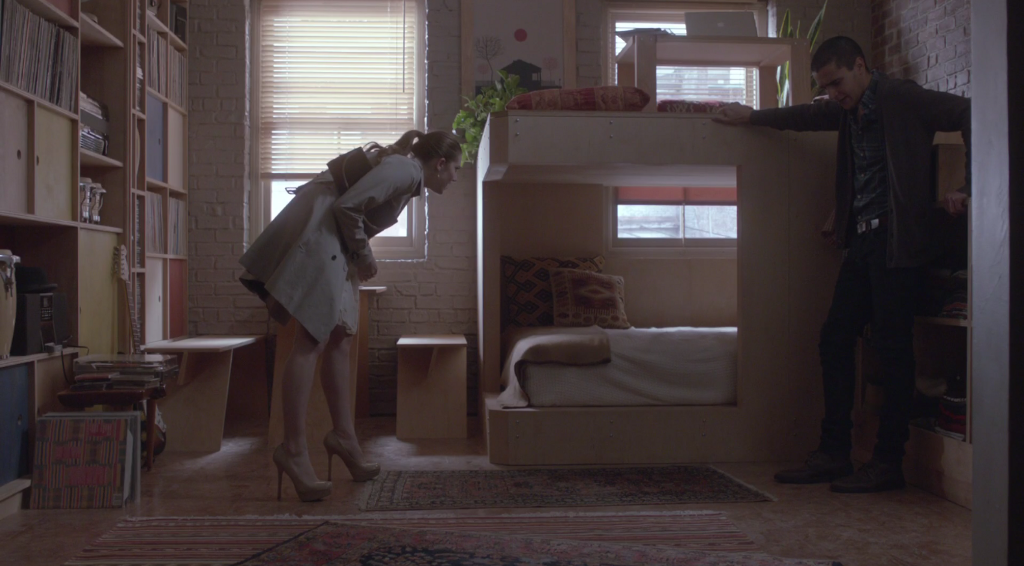 So the thing about this story is that it's not as simple as it appears. (Few stories are.)
Yes, the part of the story that will catch your attention—it caught mine, when I first read about it on Jezebel—is "San Francisco man pays $400 a month to live in box."
MAN PAYS $400 TO LIVE IN BOX.
BOX BOX BOX BOX BOX
WE'RE LIVING IN BOXES
WE'RE PAYING TO LIVE IN BOXES NOW
People have always lived in boxes (and in tents, and cars, and under sheets of cardboard), but this man is living in a BOX in someone else's LIVING ROOM in SAN FRANCISCO and that means THE WORLD IS TERRIBLE.
And then you read the Jezebel piece, and the original article at the Washington Post, and you learn that the man, Peter Berkowitz, designed and built the box himself. You learn that he calls it a "pod," and that the pod is in his friends' living room, and that he has access to the rest of the house when he's not using the pod as his bedroom.
Which makes this no longer a story about someone who can't find affordable housing and ends up agreeing to live in a box in some rando's apartment. This is the story of a visual artist who worked with multiple designers to build a pod bedroom in a space he shares with friends, and who wants to use this idea to benefit overcrowded rental markets.
From Berkowitz's website:
People are typically surprised that I would want to live in a pod, but I think they tend to underestimate how pleasant a pod can be if it's designed smartly. It's the coziest bedroom I've ever had. It's the only bed I've had with a fold-down desk, a slanted + cushioned backboard, and uniformly ideal light for reading (I can read comfortably from anywhere on my bed. This sounds trivial but isn't.). Moreover, I'm now only paying $508 / month to live up the street from the beach in San Francisco ($400 / month is for rent, $108 / month over the course of a year covers the full cost of construction. Building the pod cost $1300 total, $550 excluding up front capital costs).
Yes, living in a pod is silly. But the silliness is endemic to San Francisco's absurdly high housing prices — the pod is just a solution that works for me. Many people have apartments with the space/ capacity to house another person but choose not to because there isn't an attractive way to do so. Temporary partitions offer poor privacy, especially in terms of sound. They also tend to ruin whatever room they're in — you're less likely to use your living room if it doubles as a bedroom.
I think pods can provide a needed fix here.
I'm still not completely sold on the idea of transforming a two-bedroom into a three-bedroom by adding a pod in the living room, but it's certainly better than the Los Angeles houseshare I lived in where the living room was a bedroom, and so was the 7 ft by 14 ft "home office" where I slept on the floor because there wasn't enough room for an actual bed.
I'm also really curious about the legal aspect, because I know a lot of landlords aren't too keen on cramming a space with extra people—although that's also something people have always done, when they aren't making enough money to get by.
The Washington Post has a video in which Berkowitz gives us a tour of his living space:
Would you live here, if that was your most affordable option? If you were among friends, and could share the communal living space before you retreated into your pod?
Or are you still on team THE WORLD IS TERRIBLE, WE'RE LIVING IN BOXES NOW?
---
Support The Billfold
The Billfold continues to exist thanks to support from our readers. Help us continue to do our work by making a monthly pledge on Patreon or a one-time-only contribution through PayPal.