Talking to Rosianna Halse Rojas, John Green's Producing Partner, About Debt Management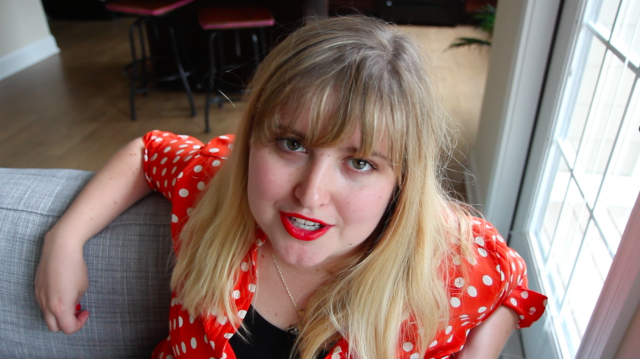 Rosianna Halse Rojas has many jobs. Her Twitter bio sums them up: "writer, vlogger, new media witch | producing with @johngreen." She started working as John Green's executive assistant in 2013, and is now a production executive with Green and Fox 2000.
Rojas vlogs regularly on YouTube, and also has an active Tumblr — where she recently posted about her frustrations with the long-term debt management struggle that's part of so many of our lives. I asked her if she'd like to talk about debt with The Billfold.
So, Rosianna, tell us a bit about your finances.
Sure, okay. So I have been working since I was 14 and was given a large amount of financial responsibility at that young age. In my house I really internalised that parental classic of "if you want something, you have to pay for it," but in this case it extended to many things that my friends' parents were paying for.
At some point I was able to get over what I saw as the deep unfairness of this situation and really took pride in earning money and paying for everything, but when I got to university, although I was given a maintenance grant, the costs were really overwhelming. In the UK it's pretty much a given that students go into and rely on their planned overdraft from their first year of university right through the end of their twenties/early thirties. And soon the £0 figure becomes whatever your overdraft limit is. [Ed: U.K. banks allow people to overdraft their accounts to a certain amount, so that's what Rosianna's referring to here. Having £0 in the bank means having no money and having spent all of your overdraft.]
So that is what happened to me. The cost of accommodation, university living, and flights to the U.S. for my second year of university (which was a year abroad) really ate into every bit of my savings and despite the fact that I worked several days a week on campus and had worked for so many years, my new £0 figure became whatever the figure was when I had used up all of my overdraft.
Now, three/four years after graduation, it's felt really impossible to get out of my overdraft and I also have £18,000 ($27,665) debt from my student loans.
It makes me feel pretty anxious and stressed. That's doubled by other people weighing in on my debt in ways that make me feel like I've been irresponsible, even when I know I haven't.
So that's where I'm at!
A lot of our readers are American, and I think we tend to think we're the only people with student debt! But it sounds like your situation is fairly typical for UK students, yes?
Yes! Our loans come via the government (The Student Loans Company) and you can get a bigger maintenance loan along with a decent grant if you have a lower/no family income, and that helps with accommodation and textbooks etc., but tuition fee loans are pretty much expected for all.
Now students in the UK have greater tuition fee loan debt because the cost of university has gone up under David Cameron's government. So it's commonplace. But the loan interest is tied to inflation, so our loans don't come at quite the same premium as U.S. loans.
At what point did you realize that debt, and managing that debt, would be part of your adult life?
I knew from the first day of university that it would be hanging over my head, but I don't think it was until I graduated that I really began to comprehend how much of a battle it would feel to get out of it.
I'd been applying for so many jobs in publishing and was unable to get any, so I started looking at work in the retail industry again and quickly got a job at a shop. But then I tried to figure out how I'd be able to get out of my overdraft AND pay London rent AND feed myself AND pay for travel. After making that budget, it became very clear that managing the debt would be a longer-term thing than I'd thought.
How do you feel about your debt? Is it just another bill, or does it carry a different emotional weight?
Oh it definitely carries an emotional weight of its own. I know I've done the best I could, but having debt makes me feel like I've messed up, like I'm less responsible, made terrible choices, am trapped, am not financially stable, certainly not able to even begin thinking about saving, etc.
I think there is a lot of shame placed upon young people in the U.K. from older generations who didn't have to deal with tuition fees, etc. as there weren't any tuition fees when they went to university.
YES. The older generation often passes down ideas and feelings about debt that seem to be outdated.
You also have a successful career — or multiple successful careers, as it were. So it's interesting to see you think "I messed up," even though it's the same thing I think about my own debt, and I also have a successful career.
Is this a cognitive dissonance thing, do you think? Do you see it in other people you know?
I definitely see it in other people I know. I think we collectively feel ashamed of a situation that quite frankly isn't our fault. It's not anyone's fault but it seems like we carry this around as one of the most important definitions of ourselves: financial stability or instability. That's not our worth or a measure of our success, and we know we shouldn't treat it as one, but nonetheless it's a form of, well, currency.
Sometimes I think to myself that my debt got me to where I am now, and that is, like, my only comfort. (LOL.) Do you try to mentally reframe your debt?
Yes! My therapist actually got me doing that hahahaha. She said when I have hard money choices to make, like whether or not to fly home for Christmas — which is one expensive thing that really had me feeling stuck — I should think of it in terms of: "Am I okay staying in this much debt for another month if it means I get to go home and see my friends?"
That kind of thing. Not letting debt be an excuse, but just having a really healthy realistic approach.
YES. The whole "if I don't pay off the maximum amount of debt each month I am also FAILING AGAIN" feeling, vs. the "my debt will be with me for a long time, slow and steady wins the debt repayment race" feeling.
SO MANY FEELINGS.
Yes!!!
Do you know when everything will be paid off?
I think my overdraft will be paid off by June/July 2016. My student debt, on the other hand, I hope to pay off by the time I'm 30. Realistically, it might be quite a lot longer than that.
If you didn't have the debt, what would you be doing with the money that currently goes towards payments?
Oh gosh! The hopes and dreams! SAVING, for one. I would save like a madwoman.
I'd also invest in my career — be able to attend conferences and media events in places like NY and LA — I'm invited to them but unable to fund travel as much as would be helpful.
But really, saving would be the big one.
I have absolutely gone into debt to attend events related to my career, so… that is a thing that I have done. But yeah, I do think about taking all my debt payment money and putting it into savings. WE WOULD ALL SAVE, WE WOULD SAVE SO MUCH.
Last question: What advice do you have for other Billfold readers who are managing long-term debt repayment?
My main advice would be: stark realism. Draw up a repayment plan month on month and have a monthly minimum repayment amount that you hold yourself to aggressively and a larger "ideally" amount that you can try to meet. Also, I find it helpful to calculate, following such a plan, how much you would be able to pay off. I think that the promise of GETTING SOMEWHERE and making progress under the crushing despair of personal debt is a great motivator.
That's also what I ended up doing with my debt, so YAY FOR PLANS YAY!
---
Support The Billfold
The Billfold continues to exist thanks to support from our readers. Help us continue to do our work by making a monthly pledge on Patreon or a one-time-only contribution through PayPal.