Dressing Like the Affordable Version of Ourselves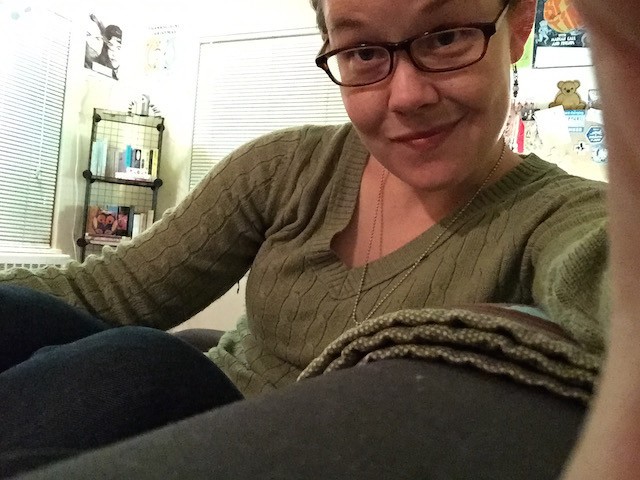 So that green sweater, the one I'm wearing in the picture above as well as in my official Internet Publicity Photo, is my "good sweater."
I bought it in 2010. Maybe 2009. It's an Ann Taylor Loft sweater, and that year two of my colleagues bought the same sweater, and we all wore it to the office on Casual Friday and made jokes that we should take turns.
The jeans, which are my "good jeans," were also bought from Ann Taylor Loft at around the same time, and I guess they are pretty good if they've managed to hold up for five years.
I put the jeans on after looking at Meredith Haggerty's pictures (in her Racked story where she dresses up "like herself" for a week) and thinking "She looks really good in jeans. Do I look good in these worn-out black leggings? No."
I thought I would never wear jeans again after trying leggings for the first time, but after I put the jeans back on I thought that I looked considerably better, or at least a bit more like a real adult who is doing real work. (Keep in mind that I'm still not wearing shoes, because I am doing my real work at home.)
But when I looked at myself more closely I thought "is this the best I can do?" I mean, let's take a look at this: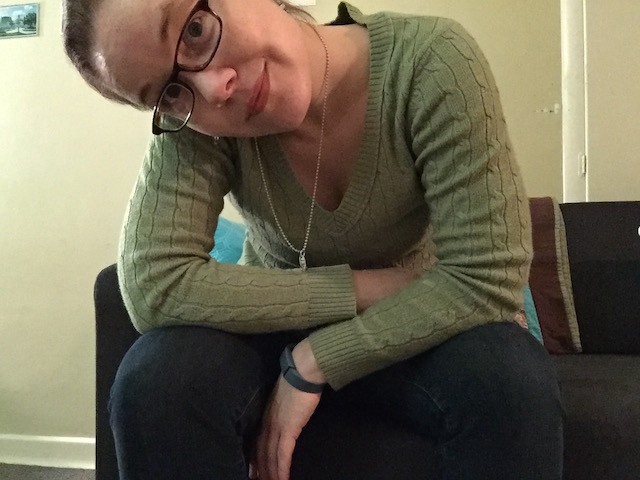 It's not bad, and no one really cares, and I should be grateful to have such high-quality clothing that lasts for five years. But this is not the Nicole I want to present to the world.
Of course, I can't afford to be the Nicole I want to present to the world. That Nicole is wearing a belted shirtdress where the collar manages to stay crisp and flat, and a pair of brown calf-high boots, and a new denim jacket with the sleeves rolled up halfway, and probably a scarf because you have to accessorize. Oh, and a lavalier necklace with a huge owl bangle at the end of it.
Plus, in what universe am I going to wear calf-high boots inside my apartment? So I have a modified picture in my head, the work-at-home Nicole I want to present to the internet, and she generally wears a plaid flannel shirt over a textured layering top, and she could be wearing leggings but maybe she'll start wearing jeans sometimes because those leggings she bought at the beginning of the summer are starting to look saggy and misshapen. She looks like a woman in her 30s who is secretly tickled that she gets to wear the same flannel-and-undershirt look that was popular when she was a teenager.
She looks like this selfie I took for Patreon: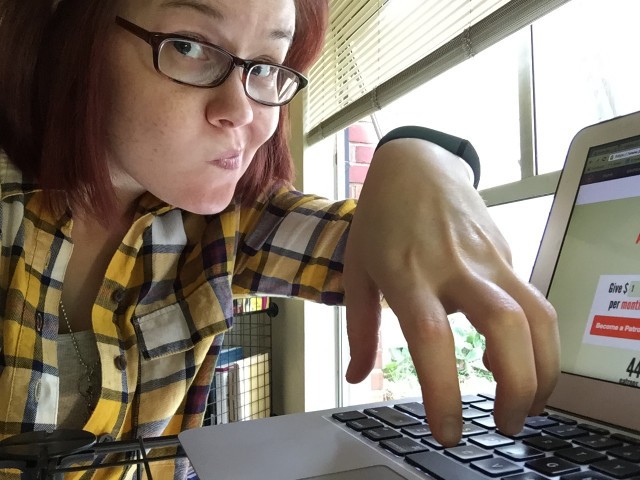 She looks pretty good, actually, and I can be happy being her. But I only own three flannel shirts and there are seven days in the week, and that means I get to be that Nicole for part of the time and then I get to pull out clothes like this "good sweater" which… well, I've worn it so much I have no idea what those words even mean anymore.
This is all leading up to my confession that I just went online to Old Navy and bought $101.71 worth of new clothes. (Two flannel shirts, four waffle-texture layering tops, a new sweater, and a pair of dark-denim jeans.) It looks like my sort-of spending freeze is over.
The hilarious thing is that I "saved" $98 on this purchase thanks to their Black Friday deals, and then they gave me an additional $40 in Old Navy Super Cash to spend on future clothes, so I totally feel like I made the right choice. Plus I had some birthday money, so I can count this as a present. (I'm trying to save as much money as possible for Christmas, but as we discussed last week, sometimes buying new clothes for yourself is part of holiday spending.)
I know that I'm never going to be fashionable, not really; the best I can get is "well, you look tidy and all of your clothes match." No one is ever going to stop me on the street and say "what an amazing outfit." My goal is to stay above the other end, where no one ever looks at me and thinks "what an faded, worn-out outfit." My goal is to make it through an entire week without having to wear something I don't like.
Which means I have to remember to buy myself new clothes, otherwise I'm going to keep wearing the same "good sweater" for five years.
---
Support The Billfold
The Billfold continues to exist thanks to support from our readers. Help us continue to do our work by making a monthly pledge on Patreon or a one-time-only contribution through PayPal.