Why I Gave Up on Thrift Stores and Craigslist and Dropped $496.42 at Ikea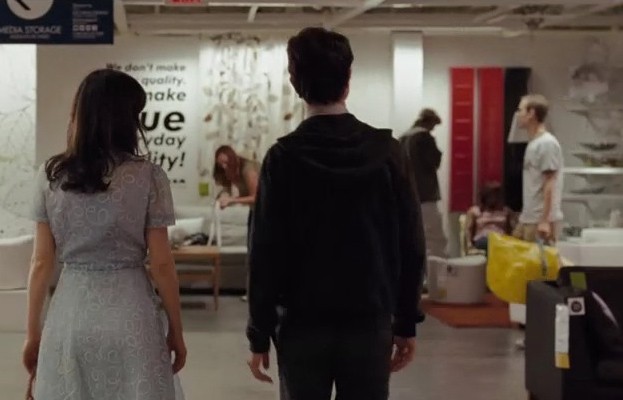 I now have a number on the cost of furnishing and, for lack of a better term, "kitting out" my apartment: $784.85.
This does not include the housewarming gift certificates I received from friends, most of which I used to buy items for my kitchen.
It does include purchases like:
— Three rolls of colorful privacy film for my ground-floor windows: $10.99 per roll
— Curtains for my bedroom window, because the wall already had iron hooks set up for the curtain rod: $14.99
— The curtain rod, since the previous tenant took their rod with them: $11.70
— A hanging lantern-style lamp, since the living room had no overhead lighting but did have a ceiling hook conveniently placed above an outlet: $29.93
— A new bed-in-a-bag set, since I had been using my current comforter for seven years and I wanted at least one thing that could be considered an indulgence: $42.36
None of these purchases were particularly extravagant, and that bed-in-a-bag was on super sale. But it adds up, and the 9 percent sales tax adds up, and there you go.
$496.42 of that $784.85 came from Ikea. That'd be the sofa, the table and chairs, and the chest of drawers for the bedroom: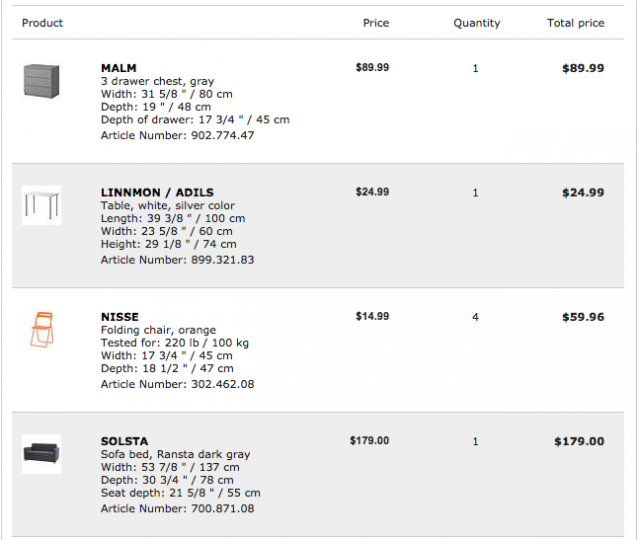 That's $353.94 before tax and delivery costs, by the way. It cost me $99.00 just to get the furniture to my apartment.
I hadn't really expected to spend $500 at Ikea, just like I hadn't really expected to buy my cookware off Amazon. I thought I'd do all of this at thrift stores and Craigslist, like a smart and savvy frugal adult.
Well. Here's what I learned:
Thrift stores, in this case, were divided into two types: consignment stores where I could drop $500 on a gently used sofa that might have originally cost $1,000 — but none of that matters when it's still out of your price range — and Value Village, where I could buy beat-up furniture with the prints of previous owners worn into the cushions.
Even then, I might have considered buying Saggy the Couch if it hadn't cost about the same as the low-end stuff at Ikea. When did thrift stores start charging $150 or $200 for furniture? If I am going to pay $200 for a couch, I want it to be new and I want to put it together myself with an Allen wrench.
Then there was Craigslist, whose furniture nearly always came with a caveat: "home with cats" "smells like cats" "you will probably want to take a lint roller to the furniture when it arrives" "you will need to get the furniture professionally cleaned."
And sure, fine, whatever, cats are great and I am not allergic to them, but some of my friends are, and even though the Craigslist prices were a little better than the Value Village prices I still asked myself: Why should I pay $80 for a sofa that doubled as a cat castle, plus the $30 I'd need to get the Dolly to deliver it to my house, when I could just buy the brand-new one off Ikea?
There was also my time to consider, because I was sinking hours into visiting the Value Village in the hopes that something would have arrived that wasn't terrible, and trawling Craigslist looking for anything that might have come from a cat and smoke-free home.
Then I found a Craigslist sofa that looked pretty okay. No cats, the color wasn't perfect but maybe I didn't need a perfect color, no human-shaped divots in the cushions. I contacted the person who had placed the listing.
Let's just say I found one of the Craiglist humans that you do not want to talk to.
I noped out of that so fast, and hit "proceed to checkout" on my Ikea cart. I was done. Enough with dealing with other people's used stuff. I wanted cheap, solid-colored, sanitary furniture hand-delivered by a multinational corporation.
And now it's done. I've bought everything this apartment needs, and it only cost twice as much as I had budgeted.
This story is part of The Billfold's DIY Month, because Ikea counts as DIY.
---
Support The Billfold
The Billfold continues to exist thanks to support from our readers. Help us continue to do our work by making a monthly pledge on Patreon or a one-time-only contribution through PayPal.