Paid Family Leave Is A Pipe Dream. Unless You Live In DC.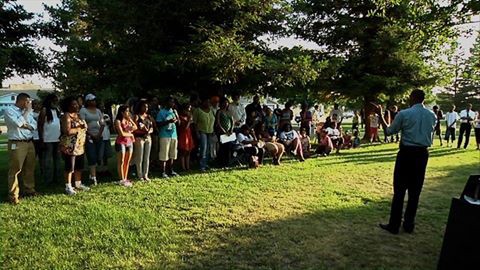 Our nation's capital, once so dysfunctional that Congress had to take it over — which is it to say, it was even more broken than Congress — has become an increasingly affluent and progressive city. Let's be clear: it's still messed up in many ways, economically stratified and in some neighborhoods quite dangerous. But at least its city council has been able to get things done.
Two Independents, for example, have proposed a popular 16-week paid family leave bill:
The District would become the most generous place in the country for a worker to take time off after giving birth or to care for a dying parent under a measure supported by a majority of the D.C. Council.
Under the legislation that will be introduced Tuesday, almost every part-time and full-time employee in the nation's capital would be entitled to 16 weeks of paid family leave to bond with an infant or an adopted child, recover from an illness, recuperate from a military deployment or tend to an ill family member.
The broad new worker benefit, enthusiastically supported by the Obama administration, would be paid from a fund created by a new tax on D.C. employers. The benefit would dwarf family-leave assistance in all 50 states and would also mark a step toward benefits offered by most European countries, where parents can take as much as a year of paid time off following the birth of a child.
According to the International Business Times, the measure looks like it will pass, so, "If you're planning to start a family, the nation's capital could soon become the best place to do it."
And the onus won't be on companies to pay for it. According to the official DC Paid Family Leave press release:
The paid family and medical leave program will be financed through a shared system of employer and resident contributions to a citywide paid leave fund. Private sector employers will cover their employees' contributions, and those who are self-employed, work for the Federal Government, or reverse commute would be guaranteed paid leave coverage through personal contributions. The city would then replace paychecks for those who need to take leave, lessening financial burdens on employers. The paycheck replacements are engineered to be progressive, with DC's lowest paid people earning a replacement of 100% of their average weekly pay.
This comes at an auspicious time. The Economic Policy Institute just released a sober analysis of how awful the childcare situation is in America right now.
High quality, dependable, and affordable child care for children of all ages is more important than ever, especially since having both parents in the workforce is an economic necessity for many families.
Yet the cost puts it out of reach.
Monthly child care costs for a household with one child (a 4-year-old) range from $344 in rural South Carolina to $1,472 in Washington, D.C. … The high cost of child care means that a full-time, full-year minimum-wage worker with one child falls far below the family budget threshold in all 618 family budget areas — even after adjusting for higher state and city minimum wages.
Among families with young children, child care costs constitute a large share of annual earnings for families living off one full-time, full-year minimum-wage income. For example, to meet the demands of infant care costs for a year, a minimum-wage worker in Hawaii — the state with the median state minimum wage ($7.75) — would have to devote his or her entire earnings from working full time (40 hours a week) from January until September. …
In 33 states and the District of Columbia, infant care costs exceed the average cost of in-state college tuition at public 4-year institutions.
Paid family leave won't solve the affordable childcare problem, but it's a start. It puts a crucial issue front and center; it gets people talking about solutions. As, again, the press release puts it, "Eighty percent of U.S. voters agree with the U.S. Department of Labor and the Obama Administration that no one should have to choose between caring for one's family and earning a living." I guess the other 20% just must have been in bad moods when they heard the question.
---
Support The Billfold
The Billfold continues to exist thanks to support from our readers. Help us continue to do our work by making a monthly pledge on Patreon or a one-time-only contribution through PayPal.