The Seattle Teachers' Strike Is Suspended, For Now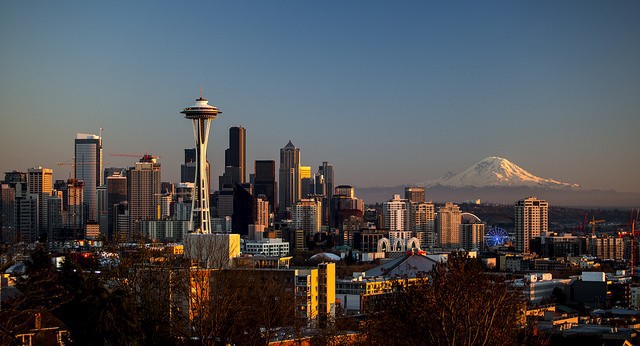 I want to do a quick recap of the Seattle teachers' strike, which has been all over my Facebook news feed for the past two weeks. A lot of the newsfeed posts were about parents trying to find alternative childcare arrangements for kids who would otherwise have been in school (which makes Ester's post about people who complain when parents take time off work to care for their children feel extra relevant).
I knew the strike was over — or, technically, "suspended" — when I opened Facebook this morning and saw Seattle kids standing on their front porches in their first-day-of-school outfits.
As Seattle's KOMO News reports:
The teachers union and school district hammered out a deal early Tuesday following an overnight bargaining session that gave teachers a 9.5 percent pay raise over three years, guaranteed 30-minute recesses for elementary students, a longer school day and more teacher input over standardized tests.
Wait. What's that about recess? Mother Jones explains:
At some schools, students get as little as 15 minutes for lunch and recess, forcing them to choose between food and play. Schools with more low-income students and students of color tend to have less recess than wealthier, whiter ones. The union wants the contract to ensure that every elementary school student gets at least 30 minutes of time to play outside the classroom.
What else is the union fighting for? From the Washington Examiner:
In a win for the union, the district will no longer use test scores as a factor in teacher evaluations.
This all sounds great. I love the idea that teachers will get pay raises — as Mother Jones notes, "Many teachers, whose salaries range from $44,000 to more than $86,000, have struggled to afford life in the city" — and I love that kids will get longer recesses. I very much appreciate the idea of delinking test scores from teacher evaluations, because anyone who's been following the educational world for the past decade knows that comes with all kinds of problems.
But there might be a catch, as KOMO News explains:
The union leadership voted Tuesday to suspend the strike and recommended that the union's 5,000 members approve the deal. But right now teachers don't even know what's in that deal — beyond the basics.
The full union membership will vote on the tentative contract Sunday, and many teachers are anxious to know the details of the agreement before deciding whether to ratify the agreement.
"There were so many things we were fighting for," says one concerned teacher. "There might be give and take, so you just want to know what was the give (and) what was the take."
Seattle's King5 quotes a teacher who hints that the strike is not fully over:
"I can conceive a situation where we strike on Monday," said West Seattle High teacher Judy Deignan, "If we explain to the parents why we were dissatisfied. I think it's going to be a close vote."
I'll keep watching my Facebook news feed.
Photo credit: Tiffany Von Arnim
---
Support The Billfold
The Billfold continues to exist thanks to support from our readers. Help us continue to do our work by making a monthly pledge on Patreon or a one-time-only contribution through PayPal.