The Lifestyles Of The Rich And Generous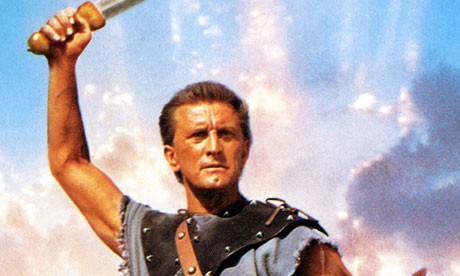 Today in People Who Inspire Us: Actor Kirk Douglas and his wife Anne have amassed a fortune over decades and now they're having fun giving it away. The origin story of their wealth is particularly endearing.
In 1955, [Kirk] formed a production company so that he could make movies outside of the studio system — a new concept back then — and Anne took charge of its bookkeeping. (The company's "big moneymakers," she recalls, were 1958's The Vikings and 1960's Spartacus.) "My wife is very smart," says Kirk. "Fifty years ago she set up a trust, and it's been growing ever since. So recently [in 2012] I said, 'How much money do we have in that?' And she said, '$80 million.' I said, 'What?!'" Anne recalls Kirk's next remark, after he caught his breath: "He said, 'I want to give it away.' And that's exactly what's happening."
They've chosen great causes, too. They're building hundreds of playgrounds all over LA, investing in a homeless shelter, starting a college scholarship for minority and underprivileged students, and more.
Entertainment industry bigwigs have the power to make six or even nine figure gifts, but their goals can often seem … baffling. For example, Hollywood's biggest givers this year chose a cause that must benefit someone; I just can't think of whom.
$113M — Barry Diller and Diane von Furstenburg
Hudson River Park. The largest donation to a public park in New York City's history will fund a promenade and performance venue "island" over the Hudson River, a $130 million project with Scott Rudin, Stephen Daldry and other industry figures involved in the planning. But critics protest the secrecy of the project's development and the environmental impact of building a large platform over the river, with activists and the City Club of New York suing in June to stop the project until it gets an environmental review and approval from the state legislature. …
And some, one could argue, lack consistency:
$3.3M — James Kennedy, Cox Enterprises chairman
Clemson University. The media mogul (and avid duck hunter) is funding a waterfowl and wetlands conservation center named in his honor.
Like, save the ducks, or shoot the ducks? Make up your mind.
Others of the large scale gifts make more sense. David Geffen shared some largess with Lincoln Center. Okay. Mark Zuckerberg and his wife Priscilla Chan rewarded the hospital where Chan received her training. Fine. The common denominator in the vast majority of cases seems to be that people want their names on all the things. Of course they have to pretend that's not what it's about:
Cuban didn't want [the new video center at Indiana University he sponsored] named after him.
"People always say to me, 'Why don't you do this, or why don't you put your name on a building,'" Cuban said while wearing a crimson Indiana baseball hat. "I always felt like putting your name on a building was something you did for dead people, so you'd be remembered. But they insisted."
Sure they did, Mark. Sure they did.
---
Support The Billfold
The Billfold continues to exist thanks to support from our readers. Help us continue to do our work by making a monthly pledge on Patreon or a one-time-only contribution through PayPal.