Q: When Was The Last Time You Got A Raise (A: Five Years Ago)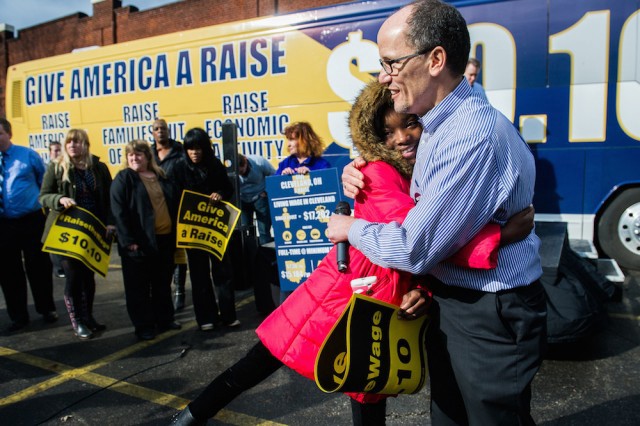 We may not think austerity affects us here in the US the way it is affecting various other countries — Puerto Rico, for example, and Greece. Yet we haven't gotten a raise in five years and we've all gotten poorer as a result. Wonk Wire reports, via new data from the National Employment Law Project:
inflation-adjusted wages fell substantially between 2009 and 2014 for almost every occupation under the sun.
One cut at this sorted different occupations into quintiles based on their average 2014 wages and then looked at how each quintile has fared. Researchers found that the rich have gotten poorer, and the poor have gotten a lot poorer.
The data in question offers more grim detail:
Inflation-adjusted or "real" wages reflect workers' true purchasing power; as real wages decline, so too does the amount of goods and services workers can buy with those wages. The failure of wages to merely keep pace with the cost of living is not a recent phenomenon. The declines in real wages since the Great Recession continue a decades-long trend of wage stagnation for workers in the United States. …
Of the largest occupations in the lowest-wage quintile, the two occupations with the greatest wage declines between 2009 and 2014 were both in the restaurant sector. As Table 1 shows, cooks and food preparation workers experienced wage declines of 8.9 percent and 7.7 percent, respectively. Wage declines were also especially pronounced for janitors and cleaners, personal care aides, home health aides, and maids and housekeeping cleaners.
Blue collar workers have been hit the hardest, in other words. Don't fret, though, college grads! The outlook is a bit rosier for white collar workers, according to Bloomberg Business:
White-collar workers will get the biggest pay boost in eight years as employers compete for the best and brightest in America, according to staffing firm Robert Half. … the Robert Half survey is based on more than 1,000 recruiters and covers more than 750 roles, most of which require at least a bachelor's degree and possibly certification. It tracks technology, finance and accounting, legal, creative and marketing, and administrative and office support services occupations.
I wonder if that's any comfort to the employees of Bloomberg Business? I hear there are layoffs in the works there.
Anyhoo, Half recommends honing your tech skills.
A big data engineer could snag a starting pay of $129,500 to $183,500, an 8.9 percent jump from 2015. Mobile applications developer, data security analyst, user experience specialist and business systems analyst-manager are also in the top 10 roles to watch.
Another growing field offering increasingly well-paid gigs? Something called "Creative." What that means, Bloomberg does not really explain; perhaps the author doesn't know either. Visual design? Or something. Regardless, it sounds like an opportunity to put that liberal arts degree to good use.
---
Support The Billfold
The Billfold continues to exist thanks to support from our readers. Help us continue to do our work by making a monthly pledge on Patreon or a one-time-only contribution through PayPal.