Don't Live In Brooklyn. Commute! From Ohio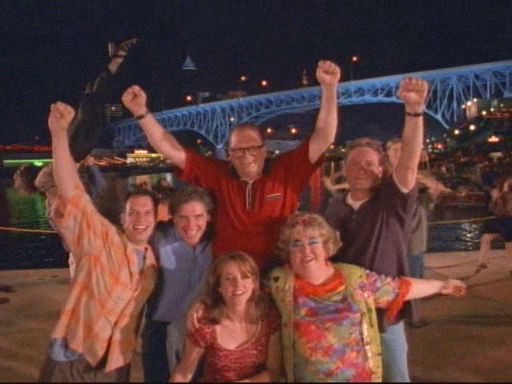 One of the zillions of us who are astonished and even grossed out by the obscenity of current real estate prices in New York's hippest borough has come up with a novel solution to the dilemma of where to live. Conal Darcy at Brokelyn crunched the numbers and discovered that it is actually cheaper to buy an apartment in Cleveland and fly back every weekend to visit than to buy one of BK's "overpriced mausoleums."
Airfares to Cleveland are surprisingly cheap. I found upcoming round-trip flights from $190 to $360. Frequent flier miles and fare fluctuations will likely cancel each other out over time, so I'll take the average of these two, or $275. I figure travel time would be around six hours every week, which is plenty of time to trade stocks, laugh mirthlessly, or whatever the hell it is rich people do in their spare time.
Without a place of my own in Brooklyn, I'd have to find an Airbnb to stay Friday and Saturday nights. The life of a weekend nomad will be lonely, so I'd only need accommodation for one. Airbnb says the average price for a single private room in Clinton Hill is $116/night. With the normal service fee it comes to about $250 for weekend accommodation.
Add $200 for cab fare on both sides and it's $725 per weekend trip to New York, or 518 possible trips with our leftover cash. Divide that by 50 weeks in a year (two weeks saved for a real vacation, duh) and you have enough money to buy the condo in Cleveland and visit New York City every weekend for ten years. All for the price of one tiny studio condo in Brooklyn.
Darcy found an appealing looking neighborhood in Cleveland, too, so there wouldn't be much sacrifice on that end.
I do wonder what the New York tipping point will be. How high do prices have to get before even the yuppiest, most starry-eyed potential purchasers decide enough is enough? An article in the Times real estate section this past weekend titled "Buying A Second Home First" describes the struggles of such people, city lovers who are forced by circumstances to remain renters and so are turning their often considerable piles of cash into nearby vacation houses.
"We're seeing this now more than ever before because prices are historically high in the city," said Kathy Braddock, a managing director of the New York City office of William Raveis, which also has offices in Connecticut, Massachusetts, Rhode Island, New Hampshire, New Jersey, Maine and Vermont. While there always have been New York City renters looking to buy weekend homes, she noted, demand has been so strong that the company is introducing a new division this month called Raveis Escapes, to cater to New Yorkers shopping for their second home first. "A lot of hard-working young people can't amass a down payment that's substantial enough" to purchase something in the city, she said, noting that many co-op boards require sizable liquid assets in addition to hefty down payments and closing costs. "But they still want the benefits of homeownership."
Gary DiMauro's real estate agency upstate caters to city dwellers in search of a bucolic escape, with offices in Tivoli, Hudson, Catskill and Rhinebeck. "The city has boom-and-bust periods in which people feel locked out," he said. This time around, he said, the heated New York City market is sending not only first-time home buyers with tight budgets his way; it is also sending people who can afford multimillion-dollar apartments in the city but are simply discouraged by their options.
It seems, I agree, like a solid compromise. But it also seems like crazy-talk. Why not take your millions and go somewhere completely different, somewhere that might actually value and welcome you, instead of finding you irritatingly redundant?
---
Support The Billfold
The Billfold continues to exist thanks to support from our readers. Help us continue to do our work by making a monthly pledge on Patreon or a one-time-only contribution through PayPal.