Deciding Whether to Move to Portland, Step 1: Pretending to Live in Portland For a Week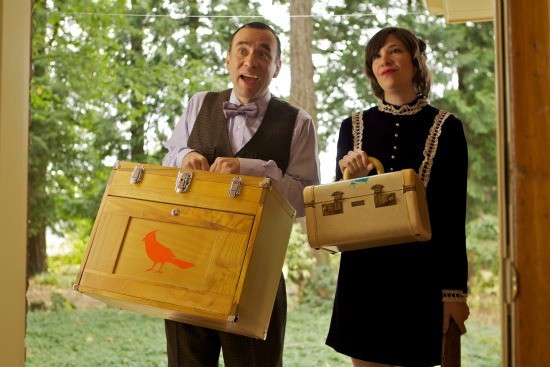 If you've been following this week's episodes, you know that on Monday I wrote about the excitement of buying new clothes and throwing out the old ones and on Tuesday I wrote about how having a working phone made my life instantly better and helped me feel more connected to friends and family:
So, of course, the first thing I thought after that was "If this is what having a functional phone is like, I wonder what having a functional apartment will be like." Imagine how my life could change if I had a home that could be a resource to myself and my friends, instead of just a space to put my standing desk and look out through the internet at the rest of the world.
There are a few big reasons why I haven't mashed GO on this moving process, even though I've been saying "I'm going to move!" since the beginning of the summer:
— My "I'm going to move!" decision happened almost simultaneously with my "I'm going to set aside 50 percent of my income for taxes, debt, and savings!" decision. This meant I didn't have any extra money to put towards moving, since I was living on 50 percent of my pre-tax freelance income.
— I sort of looked at a few Portland apartments once, and there weren't any vacancies.
— Even though I really like the idea of moving from Seattle to Portland, whenever I thought about just jumping in and moving to yet another new city, I thought "SCARY TOO IMPULSIVE HIGH INCOME TAX BUT ALSO MAYBE HAPPIER?" But when I thought about staying in Seattle, I thought "SAD DON'T FIT HERE NEVER PLANNED TO STAY BUT MAYBE IT WILL WORK OUT IF I TRY HARDER."
A recap of Nicole's Life For The Past Three Years: in 2012, I moved from Washington, DC to Los Angeles to close the distance on a relationship that lasted only six months after I arrived in LA. I lived in a group house with roommates who moved in and out before I got to know them, and slept on the floor.
In 2013, I moved from LA to Seattle partially for a new relationship and partially because I knew I couldn't afford to live in LA. I got my current microapartment and my expenses went down significantly (and my income went up). My idea was that if the relationship continued, I would eventually end up in Vancouver, BC with the person I was dating. We ended things about a year ago.
So you can see why I'm hesitant to jump immediately into yet another city. Still, I knew I couldn't move to a new apartment in Seattle until I decided for sure I didn't want to live in Portland, and I also knew I couldn't just move to Portland until I was sure that living there would be better for me than living in Seattle.
But I can give Portland a test drive.
I just booked an Airbnb in Portland for seven days in September. An entire house at $650 for the week, plus $30 in cleaning fees, $77 in Airbnb service fees, and $85 in city, state and county "Accomodations Tax."
I know that I am paying a month's worth of microapartment rent (plus service fees and tax) to literally play house in Portland. In some ways this seems incredibly profligate. But I didn't have to dip in to my savings to do it, and I am going to get to stay in a house with rooms and a full kitchen, and I am going to figure out whether that makes a difference in my life, or whether it really is "wherever you go, there you are."
Because I know if I don't answer that question, I won't be able to move forward.
---
Support The Billfold
The Billfold continues to exist thanks to support from our readers. Help us continue to do our work by making a monthly pledge on Patreon or a one-time-only contribution through PayPal.