What We're Reading: Supreme Wealth; The Cost Of Hogwarts; And More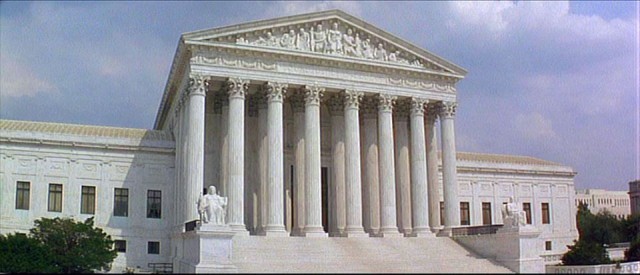 + Turns out that the justices on the Supreme Court are way richer than you think. Or some of them are, at any rate; one is juggling credit card bills and dental payments. According to a new piece on Open Secrets:
Ruth Bader Ginsburg and Steven Breyer, members of the court's liberal bloc, rank as the wealthiest current justices, the Center's analysis indicates. Chief Justice John Roberts, meanwhile, ranks as the third richest current member of the Supreme Court, according to the Center's research.
Seriously, RBG is rolling in it! Poor Sonia Sotomayor meanwhile comes in dead last:
9. Justice Sonia Sotomayor — $22,500 in the red — Sotomayor, the Supreme Court's first Hispanic justice and its most recent appointee, is by far the least well-off. She is one of just two justices to report a liability and the only one to report more than one. In 2009, she owed between $15,000 and $50,000 to her dentist, and as much as $15,000 a piece to four credit card companies: American Express, Discover Card, Mastercard and Visa. Additionally, she is the only justice to report holding no stocks or bonds. Her net worth could be as low as $95,000 in debt or as high as $50,000 in the black.
That makes her less well-off than every single 2016 Presidential candidate, as well as the average Senator, the average Congressperson, and even the median American citizen (net worth $56,000). Perhaps she should consider hitting up the Notorious RBG for a loan? Or the chief. He's loaded too.
Also I kind of hate this list because I know David Duke must love it. Let's move on!
(h/t our friend John Herrman)
+ In more cheerful news, Hogwarts is free! That's right: author J.K. Rowling has confirmed that no student at the magical British school has to pay tuition. The Ministry of Magic quite sensibly picks up the tab. Just another reason to envy Harry Potter's fictional universe, I guess.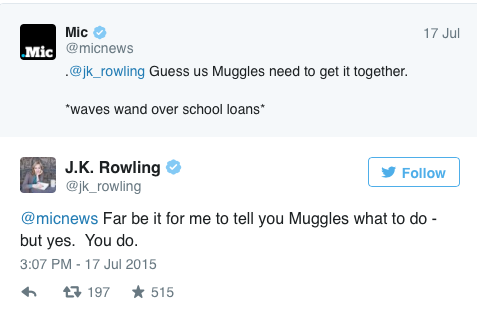 + Our own world does occasionally take a step in the right direction, too. Oregon is about to begin offering free community college, making it the second state to fully fund local higher education.
The legislation sets aside $10 million over the next year to begin an "Oregon Promise" program. Eligible students will need to enroll within six months of graduating high school, according to the Oregonian, and have at least a 2.5 GPA.
"Today, we fling wide open the doors of opportunity by expanding access to post-secondary education, the precursor to a better life," [Governor] Brown said in a statement.
Up to 6,000 students could benefit in the first year of the program, a fact sheet on the bill notes, and it is meant to "offset any remaining tuition after deducting any state/federal grants." Each recipient of the program will get a minimum $1,000 grant to cover tuition, books, supplies and transportation.
Presumably the Pacific Northwest is trying to bribe its citizens to stay put and risk getting killed in the upcoming deathquake. Still, whatever the reason, that sounds like excellent news.
+ Lindy West is so damn inspiring.
Choose your rituals, but make them yours. If you want to look like a flower market ate fat Betty Draper and then barfed her up in the middle of a haunted forest (YEEEESSS!), great choice. If you want to get married to a burrito while wearing a barrel with suspenders, I'm cool with it. If you think the very concept of marriage is hot garbage, that's legit. But regardless, remember that you absolutely do not have to "fix" your body, chase after "flattering", be somebody's dark secret, or beg for permission to be happy.
---
Support The Billfold
The Billfold continues to exist thanks to support from our readers. Help us continue to do our work by making a monthly pledge on Patreon or a one-time-only contribution through PayPal.