What Can You Do When Your Student Loan Provider Hikes Up Your Monthly Payments?
by Liz Arcury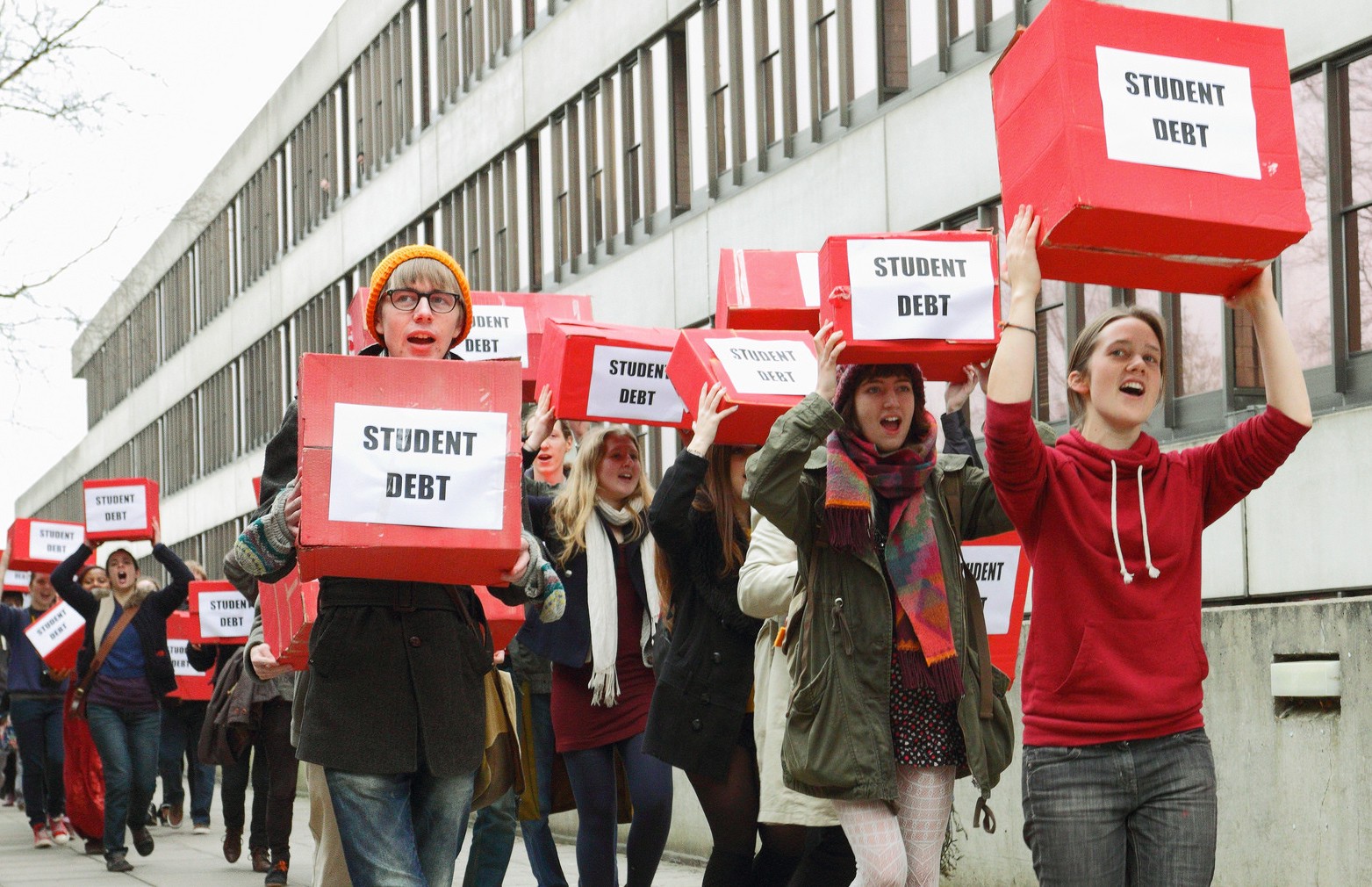 I graduated from Boston University in December 2013 and my student loan payments to Discover began the following June. The monthly payment was a very large amount, $774.12, but I had a full-time job and could figure it out if I was smart about budgeting.
I am 23 years old and some people I know have parents who pay for their rent, their credit cards, and all of their UCB improv and sketch classes. A guy I used to improvise with didn't have a full-time job until he was living in New York for a full calendar year — his mom and dad in Connecticut paid for everything, including his comedy career pursuits and nights out with friends. I am the only child in my family to graduate high school. My father is a mechanic. He is over 60 and will not be able to retire for years.
I decided during my freshman year of high school that I would be leaving rural Florida as soon as possible, and that college was my way out. The Northeast sounded mesmerizing. Walking through the snow contemplating poetry, or looking up and gazing at tall buildings, or being able to talk to people who read books — it all sounded perfect. I chose Boston University as my dream school and pined after it throughout all of high school. I got in, was given a decent financial aid package, and went.
It was a dream. It was perfect. BU is where I discovered my voice, where I met my mentor, where I learned how to be a person, where I learned how to like myself, and where I eventually became comfortable enough to yearn for a different kind of city: New York.
I've lived in New York now for a year and a half. I've finished the UCB improv program and am now in the advanced study program there — able to learn under the masters and audition for house teams — and I've cultivated a really great working life for myself working in social media. My job pays enough for living here if I'm smart about it — $40K — and offers full benefits and flexible hours. I live in Brooklyn with roommates who are also my best friends and we're all really happy. This life at 23 is what I've been after for a long time. I perform or rehearse every night, I have a one-woman show debuting next month, and my hardworking and incredibly supportive parents (who are also trying to make ends meet within their own household) can rest easy.
My student loan payments have been manageable — until something horrible happened. I received an email from the service that Discover (the company I used to take out a private student loan to cover what BU's financial aid package could not) collects their repayments through. My monthly payment has been increased by a lot — an absurd amount.

I immediately called their office, but it was closed because it was a Sunday. I called first thing on Monday and the representative told me that there is no way to lower this payment. I demanded to know why I wasn't notified of the drastic increase, and she said that I was notified a year ago that my monthly payments would increase, but I wasn't told by how much and did not think that this level of increase was what was going to happen.
I was angry. I called the company again, getting a different representative, and asked to speak to a manager or somebody who could possibly understand the situation. Both the representative and a manager informed me that there was nothing that could be done to change the monthly amount due, and that my only options are either forbearance or declaring bankruptcy if I can't meet my payments.
I want to buy a house someday. I want to have a nice wedding someday.
This minimum monthly amount that Discover is expecting is over half of my monthly income after taxes. This is also much, much more than my monthly rent. My parents do not have the money to help me. If they did, they would have helped me with my tuition, and I would not have had to turn to a student loan in the first place.
So, here is what I am asking. I am asking that you — yes, you! Reading — sign this petition and share it with your friends.
I am not asking for my student loans to be forgiven. I understood what I was signing up for, and I have been at peace with the concept of being in debt because of the school that I chose to attend. I am asking that the repayment plan be manageable and humane. I am asking to make a payment every month, and that that payment be reasonable. I am asking to not be left in financial anguish because of the opportunity that I gave myself and that I deserved.
Liz Arcury is a writer and comedian living in New York. She performs at the UCB Theatre and her work has been featured on McSweeney's, CollegeHumor, Reductress, Splitsider, and more. She is obsessed with musical theatre and Conan O'Brien.
Photo: Roger Blackwell
---
Support The Billfold
The Billfold continues to exist thanks to support from our readers. Help us continue to do our work by making a monthly pledge on Patreon or a one-time-only contribution through PayPal.