Measuring Feminism And Progress In Dollars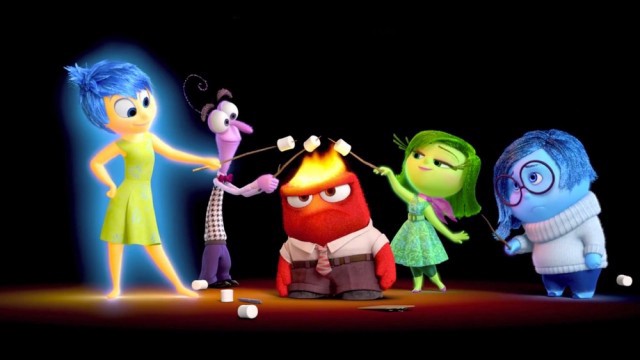 Pixar's new animated comedy Inside Out, about the inner life of an eleven year old girl, didn't only please the critics; it made $90 million domestically this past weekend alone. That is the biggest, all-time opening ever to not be #1 at the box office — and the only reason it was not #1 because so much of America remains obsessed with genetically modified CGI dinosaurs.
Despite the enormous footprint of those beasts, though, it is Oscar- and weekend-winning star of the Hunger Games trilogy Jennifer Lawrence who is America's latest movie star to insist on, and be given, a $20 million payout per film, while Jurassic World leading man Chris Pratt still has to settle for less.
Two weeks ago, TheHollywood Reporter's Kim Masters reported that though Sony had landed the red-hot Jennifer Lawrence and Chris Pratt to star in the spaceship-set romance, studio head Tom Rothman was balking at Lawrence's $20 million salary demand. Yesterday afternoon, Masters wrote that Lawrence had indeed secured her paycheck, measured against 30 percent of the profits after the movie breaks even.
I've noticed that many of the writers who've picked up Masters's story over the last two weeks have done so with a can you believe that tone of incredulity, as though Lawrence might not be worth her rare payday. They're not alone: Masters reported that even Rothman "was heard wondering aloud" about Lawrence's actual star power during budget meetings.
Allow me to allay their fears: If anyone in Hollywood is worth a $20 million paycheck, it's freaking Jennifer Lawrence.
Kyle Buchanan's rant on behalf of JLaw is worth reading in full but I'll reproduce another couple key paragraphs here.
Fuck that. Lawrence is the rare star who has proven herself bankable outside her major franchises and is equally adept at action, drama, and comedy; with such an expansive wheelhouse, she more than deserves a paycheck that puts her on equal footing with stars like Leonardo DiCaprio and Matt Damon, especially since Passengers is a tentpole movie that will attract significant foreign interest on the basis of its big names and outer-space setting. Sony surely wanted Lawrence to take a reduced paycheck up front in favor of a less-risky backend deal that would pay her a significant amount after the movie's profits exceeded its costs, but even in negotiations like those, Lawrence has been stiffed before: The Sony hacking deal revealed that she got fewer profit-percentage points for American Hustle than her three male co-stars (including the less-valuable Jeremy Renner), and when Lawrence asked for a bigger share of the pie for her upcoming David O. Russell vehicle Joy, Fox proved so stingy that the project "nearly fell apart."
After Amy Pascal left her Sony post, she was asked about how little she'd paid Lawrence for American Hustle. "People want to work for less money, I pay them less money," Pascal replied. "Women shouldn't be so grateful. Know what you're worth. Walk away." Message received.
Don't cry for Chris Pratt. At $12 million a movie now, he's doing fine:
That's a far cry from the $1.5 million he earned for Guardians of the Galaxy, the $900,000 for The Lego Movie, $750,000 for Mr. Payback, $400,000 for Her, $180,000 for Delivery Man or the $180,000 per year he's made for appearances and promotions.
There's more good news for women in Hollywood, too. Selma director Ava DuVernay may have been tapped to direct a Marvel comic book movie — which, in movie terms, is like a successful JV player getting pulled up to varsity.
Ava DuVernay (Selma) has been hired by Marvel Studios to direct the upcoming Black Panther film. The Wrap first reported back in May that DuVernay was being courted by Marvel Studios for one of their upcoming "diverse" properties, meaning either Captain Marvel or Black Panther, with most assuming it was the latter (update: with Bleeding Cool later reporting that it was indeed Black Panther). Then last month, our friends over at We Are Wakanda reported that DuVernay was currently in talks with Marvel for Black Panther and that indeed the gig was hers if she wanted it. It now appears that DuVernay has agreed to bring her unique vision to the Marvel Cinematic Universe.
The AV Club warns us not to get too excited:
It's a rumor so baseless that not only would it be elected mayor of Rumorville, its father would also have been the mayor of Rumorville in a Chicago-esque mayoral dynasty. If you called up an elderly relative who lives in another country and asked them to come up with a rumor, we would have just as much reason to believe the veracity of that rumor as we do this rumor. This rumor's favorite celebrity daughter is Rumer Willis. Got it?
Got it. I'm excited anyway and so are you.
The top ten box office hits of the year so far include Pitch Perfect 2, Home, Cinderella, Fifty Shades of Grey, and Mad Max: Fury Road. In other words, half of 2015's highest grossing movies (probably) pass the Bechdel Test. That's not nothing. I can't wait for a day when it's so common, it's not even worth mentioning. For now, though, I'll settle for small glimmers of progress.
---
Support The Billfold
The Billfold continues to exist thanks to support from our readers. Help us continue to do our work by making a monthly pledge on Patreon or a one-time-only contribution through PayPal.