How the Rich Respond in Drought Conditions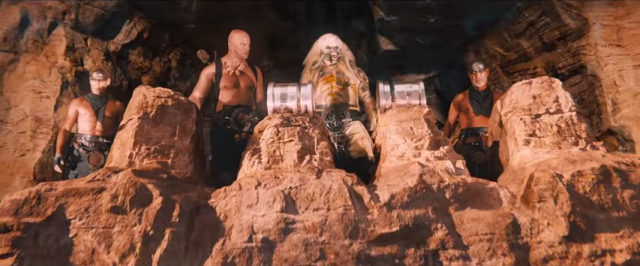 Let's say there was a shortage of some particularly essential natural resource. If someone used their personal wealth to hoard that resource for non-essential purposes, keeping it from people who needed it for life and health reasons, that would be… well, dystopian, right?
Well, as the Washington Post writes, that's exactly what's happening in drought-ridden California.
People "should not be forced to live on property with brown lawns, golf on brown courses or apologize for wanting their gardens to be beautiful," [Steve] Yuhas fumed recently on social media. "We pay significant property taxes based on where we live," he added in an interview. "And, no, we're not all equal when it comes to water."
Yuhas lives in an "ultra-wealthy" part of California, as do the other subjects profiled in this story, and they do not want to give up even a single drop of the water they can afford to pay for:
"I think we're being overly penalized, and we're certainly being overly scrutinized by the world," said Gay Butler, an interior designer out for a trail ride on her show horse, Bear. She said her water bill averages about $800 a month.
"It angers me because people aren't looking at the overall picture," Butler said. "What are we supposed to do, just have dirt around our house on four acres?"
Meanwhile, other Californian residents are asking different questions. As Susie Cagle reported in Longreads:
Is it better to cook with expensive, precious bottled water or eat fast food every night? Does this soap have animal fat in it that will stick to your skin and be harder to scrub off? Whose truck can you borrow to pick up the water you need from the fire station to bathe your babies? How dirty does it have to be for you not to drink it on a 110 degree day? How long can you live like this?
Admittedly, it's not a 1:1 correlation; who knows if the water the Rancho Santa Fe residents are using in the Washington Post story could be diverted to the residents in East Porterville in the Longreads story. But we do know that some Californians have water and others don't, and the people with the resources to not worry about water bills don't want to have to ration their water usage. After all, we're not all equal when it comes to water.
The city of Rancho Santa Fe, meanwhile, is trying to make the distribution of water a little more equitable. From the Washington Post:
On July 1, for the first time in its 92-year history, Rancho Santa Fe will be subject to water rationing. […] Under the new rules, each household will be assigned an essential allotment for basic indoor needs. Any additional usage — sprinklers, fountains, swimming pools — must be slashed by nearly half for the district to meet state-mandated targets.
Residents who exceed their allotment could see their already sky-high water bills triple. And for ultra-wealthy customers undeterred by financial penalties, the district reserves the right to install flow restrictors — quarter-size disks that make it difficult to, say, shower and do a load of laundry at the same time.
And how do our ultra-wealthy customers feel about that?
"I call it the war on suburbia," said Brett Barbre, who lives in the Orange County community of Yorba City, another exceptionally wealthy Zip code.
Time to start casting for Mad Max: Suburban Cul-de-sac.
---
Support The Billfold
The Billfold continues to exist thanks to support from our readers. Help us continue to do our work by making a monthly pledge on Patreon or a one-time-only contribution through PayPal.