The Wife Bonus Is REAL And It Is Spectacular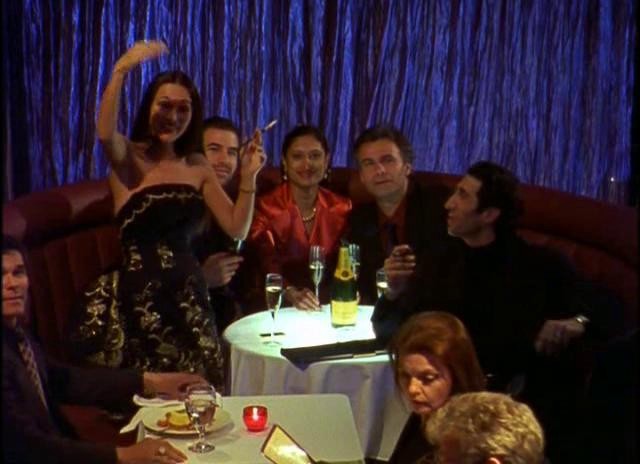 I am so glad wealthy women are coming out of their walk-in closets and making it known: the wife bonus as described by Wednesday Martin in the Times — and given serious side-eye by other publications — exists. Oh yes, it is real, and it is spectacular.
Every sentence in this New York Post piece, by a proud recipient of a Wife Bonus, is as perfect as a soap bubble, so here, have a bunch of them all at once, bathe in their beauty, and emerge, blinking with gratitude and awe:
As I stroll around the mall on a recent trip to Houston, Texas, moving from designer store to designer store, my mind is crunching numbers. Will I splurge on the elegant $750 French navy Chanel ballet pumps that I've been lusting after for months? Or shall I be pulling out my gold card to grab a pair of limited-edition $800 Louboutins, with striking red Valentine's hearts on the toe, to match their distinctive sole?
As I tally up the total, I can't help but smile — I can easily stretch to both pairs of shoes, and still have plenty left of my five-figure bonus.
These pricey pairs of designer footwear will join a lineup of Jimmy Choo, Manolo Blahnik, Diane Von Furstenburg and Rupert Sanderson heels and a closet crammed with handbags from Prada, Chanel and Anya Hindmarch. Every single one was bought with one of my annual bonuses — the nod from a happy boss for a job well done.
But, in this case, the boss in question is my husband, Al.
Please don't stop there, good lady. Please don't rein in your self-satisfaction, your materialism, your sense of entitlement. Please let it all hang out. I need to know more.
The role he's rewarding me for is my work as a stay-at-home wife and mother. And the luxury labels are purchased with the "wife bonus" — 20 percent of his own company bonus — that I'm proud to receive for putting his career before my own, and keeping our lives together.
Perhaps this is her alone, though? Perhaps she is one shining example, from which no broader conclusions can be drawn? Ha, you wish.
In Australia, I met a lot of women — and some men — who had sacrificed their own careers to follow their partners around the world. That's where I first heard about the concept of a "wife bonus" or "bonus gift."
One friend proudly showed me her collection of Mulberry purses, bought at her behest come bonus time. Another liked to splurge at Tory Burch at the end of the financial year. But bonus gifts, just like the women who receive them, could be very different.
One girl, who couldn't care less about designer goods, chose a stand-up paddle board as her reward for supporting her husband while he worked the late nights and the early mornings that the oil industry is known for.
While I appreciated the idea of a gift come bonus time, I didn't feel that my husband bestowing something on me really represented the joint partnership we'd built up together. To me, giving a gift simply reinforced the fact that Al was the one receiving the bonus, whereas giving me a set proportion truly recognized how integral my effort was to his success.
She goes on to say that they agreed, back in Australia, to each take 1/5 of his bonus as individual play money and to bank the rest. I applaud the fairness in that, though her priorities still make my eyes boggle.
The five-figure amount has pretty much stayed the same despite the economy. Last year, I bought a Prada handbag and Burberry raincoat for about $1,500 each. I tend to wait until I'm back home in London to spend my bonus because I can leave Lala with a member of the family and go on a week-long splurge to upscale stores like Selfridges. My favorite labels include Bottega Veneta, Chanel, Prada, Smythson, Erdem and Stella McCartney.
That's not to say I'm just frittering my bonus away. I also try to save my share for things that matter. My mother passed away shortly before we married, and I used some of the money she left me to buy my bespoke $4,500 wedding dress by the designer Naomi Neoh. I'd like the honor of being able to buy Lala her wedding dress with the money I've saved too.
I'm not just frittering my bonus money away, she says; I also use it to buy … designer dresses? I don't really follow her logic there, but that's not important right now. What's important is, I kind of love this woman. I love her shameless shallowness and her rich husband with the "politically incorrect" sense of humor; I love that she owns her lifestyle, to the point where augments this article with photos of herself and her daughter posed in front of luxury stores. She doesn't make any pretense of thinking that giving some of the money to charity — or even pretending to do so, for PR purposes! — would be a tactful, tactical decision. Bless her heart.
---
Support The Billfold
The Billfold continues to exist thanks to support from our readers. Help us continue to do our work by making a monthly pledge on Patreon or a one-time-only contribution through PayPal.