Grocery Shopping Never Ends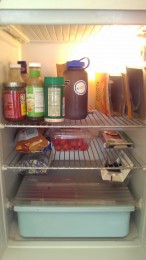 Remember how I went grocery shopping last week and said "but it doesn't feel like I bought any food?" Well, I was right on that count.
Look at that refrigerator! Nothing in there but a bunch of condiments, some assorted carbs, and half a pack of ham. (Nothing in the freezer either, except half a bag of brussels sprouts.)
I should also qualify that yes, I do keep my dry goods in the refrigerator. I have no cupboards, which means that all my food has to go into the refrigerator or hang out under my bed, I guess. (And that sounds just too gross for words.)
So I went grocery shopping again, even though it has only been a week since my last shopping trip. What did I come home with?
Breakfast:
— Kellogg's Frosted Mini-Wheats, two 18 oz boxes: $5.00
— So Delicious Cashew Milk Beverage, two 32-oz boxes: $5.00
— California Giant Blueberries, two 6 oz packages: $5.00
Lunch:
— Oroweat Original Oatnut Bread, two loaves: $5.00
— Pacific Organic Tomato Soup, two 32 oz boxes: $6.98
Dinner:
— Fresh Selections Baby Spring Mix, "family size" bin: $2.49
— Kroger Colby Jack Cheese, 16 oz: $4.69
— El Monterey Bean and Cheese Burritos, eight count: $3.99
— Kroger Wild-Caught Pacific Cod, two fillets: $5.99
— Taipei Frozen Meal, two packages (beef and broccoli, bourbon chicken): $5.00
— Amy's Spicy Organic Chili, 14.7 oz: $3.79
With the $0.05 paper bag and what appears to be no tax for some reason (seriously, the receipt says "tax 0.00"), my total comes to $52.98. This brings me to a grand total of $242.44 in grocery spending for May.
How are you doing this month, grocery-wise? All this shopping is making me wish I could sign up for one of those grocery delivery services.
This story is part of our food month series.
---
Support The Billfold
The Billfold continues to exist thanks to support from our readers. Help us continue to do our work by making a monthly pledge on Patreon or a one-time-only contribution through PayPal.