When Colleges Open Food Banks On Campus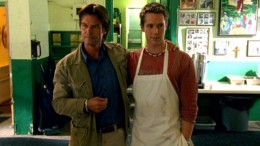 This is the richest country in the world, in the history of the world, even. The world is vast and there are lots of countries, more probably even than you've heard of. America is richer than them all.
And yet, American colleges are opening food banks.
even as food stamp benefits shrink, they have become an essential source of supplemental income for Americans trying to patch together funds to make ends meet. Sure, the economy seems to be getting better and jobs are being created, but wages are stuck in a rut. About 7.26 million Americans have two jobs.
And college tuition is skyrocketing: the price of tuition has risen 1,120% between 1980 and 2010. Tuition at four-year public colleges has gone up 25% since 2007. Many students are forced to choose between low-wage jobs to help pay for tuition and unpaid internships for credit to build experience in their chosen field.
Colleges, aware of the financial troubles their students face, have begun opening food banks on their campuses. In Massachusetts, 12 of the state's 29 public college campuses operate pantries, according to the Boston Globe, and about 200 colleges nationwide now operate pantries, reports the Wall Street Journal.
Soup kitchens: they're not just for churches anymore.
Here's the story of one of those 7.2 million Americans who have two jobs and still need to rely on food stamps to get by. He's a single father who works, of all places, in the U.S. Senate.
I'm a single father and I only make $12 an hour; I had to take a second job at a grocery store to make ends meet. But even though I work seven days a week — putting in 70 hours between my two jobs — I can't manage to pay the rent, buy school supplies for my kids or even put food on the table. I hate to admit it, but I have to use food stamps so that my kids don't go to bed hungry.
I've done everything that politicians say you need to do to get ahead and stay ahead: I work hard and play by the rules; I even graduated from college and worked as a substitute teacher for five years. But I got laid-off and I now I'm stuck trying to make ends meet with dead-end service jobs.
His experience is rather different from that of the young woman, mentioned earlier in the same article, who worked an unpaid internship at the Boston Review and washed dishes in a futile attempt to make ends meet. She ended up on food stamps too.
she was making about $600 a month working as a dishwasher and server on weekends. The pay barely covered her rent.
"I was following my dreams, which I realized really quickly I could not afford to do. I was working as an intern at the Boston Review [during the week] and was unpaid. I was eating through my savings and applied [for food stamps] because I realized that I was not going to be able to continue pay rent and be able to buy food at the same time," she said. She said it was actually a Boston Review staff member that had suggested she apply. "I guess other interns they had in the past had done it," she said. Boston Review staff disputed her recollection.
Now she's a graduate student. As we've learned, though, higher education will not protect you in any way from having to rely on public assistance.
Meanwhile, at the other end of the income spectrum, rich families are buying their kids a nice smooth path into the Ivies.
I'm not sure why all this is making me so angry; I could have read the same news earlier this week. Maybe it's because yesterday was #EarthDay; maybe today is #ScorchedEarthDay. Do we need to have a gimmicky #NationalDayWhereWeThinkAboutPoverty in order to get past talking points and consider real solutions?
---
Support The Billfold
The Billfold continues to exist thanks to support from our readers. Help us continue to do our work by making a monthly pledge on Patreon or a one-time-only contribution through PayPal.