The Cost of Becoming Interested in Fencing as an Adult
by Rebecca L. Stewart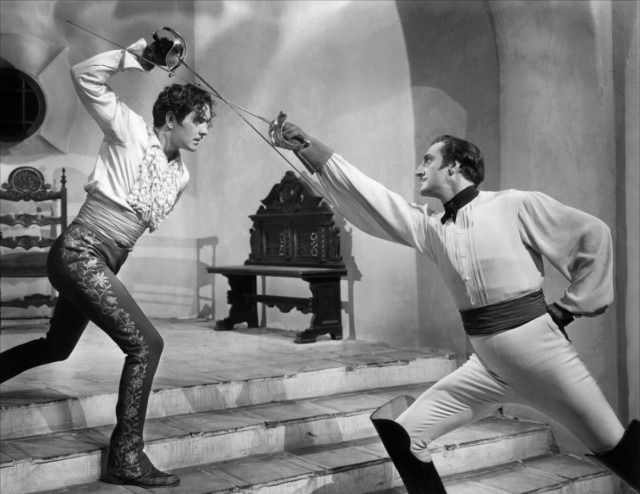 When I first started fencing, I imagined the only gear I'd need is a cutlass, some of those thigh-high leather boots sported by Errol Flynn in Captain Blood, and a chandelier full of candles to show my enemies how sharp my weapon is. Who would have thought fencing is a full contact, anaerobic sport that requires an ocean of protective gear?
By the time I realized this, I had the bug and there was no turning back. Once I'd faced an opponent twice my size, dashed up and down the piste and bested him with a flick of my wrist, the gym treadmill was no longer an option — nor the jog/walk to the bottle-o to pick up the Wednesday wine I once thought of as "exercise."
Walking into the new club for the first time, the concentrated odor of sweat deeply ingrained into synthetic gear transported me straight back to 1989. As a teenager I had a high, boofy stack of curls my sisters called my "hair helmet," a homemade Devo T-shirt, and had grown an unexpectedly huge bosom overnight. Oh, and I played a totally cool instrument — the French Horn.
I was a member of the Sala Bella Vista fencing club along with my dad and my uncle, who wanted to re-live their swashbuckling days. I was driven to and from classes, everything was paid for, and I was neither smart nor fit (the two essentials of fencing). I quit fencing after the club disbanded and gave up sports for the more gratifying pastimes of talking about boys, cartooning, and focusing on my low self-esteem.
Twenty-two years passed. For reasons I can't properly explain, I was ready to pull on the long socks again. It didn't cost me much last time so I guessed it wouldn't be so bad this time around, right?
The first five-week beginner class ($147) got the competitive juices flowing. Borrowing the club's jacket, glove, epee, mask, and bodywire, I found this a very reasonably-priced re-introduction to the sport. I then paid my yearly membership ($477), which gave me access year-round to the facilities, and the intermediate squad fee ($128), for a term of group classes. I first paid the more expensive $15 a class when some clients were overdue with invoices until the Head Coach hinted strongly that he was running a business as well, and suggested I pay by the term. Insurance was $20 a year, and quarterly novice comps $17 ($68 per year) to enter.
I wasn't exactly Douglas Fairbanks, but after a few months I could tell a lunge from a flèche. I'd had a few good months with clients, so I went ahead and bought the following:
• Custom-made epee $108
• Glove $21
• Mask $155
• Chest protector $31
• 800-newton FIE plastron (underarm and sideboob protector) $56
• Adidas D'Artagnan fencing shoes $89
Running total = $1,315
Given that I run a small copywriting business with no regular cashflow, this was madness. Sometimes all my work comes in with a gush; I work around the clock to get it done, then wait for months for payment while bigger companies use smaller ones to support their own cashflow. Some of these periods are easy to predict, and some come out of the blue.
In most people's minds (and rightly so), fencing is a pastime for genteel, slim white gents with endless trust funds and surnames like "von Graevenitz de la Pottelsberg," not well-covered, unsporty women who shout "fuck!" after every missed jab. In addition, my left forearm and ribcage were peppered with bruises that looked suspiciously like finger marks, the high level of fitness required to actually bout nearly made me vomit a few times, and I was virtually immobile after every session.
I'd paid my membership; I had a sideboob protector; I persevered.
My coaches were unsatisfied with my once-a-week schedule, and suggested I take one-on-one lessons like every "proper" fencer on the planet. A trainee coach offered free lessons while he got up to speed for a few months, until I went to weekly $15 lessons ($60 a month for 10 months). I also started with the Head Coach every fortnight for $27 a pop ($54 a month for 10 months).
Fencing is an utterly addictive sport. People call it "physical chess." Every single time you bout, there's something new to learn. The tiniest bit of encouragement, even an unexpected point, is a drug. And unlike most sports I've played, amateur fencers are not constantly reminded of their shortcomings. My squad comes in all abilities, but we all want each other to do well. After a lifetime's love of sport and dance (and with no physical talent to back it up), I felt at home.
For someone whose natural habitat is the op shop, I also found that buying new gear was surprisingly intoxicating. Like all elite sports, it's all about the gear. There's always a shiny new maraging blade or fancy grip to enthuse about before squad.
Small business owners love contra deals, so I struck one with my dad to promote his painting exhibition. I bought an 800-newton FIE jacket ($200), 800-newton breeches ($137), a body wire ($23), and three pairs of Kevlar socks ($39 for 3 pairs). I needed a bag to put it all in, which another fencer kindly provided for $23. I bought another custom epee for $108, repaired a broken bladetwice($31 + $31),upgraded my glove ($27) and was given a shin guard.
My best bargain buy was the tiny screwdrivers to fix the point of my epee, ($1.50). All actual sports gear worn underneath all the above was bought at Savers for $3 a piece, $15 total, including a fantastic pair of palm tree leggings for $3 that distracted the squad for a full evening in a satisfying fashion.
Running total = $3,513.50
When you play a niche sport, friends call you things like "star fencer extraordinaire," because they don't know anyone else who fences. In truth I'll always be at the low end of amateur, regardless of how much money I fling at it. My technique is OK, but I'm far too slow, and fence with emotion and instinct rather than any useful strategy. This is absolutely fine. I'm older, have a slightly better haircut, and self-esteem enough to cope with being beaten soundly by teenagers.
I've found the sport I'll play until I'm 80, which is another lifetime again. Just don't ask me to calculate that cost.
Total cost of fencing membership, classes, lessons, comps, and insurance P/A = $2,988
Total cost of fencing gear (replaced as necessary) = $1,098.50
Rebecca L. Stewart is a copywriter working in Melbourne, Australia. For more reveries on fencing, writing and books, travels through places like Kyrgyzstan and Burkina Faso, and general nerdish glee, see The Galloping Skirt blog.
---
Support The Billfold
The Billfold continues to exist thanks to support from our readers. Help us continue to do our work by making a monthly pledge on Patreon or a one-time-only contribution through PayPal.