Pulitzer Prize-winning Journalist Left Journalism Due to Low Pay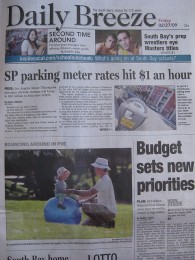 How do you know when you've made it in your career?
The Hairpin asked that question earlier this month, and got answers like "I will know I have made it when I have as Nancy Meyers movie kitchen and linen pants, so I'll probably never make it" and "I will know that I have "made it" when I can sustain a career without having to be on Twitter."
Perhaps the most relevant answer was Megan Reynolds' "Money lets me know that I've made it. I know that I'll have made it when I have my own apartment, a space big enough for my piles of unread books and a bathroom I don't have to wait to use."
Which brings us to the story of Rob Kuznia. Kuznia and two of his colleagues at the Torrance, Calif. Daily Breeze won the 2015 Pulitzer Prize for Local Reporting:
Awarded to Rob Kuznia, Rebecca Kimitch and Frank Suraci of the Daily Breeze, Torrance, CA, for their inquiry into widespread corruption in a small, cash-strapped school district, including impressive use of the paper's website.
So Kuznia has made it, right? That's about the biggest "made it" indicator there is.
The LA Times tells the next part of this story:
As [Daily Breeze City Editor Frank Suraci] walked around the newsroom, a champagne bottle in his hand, he seemed dazed. Assigning Kuznia full time to the school district investigation had left his team even more short-handed, he said.
"There were so many stories we had to miss because we didn't have the staffing," Suraci said. "I kept thinking, let's finish this, let's do it right and let's move on."
The Pulitzer makes him feel vindicated — and sad. He pointed to the desks surrounding his.
"Look at this, " he said. "Vacant. Vacant. Vacant. Vacant. Vacant."
When he got to Kuznia's desk, he paused.
"Vacant."
The lead reporter on the winning story left journalism six months ago. He now works in public relations at USC.
Rob Kuznia is currently a publicist at the University of Southern California Shoah Foundation:
Kuznia joined USC Shoah in August as a publicist. He was part of the USC Shoah team that traveled to Poland in January to cover the 70th anniversary of the liberation of the notorious Auschwitz death camp.
Why did Kuznia leave the Daily Breeze, and why did he leave journalism? Here's a bit more from the LA Times:
The North Dakota native had worked a number of beats at tiny newspapers before landing at the Daily Breeze. His dream was to make it to the L.A. Times or the New York Times.
"Journalism was my thing," he said. "I always felt lucky that I had found what I wanted to do in my 20s while others were still looking for it."
But at 39, the career he so loved barely paid his bills. Six months into his job at the Breeze, he had to take a pay cut. While friends his age were buying homes, he was still renting and driving his old Honda, built in 1989.
He said the paper's win was a testament to the importance of local journalism.
But the profession, he found, "seems to be melting and I felt too financially unstable."
Ester and I were chatting about this story and she reminded me that "newspaper reporter" was listed as the worst job of 2015, according to CareerCast. Not the second-worst job. Not a job that might come with low pay but also with a lot of rewards. The worst job.
I suspect that Kuznia's Shoah Foundation job, after years of working at something he loved without earning a lot of money, might have felt to him like finally "making it." I know I felt like that, the first year I got an office job and could support myself and save money. Sure, I'd given up on something else I wanted, but I wasn't ever going to make it there.
And then he won the Pulitzer. He did, in fact, make it in journalism. He just couldn't afford to keep working in his field.
Photo credit: tiarescott
---
Support The Billfold
The Billfold continues to exist thanks to support from our readers. Help us continue to do our work by making a monthly pledge on Patreon or a one-time-only contribution through PayPal.