Where To Buy Ilana's Bras And/Or How To Live In A Cave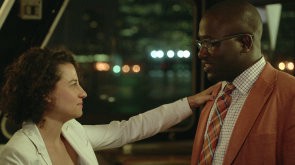 The always entertaining Pilot Viruet at Flavorwire has interviewed the costume maestro behind "Broad City's" delightful yet affordable and always slightly manic outfits and asked the question on all of our minds: Where can we find Ilana's bras? There is an answer to that ("[the most famous] bra comes from a store in NY, and I believe in LA, called LF"). There are lots of other great details too about how to DIY the women's slacker/striver millennial wardrobe.
We definitely have made a point to stick to stores that are accessible from a New York standpoint. We tend to do a lot of H&M, Topshop, Forever 21. We do thrift stores. We do Beacon's Closet sometimes, as you saw. The clothes come from everywhere. Sometimes they're from my closet. I always talk about this because it's so unusual: We had a trash bag of clothes on our floor in our office during the first season. We had no idea what it was. Later we found out that Ilana had cleaned out her closet and thought maybe some of this would be of use. It's very unusual that I walk into my office and find like a trash bag of treasures. … For young, urban women, [bras are] a really fun to way to accessorize an outfit that's not jewelry. Ilana wears very little jewelry — unless it's to make a point, like her "Latina" earrings. Beyond that, she accessorizes very little. She doesn't take the time to pick out a pair of studs or wear a ring. She can't be bothered. Unless it's a statement piece, we found bras were such a great way to go. And they vary in their support. The ones that are a little more structured are Elle Macpherson and Wacoal. The LF bras are more of a touchstone as a fashion feature.
There's more, much more, including an analysis of Lincoln's note-perfect clothing choices and the declaration that neither Abbi nor Ilana wears underwear that matches because OF COURSE THEY DON'T, WHO HAS THAT KIND OF TIME. (Not I, said the pig.) But perhaps you would prefer to explore the costs and benefits of living in a cave in the Yukon? Right this way. There are precious few articles on the Internet that feel one-of-a-kind. I can say with confidence that I've never read anything quite like this guide, in 17 easy steps, to cave life in Northern Canada. For one, it involves getting uncomfortably close to a mummified toe in a glass of whisky, which you are supposed to kiss but not swallow. Yes, really.
Turning a cave into a home is all about D.I.Y. In the bedroom, throw down a thin mattress on a slab of wood, add bookshelves, and run LED lighting through the ceiling. Install a kitchenette, hang up cabinets and a spice rack, and hook up your laptop to a solar panel. There's nothing from IKEA here. In the yard, create a crude outhouse, complete with a piss bucket, and a coop for chickens. It won't be not long before two shaggy pups hibernate under the bed, eyes gleaming like headlights. The finishing touch? A Canadian flag flapping from a tree, signalling "I'm home!" to the river traffic. Even cave dwellers need to get a job. To earn your bread and butter, pick up odd jobs, pan for gold, tend bar, or wash dishes at the Eldorado Hotel. Mushrooms picked by your hands land on plates in North American restaurants, sold through a local buyer. In Dawson City, goods and services are scarce. Townspeople are always looking for a mechanic, a roofer, a plumber, a carpenter. You quickly become that go-to, fix-it guy, taking a day or work here and there. There's decent money in learning a trade. Set up a carpentry shed in the yard and sell beautiful handicrafts from salvaged wood. Chisel swirls onto the lids of hope chests, and twist twigs into chairs. There's plenty of instruction and inspiration in Canadian Woodworking and Popular Woodworking magazines. You must join the Sourtoe Cocktail Club. It's a Dawson tradition to place a mummified human toe in a glass of whiskey, and people must drink the whiskey guided by this single rule: "You can drink it fast, you can drink it slow — but your lips must touch the toe." Since Captain Dick Stevenson began this initiation ritual in 1973, more than 52,000 people have joined the Sourtoe Cocktail Club. But whatever you do, don't swallow the toe. Over the past 40 years, eight Sour Toes have been accidentally swallowed, stolen, or gone missing from the bar. Don't be the ninth: swallowing the toe has a hefty fine of $1,500 or a hell of a lot of dishwashing.
Say it with me now: Ew. There's also a piece of advice that follows about making sure you agree on terms before taking a job for someone, or you might get paid in half of a dead horse. Lesson learned!
---
Support The Billfold
The Billfold continues to exist thanks to support from our readers. Help us continue to do our work by making a monthly pledge on Patreon or a one-time-only contribution through PayPal.