Dreams Of Being A Feminist Housewife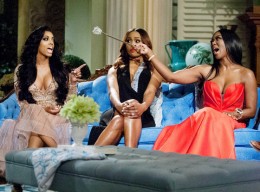 Over at Weird Sister, Morgan Parker shared a funny and blunt piece about money, being an overworked yet still starving artist, and wishing she could simply solve her problems by marrying rich:
We don't talk about money enough and I'll start: I'm broke. Currently I have 22 voicemails about student loans and I have no plans to return the calls. Recently I learned that the olive oil I use to sauté on-sale vegetables is probably not real olive oil, and I am not going to do anything about it because real olive oil is expensive. My "savings" account is overdrawn. Negative savings! I get checks and spend them. Because I have anxiety about being broke and not doing anything about it, I am medium-to-low good at taking care of myself. I don't want to be one of those women who's bad with money. I don't want to be one of those women artists who doesn't have time to make art. I don't want to be one of those Black women who works and works and works and dies. Like my mother. Like my grandmother. …
The psychology of the poor is leaving work to go to work.
The response has been mixed, which is typical of how we react these days when someone says something taboo out loud. It used to be so normal to dream of marrying money that it hardly even needed saying. It's the text — not even the subtext! — of everything from fairy tales to Jane Austen novels, from Marilyn Monroe movies to the new (amazing) Netflix series The Unbreakable Kimmy Schmidt. Prince Charming or Heiress X isn't desirable because s/he's suave but because s/he represents Not Having To Worry About How We're Going To Afford A New Muffler For The Crappy Old Car Without Which We Can't Get To Work.
Who wouldn't want to marry money? Dress money up in a sweet tux or a ball gown, give it a twinkly smile, and we'd all say, "Yes, I do!" Wouldn't we?
It's a seemingly easy solution to an otherwise difficult, nearly intractable problem, a way to clear out the distractions and focus on what's important. And like all seemingly easy solutions, it comes with a trapdoor through which we can fall into a new kind of unhappiness. Parker is as aware of this as anyone; after all, she watches Real Housewives. So, you know, she's being kind of tongue-in-cheek.
On Sundays and Tuesdays, respectively, I sit down with the cheapest glass of wine available and watch The Real Housewives of Atlanta and The Real Housewives of Beverly Hills. These are television shows about women whose jobs either consist of or allow for lunching and private yoga lessons. Oh, to make lunch a verb! I pine. I think I would be very good at this job, wherein men are seldomly seen, vacations are often, manicures are often, and personal ventures are celebrated with parties and signature cocktails. I watch these shows while I simultaneously write, edit work for literary magazines, edit my own work, plan course syllabi, grade student work, apply for grants and residencies, submit work for publication, do interviews, plan readings, book readings, and send apologetic overdue emails to editors. I have too many jobs to have a job. I pine to fill my days like a housewife with what I instead necessarily aim to anxiously accomplish in the two hours between dinner and bed. …
I am looking for a rich husband and here is the plan: I'll do my thing all day, sip wine, cook elaborate meals, and sometimes talk to him when he gets home. Essentially he'll be a patron of the arts. Because women are paid 78% what men make, and even less than that for women of color (and for women poets of color… well, take a guess), maybe this way, I can finally be comfortable.
I get it. I also wish our society were built in such a way that this fantasy weren't one of the only ways Get Comfortable, because there aren't enough rich spouses to go around and hardworking people everywhere deserve economic security. I wish we valued the arts more and capitalism less, and that we valued labor, period. Until that happy day arrives, though, I guess we all, as individuals, have to go about solving our problems as we see fit — and if you can use matrimony to your advantage, I say godspeed.
---
Support The Billfold
The Billfold continues to exist thanks to support from our readers. Help us continue to do our work by making a monthly pledge on Patreon or a one-time-only contribution through PayPal.