Domestic Work and Tipping in Tanzania
by Connor Wroe Southard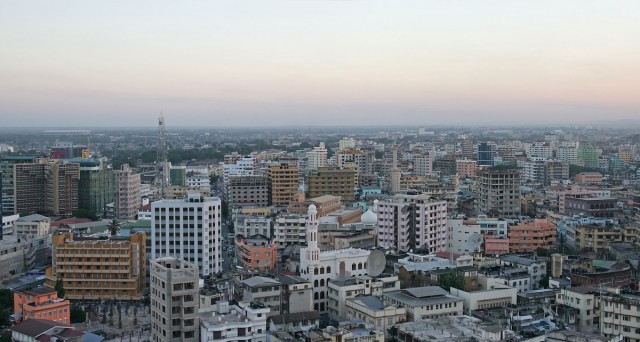 When I first moved into my current house in Dar es Salaam, Tanzania's commercial capital, my roommate had recently become a godmother to four puppies. These puppies happened in a very Dar way. My roommate, who founded a school for orphaned girls in a nearby town, had taken on a female dog as a temporary boarder. She already had a male dog, who is sadly blind after an encounter with what was probably a snake. The female dog belongs to a German family who wanted my roommate to "take care of her" until they "came back." As in so many expat stories, that chapter ends with the Germans leaving Tanzania and never again asking after their dog. So we ended up with puppies, as if the accumulated negligence of Dar's expat community had evolved into an organism that could reproduce.
We're down to two puppies after two others left for their new homes last week. I miss the departed ones, even though having four puppies rushing the kitchen door whenever I tried to open it probably cost me many hours of starving-induced low blood sugar. It was easier to avoid the kitchen for a while. I haven't paid for any of their food or vaccinations, so it's hard to put a more specific price tag on the puppies. I did briefly consider negotiating down my rent because their presence (and that of their waste, mostly in the kitchen) was not really part of the deal, but I'm paying only $550 per month for a basic house very close to the U.S. Embassy, a price that includes utilities and most of our housekeeper's salary. That's low for Dar — I've written previously about paying around that much for a far less comfortable space. I decided it wasn't worth trying to impose a tariff on the puppy poop.
Here I should thank the woman who has done virtually all of the puppy care: Stella, our Malawian housekeeper. Stella cleans and does the laundry, and she also shops for food and cooks it. All of this saves me time and energy, but it earns me some understandable shade from friends back in the States. Why would I need a full-time domestic servant? And how much are you paying her?! We pay above the market rate — about $140 a month. For all the incredulity that number can inspire in Westerners, it's considered a good wage for a semi-skilled worker in Tanzania. I could waste a lot of words explaining the context, but the upshot is this: If housekeepers commanded a higher wage, we'd have to fire ours. No complex neocolonial guilt or explication of structural inequality would make that a good solution to anything.
My last apartment, between the tiny tin-roofed outbuilding in the faraway neighborhood of Upanga and this puppy-filled concrete bunker, was in a palatial high-rise right across from the posh, colonial-holdover International School of Tanganyika. We had a pool, as well as our own bank branch and one of the most expensive grocery stores in town. We got an $1,800 apartment for $800 in total ($400 each for my roommate and I), a robbery we got away with only because we were subletting from an exec for an Australian gas company who had to move to Uganda in a hurry. I had a housekeeper there, too. She was going to be out of work when my roommate and I left. I managed to get her hired immediately by an incoming family I knew — one of them is a fellow Fulbrighter — and I'm told they've all gotten along great. Dar is a very small city if you're an expat with some money in your pocket. It may also feel small if you're a housekeeper.
At my first place in Dar, the now-distant tin-roofed outbuilding, I often ate and drank beer at a place called Susan Shop. It was the typical Dar street café where you can get a full plate of chicken, chips and salad for less than $4. I'm sad to say I haven't been back since I moved. I've searched for a replacement, with some success. The slightly fancier Marine Barbecue is only a hundred meters or so around the corner. The South Asian owner, Riaz, always saves me some Sunday chicken biryani. They don't serve beer — most shops and cafés in this heavily Muslim neighborhood don't — but they're happy to let me linger and read after I've dispatched my rice.
Tipping in Dar is an adventure in overlapping and contradicting cultures. Tanzanians don't tend to give or expect very big tips, though it's typical to give a little something if you sit down to eat. I tend to tip closer to an American 20 percent out of a combination of misplaced guilt and rote habit, and Tanzanian servers seem to appreciate it. That gratitude brings its own guilt — the fear that I've turned into the swaggering white man who tosses around money. I have indeed gotten in trouble for tipping too much. The Syrian man who runs the aptly named "Syrian Restaurant" a short walk from my house explicitly refused a 20 percent tip on a meal of chicken shawarma and hummus. He told me that two thousand Tanzanian shillings — a little more than a dollar — was enough, if I insisted on tipping. He clearly didn't want to be treated like he needed any money beyond what the menu outlined. I haven't tipped there since, which may also be a mistake. I think I may have also offended a white South African bartender by tipping too much when he brought me a burger. Then again, I'm starting to lose track of all the toes I've stepped on trying to carry out basic transactions in Tanzania. My collected negotiations with my regular taxi driver could fill their own essay.
Only when you're openly doing tourism does it become easier to ignore all the contextual forces that bear on the money you spend as a foreigner in Tanzania. Safari camps and Zanzibar hotels hide all of the transactional seams that pop out when you navigate the fabric of ordinary life in Dar. So I'm trying to save enough of my stipend to go on another brief safari, or maybe to go poke around Kilimanjaro. Those are the boilerplate East African highlights that I'll tell my grandkids about — or at least foreground on Facebook. The truth is that figuring out how much to pay for barbecued chicken has been a much more essential part of my time in Tanzania.
Connor Wroe Southard is a writer living in Dar es Salaam, Tanzania.
Photo: Wikimedia Commons
---
Support The Billfold
The Billfold continues to exist thanks to support from our readers. Help us continue to do our work by making a monthly pledge on Patreon or a one-time-only contribution through PayPal.