Taylor Swift Trademarks "This Sick Beat" and Other Swiftian Quips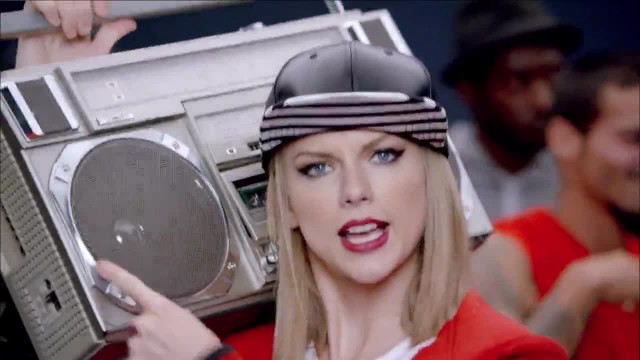 I listen to Taylor Swift's "Shake It Off" a lot more than anyone realizes. I mean, I'm listening to "Shake It Off" right now. And someday, I may want to display my affection for The Song of Last Autumn by emblazoning the words "This Sick Beat" across my torso, probably in pink lettering on a white background.
Well. From this point forward, I can only buy products printed with the words "This Sick Beat" directly from the Taylor Swift merchandising empire.
As Vox reported, Taylor Swift has trademarked "This Sick Beat," along with other Swiftian phrases like "Speak Now," "Fearless," "Party Like It's 1989," and "Cause We Never Go Out of Style."
The list of Taylor Swift's trademarks, including the items classified under each trademark, is fascinating. For example, Swift owns the words "This Sick Beat" as they relate to the following products:
Non-medicated toiletries; Non-medicated preparations for the care of skin, scalp, body or hair; Skin soap; Sun care products; Tanning products; Hair care products; Hair care preparations; Hair styling products; Hair color; Cosmetics; Make-up; Nail care preparations; Nail polish; Nail art products; Fragrances; Perfumery; Potpourri
[…]
Bleaching preparations and other substances for laundry use; cleaning, polishing, scouring and abrasive preparations; soaps; perfumery, essential oils, cosmetics, hair lotions; dentifrices.
I look forward to using This Sick Beat bleach. I've heard it gets your whites 20% whiter!
Your first reaction might be to grumble about trademarking. (I mean, my first reaction was to check and see if Strong Bad had ever said "this sick beat," but that's me.) Taylor Swift trademarking "Fearless" is like Candy Crush Saga trying to trademark "Candy," right? Should people really be allowed to do this?
Vox points out that trademarks are one of the few ways musicians can still make an income in this day and age:
Now, this might seem like overkill by Swift, but it's an important insight into the way the merchandise business works for musicians. For many (not necessarily for Swift), album sales and streaming are no longer ways to make money as a career. One of the dominant income sources for many artists — whether they're top sellers like Swift or tiny singer-songwriters — is merchandise sales. Selling T-shirts turns a profit, but not if anyone can make knock-offs and sell them out from under you.
And yet — well, we've reported on Taylor Swift's income before, and she's the type of person who has enough money to both buy a reported $15 million NYC apartment (with another $5 million apartment next door for her security team) while simultaneously helping pay a fan's student loans. The kid making This Sick Beat shirts on Zazzle isn't getting in the way of that.
A more interesting question would be whether these trademarks help people further down the Taylor Swift empire. Look, you could probably sell an entire line of knock-off T-Swift T-shirts and Taylor Swift would be all "eh, fakers gonna fake, fake, fake, fake, fake." But does this trademark, and the assumed associated profit from trademarked merchandising, help the people who bring Taylor Swift coffee, or set up her shows, or pack the officially licensed T-shirts and put them in the van? Does this mean they each get a little more money?
I'm already having doubts about this, because what I know about road shows includes "you've got your own core team, but otherwise it's union guys hired through the venue," and I suspect that Swift's increased income doesn't necessarily trickle down to everyone who works on a Taylor Swift show. (If you all know more about this than I do — especially if you know someone we can interview — drop your info in the comments or email me.)
But, for better or for worse, Taylor Swift owns the words "This Sick Beat" now. And "Fearless," and "Love, Love, Love," and "Party Like It's 1989," and "Speak Now," and "Nice To Meet You. Where You Been?" and "Could Show You Incredible Things," and "Cause We Never Go Out Of Style." (That last one sounds like a Maybelline slogan.)
I look forward to buying my officially-branded This Sick Beat scouring powder, and using it on my toaster oven while I bop around to "Shake It Off" for the billionth time.
UPDATE: As the commenters pointed out, the list I referenced titled Swift, Taylor Trademarks shows trademark applications in various states of progress, not registered trademarks. By clicking on the various serial numbers associated with the trademarks, we learn:
— The trademark requests for "Fearless" and "Love Love Love" have both been abandoned (although "Taylor Swift Fearless" is registered)
— "This Sick Beat," "Cause We Never Go Out of Style," "Could Show You Incredible Things," "Nice To Meet You. Where You Been?" and "Party Like It's 1989" are new applications
— "Speak Now" is registered
---
Support The Billfold
The Billfold continues to exist thanks to support from our readers. Help us continue to do our work by making a monthly pledge on Patreon or a one-time-only contribution through PayPal.