How a Times Square Spider-Man Does Money
by Jinna Wang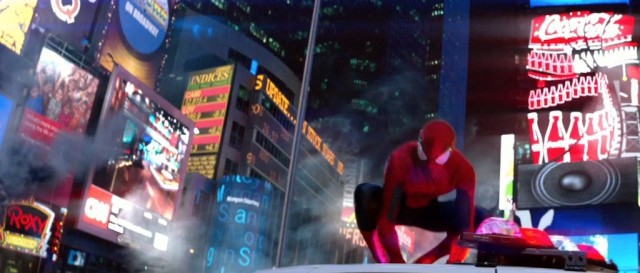 Wander northward on Broadway from 42nd street to 45th street in Manhattan, and you are bound to see Mickey and Minnie, Batman and Spider-Man, Elmo and Cookie Monster, a few Minions from Despicable Me, Hello Kitty, and Olaf, a recent addition to the costumed characters of Times Square, riding off the unstoppable popularity of Disney's Frozen. The characters benefit from Times Square's year-round high volume of tourists, posing in photos in exchange for tips. This week, I chat with "Pedro," who works in costume as Spider-Man, to learn about the job and its finances.
"Pedro" (not his real name), 21, works as a costumed Spider-Man in Times Square, New York.
Hi Pedro. Tell me about yourself.
I'm originally from El Salvador. I moved to New Jersey with my family when I was six years old, so I've been here for 15 years.
How did you get into being Spider-Man?
I was working full time at a clothing factory lifting boxes, but the company closed down and I was out of a job. Then I was walking by Times Square one day and saw the dressed-up characters. I asked one of them about the job, went out and bought an outfit, and I've been here for six months.
Is this your main source of income?
Yes.
How many hours are you here per week?
About 40 hours, counting the commute. Usually, I'm here working from 11 a.m.-5 p.m., five days a week, but it's flexible and I come and leave when I want to.
Wow, this is really a full time job! How much does this job pay?
On a bad day, you make $10 for the whole day. That's less than $2 an hour. On average though, it's about $60 for the day. On a really good day, you can make $100 for the day. It's all in tips. I heard from a guy that someone tipped him $100 for a picture one time, but that's never happened to me before. [laughs]
In the summer though, the naked girls who play the guitars come out, and they make $300 a day. There are at least ten of them, and they each make that kind of money. It's incredible.
What were your expenses in getting started as Spider-Man?
I spent over $200 on the Spider-Man outfit. The shoes, the accessories all come separately, so that was another $50ish. All together, close to $300.
What are your major expense categories in an average month?
I pay my parents around $200 a week for rent, sometimes more, some times less, and I help them out whenever I need to. My family shares a two-bedroom apartment in New Jersey, my mom and dad live in one room, my younger brother and I share the other. Food is probably my next largest spending category. I really like nice food, and I like to treat myself, so I go to buffets a lot. I don't spend money on clothes because I already have so many. That's about it.
What was the last big purchase you made?
A video game. It was $70.
Do you have a savings account?
No, not right now. No.
What is your financial situation like?
Neither good or bad. I don't feel like I'm rich or poor. I'm still pretty dependent on my family since I'm a student.
What do you do when you are not working?
I go to community college in New Jersey part time and I'm in my second year of the program. I haven't decided on a major yet, but I'll need to decide soon if I want to transfer.
What programs are you looking into?
I'm currently undecided. I have a friend who just finished his degree and now works as a systems engineer, and engineering is something I'm considering. School-wise, I'm looking at NYU and Columbia.
How do you pay for school?
Right now I'm in the part time program, which is not as expensive and it is mostly covered by scholarships. As for the transfer, I've always been good at school and I have very good grades, so I am hoping that scholarships will at least cover half the cost. So I will be looking at $25,000 — $30,000 in loans a year. After the transfer, I think I'll stop being Spider-Man. I'm not planning on doing this for very long.
What is your favorite part of being Spider-Man in Times Square?
It's fun and I like making people smile. The kids run up to you and they are so happy.
What is your least favorite part of the job?
The worst part is people being rude to you for no reason. The other day, a woman was walking by, she wasn't even taking a picture, and she puts her cigarette out on my arm.
That's unbelievable!
Yeah that happens. Or people will walk by you and curse at you, bump into you. A lot of that happens out here.
What are some crazy things you've seen working around here?
Some of the fights. It's funny because it's always people with the same costume who end up fighting each other. So you'll see Elmos fighting with Elmos. Buzz Lightyears fighting with Buzzlightyears. People always fight over money, or they are fighting over territories, which also comes down to money. I've been in a few arguments, but right now I'm friendly with everyone. People are supportive of each other mostly. Everybody knows everybody here.
Thank you for speaking with me today, Pedro, and best of luck in choosing a major!
Jinna Wang is a freelance writer living in New York. Find her here.
---
Support The Billfold
The Billfold continues to exist thanks to support from our readers. Help us continue to do our work by making a monthly pledge on Patreon or a one-time-only contribution through PayPal.