A Honeymoon Remembered in Receipts
by Chris Wiewiora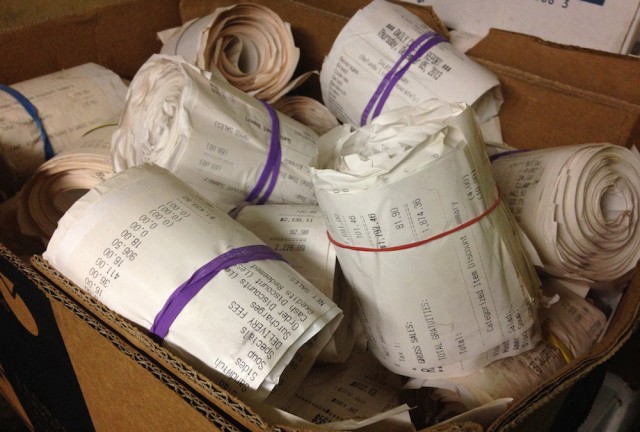 OVERVIEW
Des Moines, Iowa to Portland, Oregon via Las Vegas and return via Chicago
Thursday, August 7th, 2014 — Monday, August 11th, 2014
Meals: 27
Cost: $338.28
THURSDAY
Sips & Snacks Inflight Service
Southwest Airlines flight #884 from Des Moines to Las Vegas
12:40 p.m. to 1:40 p.m.
Coffee with cream
Ginger ale
Wheat Thins 100-calorie packet (2x)
Peanuts (2x)
Total: $0
Clouds of cream swirled in my coffee and tiny bubbles floated in Lauren's ginger ale. We flew above the patchwork Midwest and over the Rockies as big as our Wheat Thins. The Strip's lights were off. The desert was roasted and dry and speckled with salt.
Auntie Anne's
McCarran International Airport
1:54 p.m.
Pretzel Dog
Cinnamon Pretzel (charged as "original")
Sweet Mustard Dip
Total: $10.13
Slots swirled and blinked and chinged behind me.
The cashier asked how to pronounce my last name.
I said, "Vee-Vour-Ra."
"That's a designer name," the cashier said. "I got me a Wiewiora somethin' or other."
Lauren hadn't changed her last name and I didn't resent her.
Sips & Snacks Inflight Service
Southwest Airlines flight #1499 from Las Vegas to Portland
2:30 p.m. to 4:50 p.m.
Orange juice
Total: $0
The cabin felt too cold for juice, but I wanted to be reminded of Florida. Lauren and I grew up there, met there, moved from there, just got married there, and then we were going in the opposite direction of its sun and citrus: from the Southeast to the Northwest.
Pearle Bakery
South Waterfront Market
~7:45 p.m.
Buttery burger rolls (4x)
Total: $3
Almost all the loaves were gone. The two women vendors in brown shirts that read Eat Bread also wore the familiar market-weary look of being almost done. Still, they laughed when I said their shirts should read, "Fuck Celiac."
Bambuza Vietnam Kitchen
~8 p.m.
Pho — Vegetarian
Soba Noodles with Beef
Total: $21.22 (includes 15% tip)
We cocooned in a blanket on the grass. The popcorn cart was shut off. In front of us, the stretched canvas flickered with the film. Charlie held aloft his golden ticket for entry to Wonka's Factory. He ran home and we packed up, two time zones away from our bed.
FRIDAY
Lobby
The Ardea
~7:30 a.m.
Coffee (16 oz travel mug)
Total: $0
The black-and-white photo wallpapering the elevator bay showed a woman leaning like a coutured "Thinker." French roast wafted through the lobby's astringency. Caffeine withdrawal made it too difficult to think if the wallpaper was an ad for hair product, jewelry, or the black dress. Definitely not for food.
Urbana Market
8:01 a.m.
Eggs (dozen)
OJ (64 oz.)
Total: $9.24
The over-easy eggs melted pats of butter into each market roll. I arranged leftover basil leaves in a pinwheel on top. Lauren and I sat next to each other on a bench. The night before, the apartment owner had left cherries and champagne for us on the table.
Bakke Brothers Brand
Bite of Oregon
~11 a.m.
Honey glazed beef jerky (3.2 oz.)
Garlic lovers beef jerky (3.2 oz.)
Honey jalapeño beef jerky (3.2 oz.)
Total: $40
He quipped as he snipped sample stripes with scissors: The gator had bite, the kangaroo had hop, and the venison was gamey.
At Ames' market, I said the old school sauerkraut with caraway seeds was sweet, traditionally styled while the habañero mango kicked spice but gave a smooth fruity finish.
Marshall's Haute Sauce
Bite of Oregon
~11:15 a.m.
Smoked Habañero Barbeque (8oz)
Total: $10
We dipped pretzel sticks into samples and felt the pressure of the invisible contract: If you try, you buy.
I hated people who came to Ames' market with Starbucks, grazed the booths, and only bought from the food carts.
Dannon
Bite of Oregon
~11:20 a.m.
Oikos Greek yogurt with pineapple fruit on the bottom (5.3oz)
Total: $0
"It's good for digestion," the sales rep said.
"What do you mean?"
"You know, it keeps things regular."
"Like poops?"
Lauren squeezed my hand.
The rep glanced side to side.
I chanted in my head, "Say it, say it."
"Like poops," the rep said.
We all laughed.
Nectar Creek
Bite of Oregon
~11:30 a.m.
Mead (Solo cup)
Total: $5
I said we belonged to a bee club that had harvested sunshiney-tasting alfalfa honey. The seller told us he got his supply from 5,000 hives that would soon pollinate a farm's pumpkins. I said he should make pumpkin spice mead. The seller frowned.
Mt. Angel Sausage
Bite of Oregon
~11:45 a.m.
Bratwurst with caramelized onions
Chickenwurst with caramelized onion and 'kraut
Curly fries
Total: $17
Tip: $5
The pitcher was labeled honeymoonfund. I usually didn't tip at food carts since the prices were already marked up. But the peroxide-blond cook had a kind, laidback attitude and gave us congratulations. I pulled out a five and put it in as the cook turned around to the grill.
Distilleries section
Bite of Oregon
~12:00 p.m.
Gin and tonic
Total: $5
Despite selling fermented foods, I don't like sauerkraut. Perhaps it's because I don't like drinking alcohol. Perhaps it's because I don't like things that smell like farts. Whenever a customer asks me which one's my favorite, I point to the jar they've been looking at and say, "It's the most popular."
"Beverage Booth"
Bite of Oregon
~12:05 p.m.
Watermelon juice (16 oz)
Total: $4
I glugged near-sugar water while a teenager huffed through pull-ups. I wondered whether a military booth with a fitness course at a food festival is like Victoria's Secret window displays next to translucent windows at Curves in a strip mall, or not.
Gerry Frank's Konditorei
Bite of Oregon
~12:30 p.m.
Three-layer carrot cake (slice)
Total: $6
Who uses a card to buy from a food vendor? Square card readers don't always read. You have to have Wi-Fi.
Cash moves forward. Green, go. Quick.
I jumped ahead of the line of plastic swipers. Buy and leave. Consume and burp.
Or swipe and wait and stomach grumble.
Lobby
The Ardea
~4:15 p.m.
Coffee (8oz)
Total: $0
We bought more books at Powell's than food at Bite of Oregon. I'm not going to say reading is eating language. I will say I remember events by what I was reading, not eating.
Engagement: Skin Tight
Wedding night: In the Lake of the Woods
Honeymoon: This Is Between Us
Murata
8:26 p.m.
Rolls of Sushi (2x)
Sushi Dinner B
Total: $37.70
Tip: $7
gray owner-master
curled hands slow, but steady
turtle crawls ahead
squinting apprentice
eyes flicking behind glasses
youth shadows old age
seaweed, rice, and fish
bamboo mat wrapped tight around
unraveling roll
Little Big Burger
9:11 p.m.
Root beer float
Total: $3.75
Tip: $1
Lauren rested against me as the tram rolled to the end of the line. Drizzled sweet and condensed milk over sliced strawberries was the sushi place's teasing dessert. I bought a float. The scoop of vanilla bobbed in the soda like the moon waxing in the bright night sky.
SATURDAY
Rilassi Tea & Coffee
8:33 a.m.
Coffee (8 oz.) (2x)
Breakfast turkey croissant
Maple bar
Apple strudel
Total: $12.85
Tip: $1.93
When we dated, I made Lauren baked goods with names like lushies. When we moved in together, I picked up donuts at the grocery store. When we got married, we had cupcakes instead of cake.
Nothing is better than starting a weekend morning drinking coffee, eating a pastry, and reading.
Baird Family Orchards
Portland Farmers Market
~11:30 a.m.
White peaches (3x)
Total: $4.50
"Crazy Train" blared on electric ukulele. Lauren wanted some fresh fruit and veggies and we had drifted from the park's plein air painting to the university where crowds lined a square of booths surrounding the stage. Call it serendipity or crazy, but that's how it goes.
Packer Orchards and Bakery
Portland Farmers Market
~11:45 a.m.
Macaroon cookie
Snickerdoodle cookie
Fudge brownie cookie
White chocolate cookie
Total: $5
We also got cookies.
Mayas Taqueria
12:51 p.m.
Brazilian beef tacos (4x)
Brazilian beef burrito
PBR (tallboy)
Café con leche (small)
Total: $21.50
Tip: $3
Lauren and I had eaten all our food, but the server hadn't brought my coffee.
Inside, I knew the server had forgotten when he said, "It's on the way."
I said, "Let's just get it done."
Outside, two buddies bluefaced: texting other people instead of talking to each other.
Lobby
The Ardea
~5 p.m.
Coffee (8 oz.)
Total: $0
At home, next to the coffeemaker, our fridge has magnets for Cookies, etc.; Buy Fresh, Buy Local; Wheatsfield Grocery Co-Op; Papa Murphy's Pizza; a Salvador Dalí, and now will have one withBOOKS scribbled in white on a red background around a circle for Powell's after going back for seconds.
Little Big Burger
9:15 p.m.
Cheddar and pepperjack cheeseburger
Cheddar cheeseburger
Fries (2x)
PBR (tallboy)
Total: $16.75
Tip: $3
The guy held up a bag for fries with the phrase thissize. We had tried to find Pizza Schmiza, but when we got there a sign said it had moved. Back at the apartment we ate while watching Lauren's iPhone because there was no DVD player for the TV.
SUNDAY
Rilassi Tea & Coffee
9:29 AM
Coffee (16 oz.)
Breakfast turkey croissant (2x)
Total: $11.90
Almost every weekday Lauren and I eat an egg. We crack farm eggs — the yolk as orange as orange juice — sunny side up into the skillet. When the edges crisp we flip it over, over-easy. While the egg fries, a slice of sourdough toasts in the toaster oven.
Museum Grounds
Portland Art Museum
2:33 p.m.
Coffee (8 oz.)
Iced green tea (12 oz.)
$4.60
The first time I had a pourover was at a café by the Iowa City Megabus stop on the way back to Lauren waiting in Des Moines. I thought I could just get a coffee. I glanced between the funneling hot water and the idling bus about to leave.
Saaj Baghdad
Alder Street Food Carts
3:22 p.m.
Gyro (2x)
Baklava (2x)
Total: $17
Tip: $2
When Lauren gets snappish I call it the "food grumps." I'm the same way. Sometimes it's as dumb as arguing over the pronunciation of gyro (Lauren: ji-row; me: gee-row (neither of us say, "hero")). All we want to do is eat the word and digest the disagreement.
Cinema 21
Playing "Boyhood"
4:17 p.m.
Lager (pint)
Total: $5
The day Lauren and I first had sex together we had not made it on time to a theater that served food. We got ice cream by a lake with jet skiers. Then, at my parents' house (they were gone), we watched The Princess Bride. It was a rainy afternoon.
University Chevron
8:38 p.m.
Ben & Jerry's chocolate chip cookie dough (pint)
Tazo Brambleberry Tea (13.8 oz)
Total: $7.68
I told Lauren Aunt Beth's apocryphal story:
In Vermont, her son attended a friend's ice cream party. Ben, the host's father, set out toppings to add to pints of vanilla from his company. Instead of slicing and baking the tube, someone mixed in a spoonful of chocolate chip cookie dough.
Little Big Burger
8:58 p.m.
Goat cheeseburger
Veggie burger
Fries (1x)
Total: $10.25 (includes tip)
We had wandered around Portland State, but all the nearby restaurants were closed early like Ames. Even the campus pizza place was locked, the chairs flipped up on tables, and the floor swept. Slices sat in platters on the counter.
MONDAY
Lobby
The Ardea
8:45 a.m.
Coffee (16 oz. travel mug)
Leftover eggs and OJ
Total: $0
One night in our kitchen my throat ached and I took a capful of apple cider vinegar. Lauren takes some of it daily when she feels sick. The fermented liquid hit my throat. As I sipped slow gasps I remembered Lauren diluted it in her morning OJ.
Pizza Schmizza
Portland International Airport
12:17 p.m.
Popeye slice (2x)
Pepperoni slice (1x)
Cheese slice (1x)
Caesar schmeaser (large/split)
Total: $21.66
The tosser flicked the dough off his fingertips, the pie stretched, and then he caught it on the backside of his wrist, still spinning. After two more aerials he sauced and cheesed it and then peeled out one baked pie on the brick slab to make room.
"Coffee People"
Portland International Airport
1:31 p.m.
Cappuccino (small)
Total: $2.85
I first asked Lauren out when I worked at a pizzeria. Before that I was a barista.
Before I threw nearly four pounds of dough the size of a hula-hoop up in the floury air, I frothed milk so thick that a dime could float on the sturdy foam.
Sips & Snacks Inflight Service
Southwest Airlines flight #893 from Portland to Chicago
3:18 p.m.
Cranberry juice (6 oz.)
WheatThins toasted chips 100 calories (2x)
ChipsAhoy! 100 calories (2x)
Total: $0
What's there to complain about food or drinks on a plane? Maybe you're returning home with a loved one and an attendant rolls a cart down the aisle with soda, coffee, filtered water, or booze. You get a cup and a snack while outside the air is thin and cold.
McDonald's
Chicago Midway International Airport
8:32 p.m.
Root beer (medium)
Total: $1.77
We didn't take the offer to fly back in the morning. We were ready to get back that night. We were ready to listen to the community radio's kitchen show devoted to episodes like root beer samplings. We were ready to make something out of what we had to eat.
Chris Wiewiora lives with his wife Lauren in Ames where he earned an MFA in Creative Writing and Environment from Iowa State University. His nonfiction has been anthologized in Best Food Writing 2013 and published in Edible Iowa River Valley, Graze, Nerve, and many other magazines. Read more at his site.
Photo: Steven Depolo
---
Support The Billfold
The Billfold continues to exist thanks to support from our readers. Help us continue to do our work by making a monthly pledge on Patreon or a one-time-only contribution through PayPal.