How I Changed My Life and Became a Cheesemaker in Three Difficult Years
by Jeanine Dargis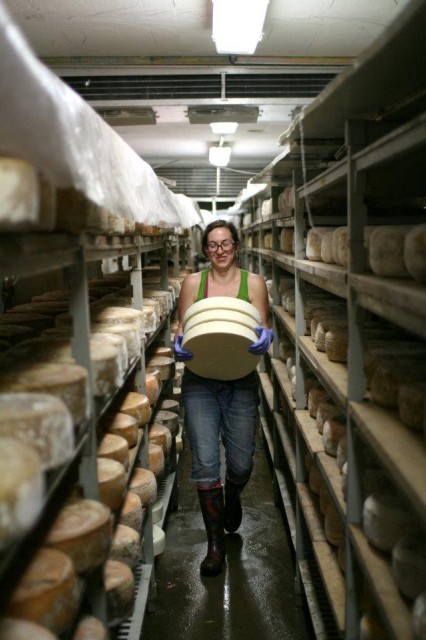 I had my farming epiphany while working in the small Chilean town of Catemu, eating a cantaloupe slice and gazing at the beautiful scenery from the back of a truck with my best friend and the friendly farm manager who had sliced the cantaloupe for us. I didn't (and still don't, shame on me!) speak a word of Spanish, so he said something like "melones, que rico, si?" My friend and I said, "si!" and that was the end of the conversation. The silence after that was a little awkward, but that moment still somehow managed to change my life. This was the kind of life that I wanted: quiet, fulfilling work where the results were deliciously tangible.
Before this moment I had already decided that my life needed a change in some way, but I didn't know exactly what or how to do it. I had been working in Western Massachusetts at my first post-college, full-time job for almost three years, and while it was a great job, I knew I could just work there forever, getting really comfortable, bored and entrenched, without really realizing it.
My best friend and I had been talking about WWOOFing somewhere and at some point had decided on Chile pretty randomly, mostly because their farm listing was free. We contacted a farm and heard back, and solidified a date to arrive there. We had decided on three months, another pretty arbitrary thing, based on what I thought I could afford. I had about $5,000 in savings, and, in theory, if we spent the majority of our time on a farm and spent no money, it would last about that long. The exchange rate was also pretty favorable at the time, which was another reason to go there as opposed to somewhere in Europe, where half our money would disappear just from the exchange rate. I gave a few months' notice at my job so I was able to train my replacement, and I left on good terms in late 2008.
Our first farm stay in Chile entailed picking blueberries and raspberries, eight hours a day, six days a week. I had never done manual labor of this kind before so lunch breaks usually consisted of laying on my stomach in a dead sleep or attempting to stretch out my back by improvising some yoga moves. I learned that your mind goes some pretty interesting places when you're doing the same damn thing for eight straight hours. Our stay at the farm ended up being shorter than we planned it, since new WWOOFers arrived and there apparently wasn't enough work to go around? We had a theory the lady didn't like us, and thought we were too loud and ate too much. Perhaps because that's what she told us.
After an initial post-changed-plans money freakout (I didn't have nearly enough cash to travel like a bum for two months!), we were, very luckily, able to find another farm stay starting a few weeks later. We spent some time traveling Chile by bus, meeting some people via CouchSurfing (who knew Chile had a close-knit Couchsurfing network?) and others from hostel stays. I ended up spending a little more money than I thought I would, but it was worth it to get the Traveler experience in addition to the Migrant Worker experience.
The second farm we stayed at was way more chill than the first; it was in the most beautiful place I've ever seen, with more varied work (it was a vegetable farm and we spent the mornings harvesting and the afternoons washing and sorting vegetables — imagine doing two different things in a day!). I fell in love with farming, at least the idea of it, there. All told we spent about five weeks on the first farm, three weeks doing typical hostel/couch-surfing traveling (when we spent the bulk of our savings), and another four weeks on the second farm.

I can't quite put my finger on when I decided I wanted to learn how to make cheese. The idea of cheesemaking intrigued me, and as I was searching for farm work, I would get excited at any mention of cows, goats, milk, or cheese. It might have stemmed from my initial experience of farming as one task, done for eight straight hours. Cheesemaking/dairy farming seemed like varied, interesting work.
Before returning to the States, I had also tentatively set up another WWOOFing situation with a family back in Western Mass, since I had been planning to return there. In their farm description, they insinuated that they were planning on acquiring some sheep or goats to milk that season, so I connected with them, despite them making no cheese-related promises. It thankfully worked out, which was great because traveling had sapped me of pretty much all of my money. I was able to live at their house rent-free and work for them part-time, which gave me an opportunity to also work for money somewhere else.
I found a pretty sweet gig doing video and website editing at a small company close to the farm. As for the family, they owned a bakery and were trying to expand their tiny farm (really just a house with about five acres of land and what amounted to a big garden), as well as starting a grain CSA with a neighboring farm, and had a rambunctious two-year-old. There was plenty to do: weeding, planting, stacking firewood, harvesting, babysitting, and I also ended up picking up a few shifts at the bakery. The family did get two sheep, but they wouldn't be making milk until the next season. My season with them was very rewarding, even though I didn't get to do any of the cheesemaking I had hoped, and I kept working at their bakery even when I moved out of their house and back into town.
I stayed in Western Mass for another year while I thought about my next steps. At this point, I was — for some insane reason — working three jobs: one at the bakery, another at the website, and another back at my old job, doing what I used to do in 20 hours instead of 40. My life became running from one job to another, sometimes for 12 hours straight. I was making it work for the time being and actually making a halfway decent amount of money, but I knew I couldn't do it for very long. I had to really evaluate what I wanted to do and make a decision.
I ended up applying for two apprenticeships, both for the 2010–2011 season — one at a vegetable farm in the area, and another at a goat dairy in Hawaii. I was very surprised to get accepted as an apprentice at the Hawaiian farm, and was (understandably?) quite excited, if anything for the change of pace. I signed up for a year-long gig as an "apprentice," as opposed to an "intern," who would get paid slightly less and have a shorter time commitment (I believe it was three months minimum). There was an "apprenticeship deposit" of $200 (which would be refunded at the successful completion of one's commitment), in addition to an application fee of $100, which I paid and didn't think twice about, though I probably should have. I also had to pay $600 for a one-way ticket, if I recall correctly, in September of 2010.
I could write an entire essay about my Hawaii experience alone, but suffice to say that working under the Hawaiian sun was not exactly all I had dreamed it would be. Though the work itself was satisfying and it really could have been a wonderful experience, the owners of the farm were incredibly cheap, petty, and mean people, and it seemed as though they were hell-bent on making everyone miserable. I was almost immediately fired for not cleaning the bathrooms, scrubbing plastic tubs, or weeding with enough frantic zeal. I somehow was able to avoid this by trying to explain that I quit not one, but three jobs and left my whole life on the East Coast to come here, and could you please give me another chance?
Of course, that was not the end of it. Though I did learn a good amount about animal husbandry, the cheesemaking end of the operation mostly involved packing soft goat cheese (chèvre, as it's called) into cups. Almost every day was an ordeal in which everyone's every movement was watched and criticized, and at any moment someone could run into a room screaming, "WHAT ARE YOU DOING??!" completely apropos of nothing. It might have been the German work ethic of said bosses, or it could have been that they were disappointed with previous interns and were trying to instill some kind of crazy robot work ethic, but it just created an environment of completely unnecessary insanity. I quit after one of my fellow apprentices, after giving several months' notice that she would only be working at the farm for 10 months instead of the customary 12 was, instead of thanked for letting them know so far in advance, fired immediately. It was just too much. I gave my two weeks' notice in early January, but after having my car privileges revoked for not keeping the bathroom sparkling clean during my bathroom-cleaning week (to be done on our own time, of course!), I said, Fuck This Shit and was on a plane within five days.

At this point I wasn't even worried about job prospects — I had just wanted out of a bad situation. I was lucky to have a place to stay with my parents in New Jersey, who understood my ordeal and welcomed me (temporarily) home. I hadn't lived there full-time since high school, so it was kind of a trip to be 27 years old and suddenly living at home.
Despite my less-than ideal previous experience, I was still very much interested in learning about cheesemaking, goddamnit! Fortunately, it was actually a good time to apply for the 2011–2012 season, which usually started in April. I found a nice-looking place in Maine run by a wonderful-seeming woman, drove up to visit, and, though I had to imagine what the place looked like when it wasn't waist-deep snow, secured a spot there for the season. My criteria were admittedly not too high: I just wanted to see and do some actual cheesemaking, be able to ask as many questions as I pleased, and not be subject to any angry Germans. The woman was able to promise all three, and it was good. I was also able to finagle my old website job back, which only paid about $150 per week, but was easy and better than nothing. While I waited for the snow to melt, I divided my time between a yoga studio that let me take free classes in exchange for some weekly vacuuming, some graphic design work, and every broke book lover's favorite place: the public library. I also became my family's personal chef, which my mother loved. It wasn't too shabby. In late April, I headed up to Maine with most of my possessions in tow.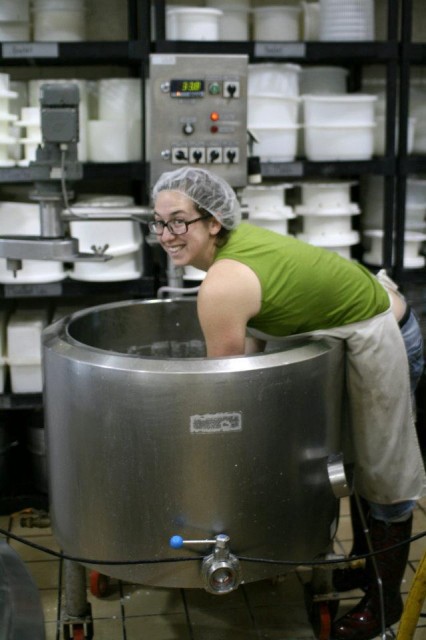 Maine ended up being everything I hoped Hawaii would be. Though the work was hard — early mornings, late evenings, hoof-shaped bruises on my back and legs — everyone was chill and I loved every minute of it. I learned how to make Brie, Camembert, hard cheeses like Gouda, and aged soft cheeses like Valencay. I was also free to take some extra milk and experiment, so I made a few small batches of Cheddar, Manchego, Gruyere, and couple of soft cheeses. I was finally really making cheese! As far as the farm itself, it was very small and I was living in a room behind the garage. I had no running water in my room (I could fetch water from the barn/cheese room) nor indoor plumbing (hello outhouse, and outdoor shower!), which took some getting used to, but wasn't really a big deal, especially in the summer when the weather was lovely. I did get to know some of the local establishments based on the quality of their bathrooms, though (thank you, Rockland Public Library!). The money wasn't so good, only $100/week, but housing and food were all covered and I was still doing the website stuff, which more than doubled my income! Because of this, I was able to pay my minimal bills: student loans ($100/month minimum), phone bill ($80/month), car insurance ($50/month), and health insurance ($100/month, which would expire once the state of Massachusetts found out I was no longer a resident). I was even able to save a bit on account of having pretty much no social life. This was mostly okay, since farm life is exhausting and I still got to talk to friends on the phone or Gchat. By the end of the season I had made a few friends (and even went on some dates!), but I left all that behind in the fall to start at my Real Cheese Job.
I wasn't really thinking about the next step all that much in the beginning of the season, but I absorbed some of my co-apprentices' zeal/stress about job searching. In mid-summer I started poking around Good Food Jobs for promising leads, and I began applying in earnest. I wrote a pretty kick-ass cover letter, if I do say so myself, and started hearing back from people in a very encouraging way. I applied for a job as a cheese-shop manager in Brooklyn, which put me in contact with my future boss, though I didn't know it at the time. After a Skype chat and a couple of emails (one of which said: "keep in touch, the cheese world is very small," which was good advice!) he let me know that the position had been filled.
"Oh well," I thought, and continued to apply for cheesemonger jobs, which seemed plentiful in the New York City area. I also kept in contact with the locals at the Maine Cheese Guild, some of whom were thinking about hiring. I was surprised at how well-received my inquiries were, but I guess having two cheese-related internships under my belt, in addition to other farming experience, was a good thing.
In mid-August, I received another email from my unbeknownst-to-me-future-boss letting me know that his cheesemaker at the farm's main New Jersey location was leaving at the end of the season and he was looking to replace her.
OH REALLY??
I jumped on that and scheduled an interview the next time I would be in the area. The fact that it was in New Jersey was both an incentive and a detriment; I had sworn I'd never move back there about a thousand times in high school, but I had a family obligation in early September and made the eight-hour drive for a weekend of family time and interviewing. I also had a meeting with a cheese shop manager in New York City, so my interview day involved driving from North Jersey to NYC, then back over the river about 40 miles directly west. The cheese shop interview ended up being a bust, but the cheesemaking interview went well. I actually helped a little that day since they were still mid-make process at about 6 p.m.
A few weeks later, I received an offer: full-time cheesemaker and cave manager, $36,000/year with benefits after three months. A REAL CHEESEMAKING JOB. I took it, and though I had to leave Maine earlier than I wanted, I started there in mid-October so I could train with the current cheesemaker for at least a month before she left for good.
I'm sure $36,000 doesn't sound like all that much, but in the cheese world (and really in the farming/food world), that's a good amount of money, especially for one who's just starting out. If this job didn't pan out, I could have stayed in Maine making about $11/hour, which I would have seriously considered, since I had such a wonderful time as an apprentice. Nevertheless, I moved back to New Jersey, stayed with my parents for about two weeks until I was able to find my own place (though the farm had housing if I needed it), moved into my sweet little studio apartment in November 2011, and have been here ever since.
So here I am, finishing up my third season here as the Head Cheesemaker. Though it was a pretty long and winding road, I'm happy and proud to be able to say that I radically changed the direction of my life and was able to do it in about three years! And then it took me about another three years to write about it. I can now truly say I know what it's really like to be broke, to live and work with truly terrible, and truly wonderful people, to pee outside and poop in a hole in the ground, to witness enough baby goat births to be relatively jaded by it, and know how it feels to get splashed in the face with whey, butterfat, curds, and brine. And now you know how you can do it too.
Jeanine Dargis lives in western New Jersey and wears a hairnet and rubber boots to work every day.

Winter is the time when most farms hire their apprentices for the following year. Below is the apprentice information for my former and current jobs. Hawaii farm not included as I don't recommend it, though a quick Google search will locate it pretty easily.
• Appleton Creamery, Appleton Maine
• Valley Shepherd Creamery, Long Valley New Jersey
---
Support The Billfold
The Billfold continues to exist thanks to support from our readers. Help us continue to do our work by making a monthly pledge on Patreon or a one-time-only contribution through PayPal.