House Hunters International, Billfold Edition: The Writing On The Wall
by Jessica Furseth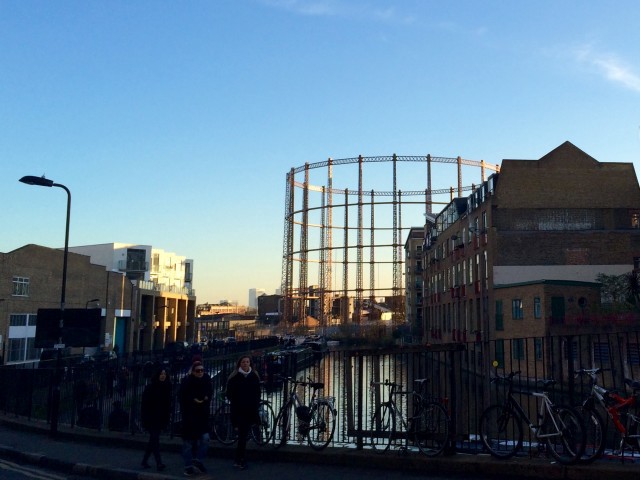 This is Part Three in a series. You can read Parts One and Two here.
"Life in all its fullness" read a plaque on the building next to the flat we'd just seen. I think the quote is supposed to provide perspective — it's by a medical centre — but it's late and freezing and past dinnertime and the beautiful flat we'd just seen came with so many add-on costs that it's a no-go. "This experience isn't life's in its fullness," I whined to my husband as we walked away from the offending sign. "This is life rubbing my nose in it!" My husband, knowing better than to try and reason when I'm hungry, silently grabbed my hand and lead me towards a restaurant and ordered us phở.
House-hunting is full of messages and hints, if you believe in that sort of thing. I usually don't, but I'm pretty sure the process of buying property is making me superstitious. We're pattern-seeking animals trying to crack the code to getting ahead. But there are no patterns here. It's just the two of us spending endless Saturday afternoons trekking around East London, looking at yet more flats in the hope that one of them might work out.
While all in the same price range, the properties are either horrible or great — there's nothing in between — and there's fierce competition for the latter. Right now it feels like this process will continue for the rest of our lives.
That's not possible — is it?
I guess one slim upside is that you learn things about other people by nosing around their homes. The first flat we saw, by the Hackney Marshes, was one of several where people seem to live with their curtains drawn all day, surrounded by stacked cardboard boxes and plastic bags scattered around the kitchen. We considered putting in an offer for the next place we saw, in Homerton, which required total renovation but was across the street from the Overground.
The first place we actually made an offer for was a split-level flat in Bethnal Green; it also needed a complete overhaul but had great views of the city, and was only blocks away from Brick Lane. We waited a week and then another, before the owner decided not to sell after all.
I won't lie: I was feeling pretty discouraged at this point. The process had lasted months but we seemed no closer to the end, and the clock had started ticking for us to move out of our current place. I was feeling a tad cranky about the situation one night while having drinks with a friend, who owns an amazing house with his wife in Stoke Newington. That is the area of East London where I lived before I got married, where I would love to go back if I could possibly afford it.
As I jokingly told my friend how jealous I was, he surprised me by telling me Stoke Newington hadn't actually been his first choice. Originally they had hankered for Highgate, a classy area of North London, before realising it was too expensive. "It's always the way: you look and look in your ideal area and can't find anything. Then you try a second-choice area, which is actually okay after all," said my friend, in his typical sage manner. "And then you find the perfect place."
I thought long and hard about this on the trek back to West London. Then I said to my husband: "Maybe we should consider Peckham."
"I love Peckham," declared the banners lining Rye Lane in Peckham. I really wanted to love Peckham too. It's a very up-and-coming area of South London that's still not too expensive. Maybe Peckham was the solution to speeding things along, so we could get our lives back! In that spirit, my husband and I had set aside a Saturday to scout out the area, which we'd heard a lot about but not actually visited in the past five years.
Peckham was run-down with poor transport connections back then, making it attractive for people chasing cheap rents. We walked around, noting the stylish coffee shops, the green spaces and the new microbrewery. At dinner at a Thai street food place, the waitress told us Peckham has everything: she can easily go months without ever seeing other parts of London.
Feeling optimistic about Peckham, we went to see a few places over the next few weeks, marveling at the second bedroom our budget could suddenly afford. But as much as I wanted to love Peckham, South London never felt quite right. A few possible places popped up in East London again so we went to see those too, starting with one that took us past the iconic Hackney gas towers at sunset. It was a perfect charm attack and I knew: this is it for me.
I've lived in East London for seven years until this past year out west, and I want to go home.
So that's what we're doing now: we're looking at small flats in East London, because who needs stuff anyway, right? There was one flat by Newington Green, which I got over-excited about because it was next to Stoke Newington, the fever dream. Then we got rejected because of a clause where buyers in key worker roles — nurses, teachers, etc. — got priority.
At the moment we're eyeing up a place in Haggerston; it's tiny but it's just off Regent's Canal. My rational mind knows that talking about the place can't possibly jinx it, right? I'm feeling tempted to go down to the canal and look for some graffiti to help with the divination, but I'm staying away as this is pure superstition. Although it can't hurt to knock on wood.
To be continued!
Jessica Furseth is a freelance journalist living in London. She loves the internet, but has too many tabs open. Read her stuff on Tumblr or come say hello on Twitter.
---
Support The Billfold
The Billfold continues to exist thanks to support from our readers. Help us continue to do our work by making a monthly pledge on Patreon or a one-time-only contribution through PayPal.