Helaine Olen Explains "Expenditure Cascades" As They Relate to Birthday Parties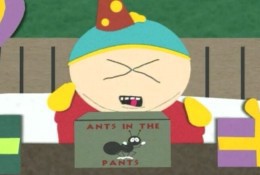 Earlier this week, we wrote about the family that invoiced another set of parents after their five-year-old child failed to appear at a "ski and snowboard center" birthday party.
Now, Helaine Olen — who will be joining us next Wednesday at The Billfold LIVE — is on Slate discussing how birthday parties went from box cakes to blowout extravaganzas:
Once upon a time, back in our childhoods, a few rounds of pin the tail on the donkey and a bunch of balloons and candy were all that was expected of the average parent hosting a child's birthday party. If a mom wanted to go all out, she skipped the homemade Betty Crocker or Duncan Hines cake, and splurged on a pre-made one from the local bakery instead.
Yup, that's exactly what I remember birthday parties being like. My mom would make angel food cake in a Bundt pan and hang it upside down over a wine bottle.
So what happened?
People spend. Then other people spend more. So more people spend even more. That's how an expenditure cascade works. As our economic winners spend ever-larger amounts of money on their children, the standards increase for everyone, even those falling behind.
No one wants to be seen as a cheapskate on his or her child's special day, after all.
How much have expenditures cascaded since the days of box cake and paper hats? Olen writes that 7 out of 10 US parents spend more than $300 on a birthday party, while 1 out of 7 spend more than $1,000.
Gillian Marriott, the owner of Sweet Cheek's Cakery in Cañon City, Colorado, told me that in the past two years, she's seen parents go from spending $15 to $20 on a simple basic birthday cake to $60 to $80 on stacked and tiered cakes. "I have the biggest demand for first birthday cakes that are larger than life," she said.
Olen doesn't mention whether there's also a "experience cascade" that goes along with this economic cascade; I mean, I feel like I can remember the days when you got a piece of cake, at best, once a month, and now both kids and parents are surrounded by treats and snacks wherever they go. So what makes the birthday party cake special? Professionally-styled fondant, that's what. What makes an afternoon with your friends different than a playdate? A $1,500 professional DJ.
I wish there was a way I could ask Helaine Olen whether she agrees with this experience cascade theory. If only there were an event we were both attending next Wednesday.
---
Support The Billfold
The Billfold continues to exist thanks to support from our readers. Help us continue to do our work by making a monthly pledge on Patreon or a one-time-only contribution through PayPal.