What Are You Wearing and What Did It Cost
The website So Bad So Good photographed strangers on the street displaying the total cost of their outfits. Like Bill Cunningham, only nosier. It's an interesting exercise, though I wonder how many times the reporter got punched in the nose in pursuit of the story. The most helpful participants, like this one, #13, break down their expenditures: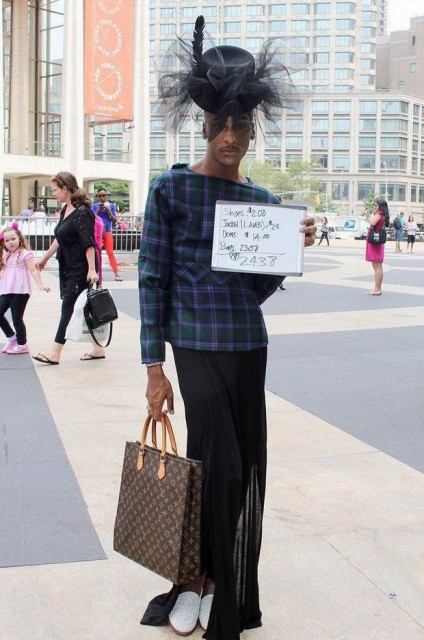 That sign says "Shoes $200; Jacket (LAMB) $24; Dress $14; Bag $2300; Total: $2438."
#13 is not the only individual to go all in on accessories. #18 has a similar story.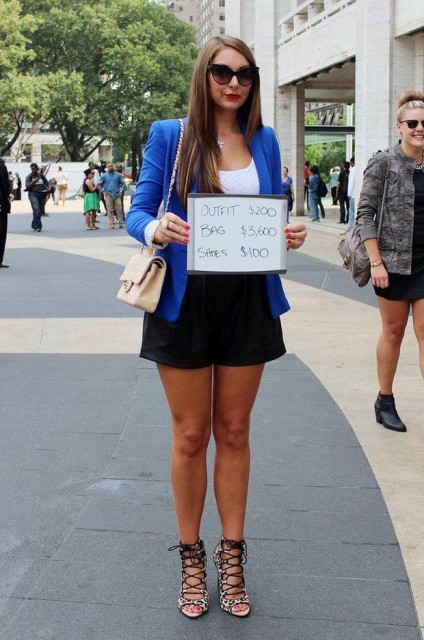 Outfit $200; shoes $100; bag $3600.
I would go into my detailed reaction at anyone spending $3600 on a such a simple, nondescript bag, but I'm rendered speechless by those heels. They look like they escaped, Gingerbread Man-style, from the Real Housewives costume closet.
Bags seem to be the splurge of choice, followed by shoes. #7, the lady in the blue dress borrowed from her sister, admits to spending $1,000 on her nude platform heels. Behind her, in the picture, you can see a couple of other people pointing at her, possibly because a band-aid seems to be flying like a banner from the back of one of those pricey pumps. Even all the money in the world can't buy comfort.
These are some of the higher end ensembles. Many or even most of the outfits are attractive and still quite affordable. One lady looks quite chic for $70 total; a dapper fellow in a suit and a bow tie claims he got his penguin-wear for only $350. Others admit to only "Sale" or "Too much." They don't look embarrassed, though, which I would if you stopped me today with that question. I have on a pair of Gap jeans from five years ago, a tee-shirt I bought from a thrift-store while pregnant, and one of my many moth-eaten sweaters. But I'm a blogger; I get points for getting dressed at all, right?
---
Support The Billfold
The Billfold continues to exist thanks to support from our readers. Help us continue to do our work by making a monthly pledge on Patreon or a one-time-only contribution through PayPal.