Voters Decide They Want Higher Minimum Wages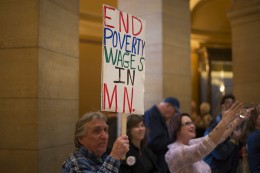 This morning, after the election, much will be discussed about how Republicans have won enough seats to take over the senate.
Lost amidst all of that, may be a discussion of another fight in a handful of states: increasing the minimum wage. The fights took place in red states like Alaska, Arkansas, Nebraska, and South Dakota — states where lawmakers have refused to increase minimum wages and where community groups decided to bypass the legislature and put increases on the ballot to let voters decide. Voters in Arkansas and Nebraska have voted to increase minimum wages — Arkansas to $8.50 an hour by 2017, and Nebraska to $9 an hour by 2016. Ballots are still being counted in Alaska and South Dakota, but newspapers from both states report that minimum wage increases look likely. Once confirmed, South Dakota would increase its minimum wage to $8.50 in 2015, and Alaska would increase its minimum wage to $9.75 by 2016, but more importantly, both states would also set their minimum wages to increase in line with inflation, which makes a huge difference to low-wage workers over time.
Alaska and South Dakota would also become a part of 30 states which have increased the minimum wage in the last few years, signifying that the federal minimum wage, at $7.25 an hour and unchanged since 2009, is just not enough.
At the city level, San Francisco has voted to increase its minimum wage to $15 an hour over the course of three years, joining Seattle, which passed a similar measure earlier this year.
Photo: Fibonnaci Blue
---
Support The Billfold
The Billfold continues to exist thanks to support from our readers. Help us continue to do our work by making a monthly pledge on Patreon or a one-time-only contribution through PayPal.