Places I've Lived: Paris, St. Louis, NYC
by Leah Sutton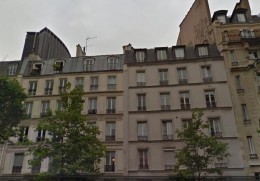 Boulevard du Montparnasse near Rue de Rennes, Paris, France, €600/mo, September-December 2012
After two years of living in dorms designed to be their own sort of "village" that were vaguely reminiscent of Disneyland, I lived in a tiny apartment in Paris for three months with a 60 year old psychoanalyst (a pure Freudian, because, well, she was French). She regularly rented out her apartment to visiting students and was dismayed at my lackluster French skills. I slept in her son's old bedroom and was given my own bathroom. It wasn't a bad arrangement, as the apartment was centrally located in Paris and I wasn't obliged to eat any meals with her. I was awakened regularly at 8 am by screaming French children being dropped off by their parents for appointments. When I asked my host mom her "spécialité," it all made sense: she treated kids who were "hyperactif." Hence the early morning wails.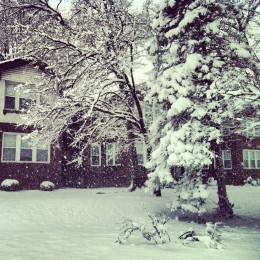 University Drive near Melville Ave, St. Louis, MO, $740/mo (my third) January 2013-May 2014
When I got back to school, I moved into a nightmare of an apartment just across a busy highway from campus. For three months, we endured a nightmarish landlady who would drive by slowly in her white Lexus and drop by unannounced at unexpected times of day using keys she wasn't supposed to have. While I'd been living abroad, my roommates had gotten extremely sick from the apartment's mold, the existence of which she denied. We found a similar apartment two buildings down, moved out after finals, and lived on the exact same block with a saner landlord for senior year. The new apartment featured a handyman who was basically our fourth roommate, so often was he there. His name was Bob Obbin. Say it aloud.
76th Street near Columbus Ave, $800/mo (my quarter), June 2014
After graduation I took an epic road trip east from St. Louis (read: I was depressed and drank way too much five hour energy), paused at my parents' house, and moved to New York. I couldn't believe my luck at finding a sublet in Manhattan for under $1000/month on Craigslist. The apartment was gorgeous, with brick walls and a huge fireplace. I had three roommates, the place technically only had one "real" bedroom. Two of us slept on lofted spaces in the apartment (I climbed an unsteady ladder to reach my futon) and another girl had a room without a window. I still loved the apartment and its location (two blocks from the Natural History Museum and right off Central Park) and I never go uptown anymore so I lament that fact. I saw more cute dogs in that month in that area of the Upper West Side than I think I have in my entire existence.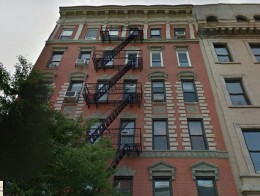 Macdougal St. near Houston St, $1200/mo (my third), July-August 2014
This apartment epitomized how people in Manhattan prioritize location over everything else. Somehow I was convinced that it was more important to be downtown, right next to the train — a ten minute commute from my office — than it was to have any discernible comforts. Our apartment was a three bedroom but would have comfortably fit one person. I slept on the floor in a futon I had lugged with me from the UWS. The location, and commute, were great, but there was nothing affordable around me in Soho, nowhere to cheaply buy groceries or do my laundry, and I was always tempted to shop. And we had a bedbug scare the weekend I had a boy visiting from out of town.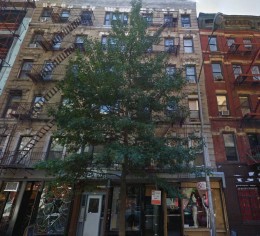 13th Street near Avenue A, $1200/mo (my half), September 2014
I had to quickly find another sublet (my third apartment in four months) when I accepted a job last-minute just as my previous sublet was ending. I didn't want to jump into a lease, so I agreed — sight unseen — to take this East Village apartment that a friend of a friend was vacating for the month of September. I have a strange fondness for this place, even though it was mostly gross. There were constantly tiny roaches that would never go away despite the endless Raid we used. But the previous tenant left behind her old bed, so I finally was not sleeping on the floor. Our part of 13th street — between Avenues A and B — was relatively quiet for the East Village. And I was enamored with the neighborhood. We were next door to a sex store with a chalkboard advertisement outside that read: "You need latex!" I didn't want to live anywhere else.
3rd street near 2nd Avenue, $1400/mo (my half), October 2014-Present
And so I finally signed a lease in New York. Unsurprisingly, it's too expensive, and even though I love the East Village for now, I'll probably have to make the move to an outer borough when I'm eventually priced out of this neighborhood. Or maybe I'll move back to St. Louis, where one can live like a king for a third of what I'm paying. I'm just happy that I'm finally not moving every month.
Leah Sutton lives in New York City where she works in marketing.
---
Support The Billfold
The Billfold continues to exist thanks to support from our readers. Help us continue to do our work by making a monthly pledge on Patreon or a one-time-only contribution through PayPal.