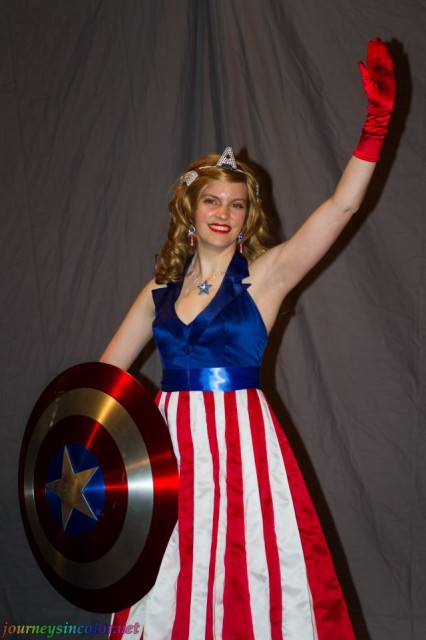 Torrey Stenmark as Captain America. Won Best in Class Master, Norwescon 2014.
"I spent $585 on my Captain America dress," Torrey Stenmark told me, "not including the shield."
Every year, Torrey makes two or three big costumes, as well as one or two less-intensive costumes, to wear to conventions. She likes to show off her biggest pieces at WorldCon, Norwescon, and Emerald City Comic Con.
"This past calendar year, I had the USO Captain America, Ms. Marvel, and Pepper Potts — but Pepper was super low-impact, because it was mostly workout clothes."
I've admired Torrey's work for years; this year, at Geek Girl Con, she had a Ms. Frizzle costume as well as a crossplay Raleigh Beckett costume from Pacific Rim. (The term "crossplay" refers to cosplaying a character of the opposite gender as if the character were your gender, like Torrey's Captain America "Steph Rogers" costume.)
When I cosplay — and yes, I have cosplayed — I tend to choose characters whose outfits are easily thrifted; you can do a decent enough River Tam costume with an oversized red sweater and a pink skirt, if you're not too concerned about copying all of the details. Torrey, on the other hand, is among the cosplayers for whom the details are everything, and she's willing to pay for them.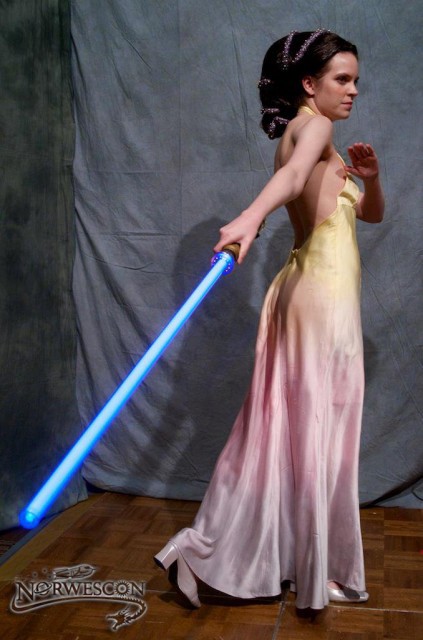 Torrey as Senator Padmé Amidala. Won Best Workmanship Master and Best in Class Master, Norwescon 2012.
To make her Senator Padmé Amidala costume, she spent $560 to buy costume pieces like silk — which she then hand-dyed — as well as the freshwater pearls that adorned the senator's headdress. She used the book Dressing a Galaxy: The Costumes of Star Wars as her guide, which is where she learned that the original costume was made from bias-cut silk. As Torrey explained, costume replication comes easily "once you tell me what it is."
Torrey also works to consistently challenge herself in her costuming. For her Avatar: The Last Airbender costume, she learned how to manage leather to create Zuko's leather armor. It cost her $675 to make the total costume, $380 of which went into buying the leather and tools. It also took 13 hours to manipulate the leather and another 15 hours to put bolts into the armor. Now that she has experience in leather work, she has that skill to help her craft future costumes, but she's also ready to try something different: "I've done that, I've tried it, what's the next challenge?"
One of Torrey's most expensive costumes was her Na'vi Avatar costume, which cost around $2,000 in blue alcohol-based body paint as well as custom painted contacts. As the photos show, many of Torrey's costumes are award-winning; the Na'vi costume won Best Workmanship Journeyman and Best in Show at Norwescon 2011, and Best Makeup Journeyman and Best in Show (Recreation) at Renovation (WorldCon 2011).
Torrey is quick to explain that buying the best materials always pays off in the end. "There was this sign in this telescope shop that my dad and I used to go to: Buy the best and only cry once."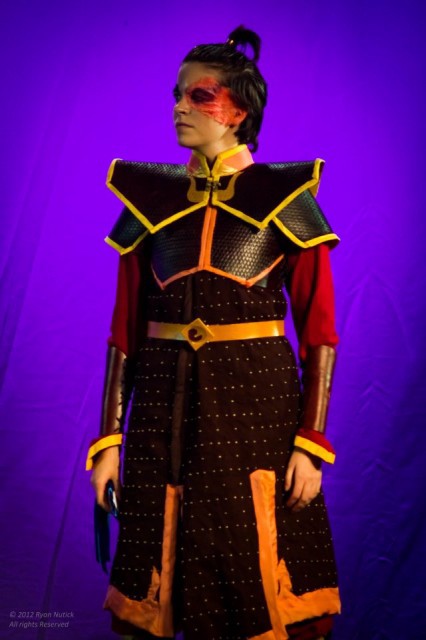 Torrey as Prince Zuko of the Fire Nation. Won Best Choreography and "Nailed It" at Chicon 7 (WorldCon 2012)
This includes fabric as well as body paint. "Get silk, not polyester. It's easier to work with, it looks better, takes dye better, and every time I wear it I feel incredible." Her biggest piece of advice for new cosplayers is to work with the best materials possible, even if you're making your very first costume. "You're going to spend a lot of time handling your materials. Pick something that is good to work with."
Picking high-quality materials will cost more than grabbing that bolt of polyester (or, in my case, going into a thrift store to find a shirt that is "close enough"), but if you are serious about creating replica costumes, be prepared to make the investment.
And if you can only afford to do polyester, or only want to do simple costumes like Adventure Time's Finn/Fionna, it's all good. There is room in the cosplay world for everybody, from the person who tapes a white star on a red T-shirt to play Homestar Runner, which I did for San Diego Comic Con, to the person who spends 15 hours adding tiny bolts into hand-crafted leather armor. All are welcome.
But yes, now you know how much those really amazing costumes cost.
Photo credits: Andrew Williams of Journeys In Color (USO Captain America), Norwescon official photographers (Senator Padmé Amidala), Ryan Nutick of Tanuki Photography (Prince Zuko).
All photos copyrighted and used by permission.
---
Support The Billfold
The Billfold continues to exist thanks to support from our readers. Help us continue to do our work by making a monthly pledge on Patreon or a one-time-only contribution through PayPal.