Which Game of Thrones Actors Get Paid The Most?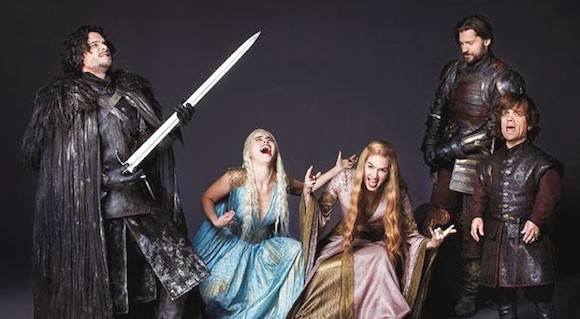 Why are these people laughing? Because they're making more money than everyone else.
The cast of HBO's Game of Thrones just finished renegotiating its contracts to include a guaranteed seasons 5 and 6 and the option for a potential season 7. As the Hollywood Reporter notes:
In exchange for the option, HBO has ponied up huge raises for seasons 5, 6 and the potential season 7 that will make the cast members among the highest paid on cable TV.
That doesn't surprise me at all. This, on the other hand, did surprise me:
With one of the largest and most diverse ensemble casts on TV, Thrones employs a tiered system to compensate its stars, according to sources.
Who's on which tier? Let's find out:
The A Tier, which the Hollywood Reporter states "renegotiated their deals in tandem," includes:
— Emilia Clarke (Daenerys Targaryen)
— Nikolaj Coster-Waldau (Jaime Lannister)
— Peter Dinklage (Tyrion Lannister)
— Kit Harington (Jon Snow)
— Lena Headey (Cersei Lannister)
Hollywood Reporter declined to say how much the A Tier was able to negotiate, but Deadline was happy to spread rumors:
I hear mainstays Peter Dinklage, Kit Harington, Lena Headey, Emilia Clarke and Nikolaj Coster-Waldau will all be paid close to $300,000 an episode. I hear the quintet did not negotiate together, with the deals done one by one over the past couple of months, with Harington, Headey and Clarke closing their new contracts first, followed by Dinklage, with Coster-Waldau wrapping the marathon talks. In exchange, the five have agreed to extend their deals to a seventh season.
Vanity Fair adds that Dinklage and Headey were making $160,000 per episode in Season 4, meaning that if they did hit $300,000 an episode, that's nearly a 100% raise. (Although $300K an episode sounds like enough gold to pay off the Lannisters' debts, if Game of Thrones were on network TV instead of cable they might be making even more. The Big Bang Theory's three leads just renegotiated their salaries from $350,000 per episode to nearly $1 million per episode, which is, famously, what the Friends earned.)
So that's the A Tier. Who's on the B Tier?
— Natalie Dormer (Margaery Tyrell)
— Sophie Turner (Sansa Stark)
— Maisie Williams (Arya Stark)
"And others." Got it.
There's something that seems just a little too real-world about this list. The whole "pay the young women less just because they're young women" thing. I did go back and check: Emilia Clarke is 27 and Natalie Dormer is 32, so my theory is as leaky as a Blackwater boat, but… come on, we're all thinking it, why isn't Arya on the A List? She's one of the primary characters, and she's the only one that George R. R. Martin has reportedly guaranteed will survive until the end of the series!
But now we know which actors HBO truly values, and which ones they're willing to relegate to the second tier. Of course, I suspect even the B Tier actors get paid pretty handsomely, so it's not like we're worrying that they're going to have to go out, kill farmers, and steal their chickens just to survive.
I'm also curious if HBO used its projected revenue calculations from 2015's "let everyone pay to stream HBO even if they don't have cable" plan into its budget, and if the actors' salaries are in any way reflective of the idea that HBO might come into a gob of money when we are finally allowed to give it to them.
---
Support The Billfold
The Billfold continues to exist thanks to support from our readers. Help us continue to do our work by making a monthly pledge on Patreon or a one-time-only contribution through PayPal.