Walt Disney World's New Fantasyland Less About Rides, More About Celebrity Encounters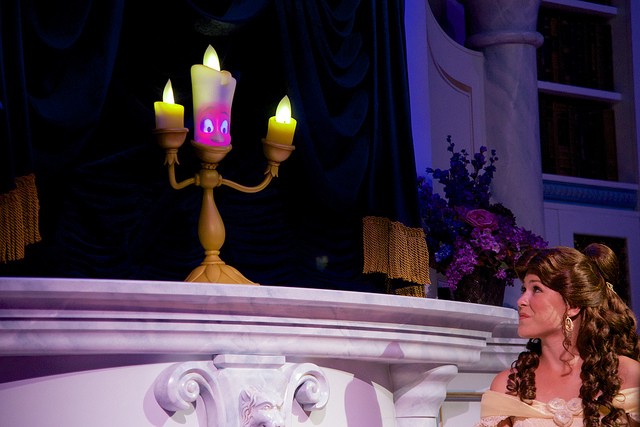 Even Lumiere is embarrassed that it has come to this.
I went to Disneyland (not Walt Disney World) last summer, and it might have been the two best days I spent at any one place ever. See, I love rides, especially rides like Soarin' Over California where they blast hints of orange scent in your face so you're fully immersed in the "let's pretend we're flying over an orange grove" experience.
I've also been to WDW as a younger person, and was equally enchanted. That moment in Pirates of the Caribbean when you glide through the tunnel and suddenly find yourself in an enormous dome crafted to look like the night sky? The bit where Mr. Toad crashes into a train? These are indelible experiences. They are magical.
But what do kids these days like? Celebrity encounters!
Slate's Dan Kois tells the tale of taking his children to Walt Disney World and discovering that the New Fantasyland, which just opened this past summer, was structured around making each child the star of a special Princess Encounter Experience.
Snow White's Scary Adventures, an old-style "dark ride" in which visitors rode a little car through Snow White's storyline, has been replaced by Princess Fairytale Hall, where guests wait in line for hours to meet and hug Cinderella, Rapunzel, and Sleeping Beauty — not to mention Disney's newest queens, Elsa and Anna.
I cannot even say how much this chills me to my core. Snow White's Scary Adventures, just like all of the Original Dark Rides, was amazing and wonderful. Standing in a line to hug a princess sounds boring. Maybe it would be different if I were a preschooler and still believed that the costumed character was the real Elsa.
It gets worse. Kois describes the Enchanted Tales with Belle attraction:
Inside, an eye-popping animatronic Madame Wardrobe welcomed the 50 or so of us to the castle and told us we were going to surprise Belle with a theatrical re-creation of her story. Roles were assigned — two dads (not this one, though I tried) played suits of armor, but all the other parts (including the Beast himself) were played by eager kids — and the story rehearsed. Then, in the library, an expressive little Lumière animatronic shushed us as Belle was about to arrive. "Surprise!" we all shouted as Belle entered — and she was, of course, delighted to see so many of her beloved villagers here to share her story with her.
What. The. What. This feels like school, like what I remember of kindergarten, where we also acted out fairy tales. It does not feel like riding amazing rides.
Kois takes the New Fantasyland renovation to its most unnerving conclusion:
I don't doubt that there will always be room in the theme park experience for traditional thrills. (Every day Imagineers work to spin you faster and more death-defyingly through space, and the Mad Tea Party isn't going anywhere.) But those kinds of experiences are less prized by today's parents and don't represent the future of theme park design. You can spend a day at Disney and have your child come away with the illusion that she drives the story, that she runs the show — the same illusion at the heart, it sometimes seems, of modern parenting, in which we foster boundless self-esteem in our kids even as we exert minute-by-minute control over their lives at a level unthinkable to parents even two generations ago.
Note that the "let's act out Belle's story" is an experience prized by today's parents, not necessarily by today's kids. It's something that they're willing to pay $274 per kid per day for (or, if you're writing Dear Prudence, she'll say you can lie about your kids' ages to get them in for free, but that's another discussion for another time).
The one good thing out of all of this — I hope — is that Walt Disney World has four unique theme parks and two water parks, and New Fantasyland is only one section of the Magic Kingdom theme park, and Disney is smart enough to have attractions for all attendees of all ages, which means that you don't necessarily have to stand in line to hug a princess if your kids would rather be riding Astro Orbiter.
And things will always change. Someday, they'll tear down the original Mr. Toad's Wild Ride; someday, they'll raze the Haunted Mansion. Disney has always carried magic in one hand and sadness in the other, the way all good fairy tales do.
Photo credit: Eric Vaughn
---
Support The Billfold
The Billfold continues to exist thanks to support from our readers. Help us continue to do our work by making a monthly pledge on Patreon or a one-time-only contribution through PayPal.