So You Want to Quit Your Job and Open a Bar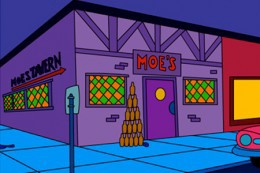 Gotta Go To Moe's
This Slate article offers wisdom for the many men who supposedly dream of quitting their mundane, workaday jobs and starting their own bars:
What would he tell a friend who was considering getting into the business? "I would tell them, 'I hope you like being in the basement a lot, because more often than not, that's where I find myself,' " Struble says. "I'm the guy schlepping kegs and unclogging toilets."
Oh? "So many people I know have a glorified idea of Oh, you're standing behind the bar and there are so many girls. That's the fantasy. It's not the reality," he says. "If I knew the occupation I would have now during college, I would have gone to refrigeration school or plumbing. I would not have gotten a master's in education."
Plenty of us sometimes wish we'd picked another major, but what else do bar owners mess up? "Make sure you are able to get a long-term lease," Struble says. "You can be the most successful place in the world, but if your landlord decides in three years that he's going to double your rent, are you going to be able to cover it? It's not sexy, but I've seen people flame out." Little about owning a bar, it seems, is very sexy. This should be obvious, since you're running a highly regulated gathering place for drunk people.
Um, seriously. I have never in my entire life met someone with this fantasy. Starting an artisanal belt-making operation using high-quality, locally sourced leather, sure. Starting a hip coffee shop that's also part laundromat and maybe part used book store, absolutely. But a bar? That never seemed romantic, just tedious and terrifying in equal measure. Have I just been hanging out with the wrong crowds / not enough men? What's your small business dream?
---
Support The Billfold
The Billfold continues to exist thanks to support from our readers. Help us continue to do our work by making a monthly pledge on Patreon or a one-time-only contribution through PayPal.