Paying by Phone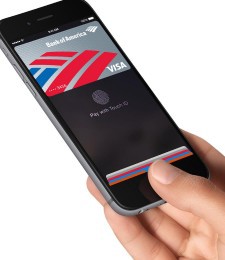 Apple's mobile payments system, Apple Pay, was launched this week, and is working in national retail chains like Macy's, Whole Foods, Walgreens, and Subway. Quartz has a guide to how it all works. Essentially, you'd connect one of your credit cards to your iPhone, and an antenna in your phone would automatically bring up the payments system when you're ready to pay. You'd then pay using the fingerprint Touch ID system on your phone.
Paying with phones isn't something new; places like Starbucks have encouraged customers to pay using their app — which you pull up and hold up to their scanner — by incentivizing rewards (a free drink or food item after 10 payments or so). I was an app user when I used to go to Starbucks on a regular basis (there is no longer one that's close to our office). It's not a perfect payment system — one report says that a few Apple Pay users have been hit with duplicate charges.
Will we all be paying with our phones in the next few years? Quartz considers this question:
Why should people use Apple Pay instead of simply swiping a credit card as they've easily done for years?
There's no one great answer yet. Apple Pay won't immediately, directly save you money. It might save you a little time paying, but not much. (Some of us may be faster retrieving and swiping a card than going through the motions with retrieving a phone from pocket or purse.) If you prevent your card number from being stolen, it might save you time lost updating your number on various auto-billing services. It might save the burden of trying to erase fraud or identity theft.
In apps, it might be easier to buy things, especially if you don't need to sign up for new accounts, enter payment information, addresses, and the like. That could be great news for mobile-first merchants. But it's still mostly theoretical time savings.
Credit and debit cards made some of us go cashless. Paying with our phones could potentially make us go wallet-less, which is an attractive idea for people who hate carrying around both their phones and wallets in their pockets. But cash still works for some people — 29 percent of us — so I suspect our wallets won't be disappearing anytime soon either.
---
Support The Billfold
The Billfold continues to exist thanks to support from our readers. Help us continue to do our work by making a monthly pledge on Patreon or a one-time-only contribution through PayPal.