On Seattle and Small Apartments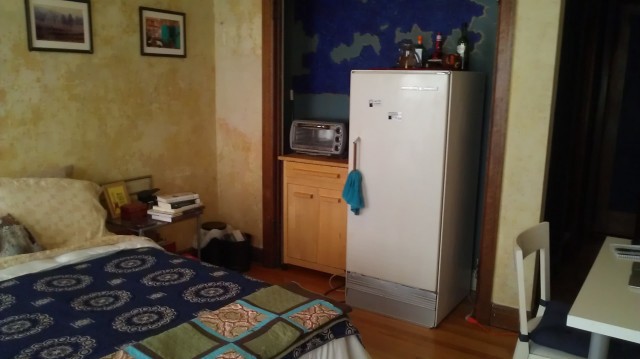 That's my apartment.
The whole thing.
You can't see the bathroom (it's in the shadowy doorway) and you can't see the bookshelf (it's next to where I'm standing to take the photo) but you can see pretty much everything else, including my "kitchen."
There's an interesting thing about Seattle apartments, and it's something I didn't learn until I was repeatedly sent a recent Politico Magazine article titled Scrunched in Seattle:
Seattle is the pioneer of micro-housing — tiny, one-room dwellings that are in turn hailed as an affordable, sustainable alternative to the high cost of city living, and disparaged as an inhuman experiment in downsizing. They are disruptors — real estate's version of a high-tech innovator, literally altering the landscape of the city they occupy. But are they are a force for good or ill? Seattle is still figuring that out.
The entire article is a great read — you learn how Seattle's building codes are different than, say, New York's, how "the city code counts kitchens, not sleeping units, for the purpose of regulating development" (which makes me really curious if my apartment "counts," since it is obviously kitchen-free), and how Team NIMBY is really upset that buildings designed to hold eight apartments are now being renovated to hold 64 microunits.
(It's fascinating how this narrative thread of "you can't do an Airbnb, I don't want to see strangers walking around all day" carries over into "you can't make a 64-microunit building in my neighborhood, I don't want to see 64 strangers walking around all day.")
The big issue I had with the article, however, was that all of us microtenants want to live in these tiny apartments.
At home, she invested in a hot plate to supplement the small microwave. She hasn't used it yet. She's been warned that her apartment is equipped with sprinklers that will likely go off in the event that she tries to cook.
"Which I personally like," she says. "It makes me feel safe, knowing that no one around me can start a fire."
The Politico piece is quick to flag that these apartments aren't designed for low-income tenants; they're designed for, essentially, people exactly like me: low-middle to middle-income young single professionals. (They're also priced accordingly.) They've quoted a few people who are happy with their microlives, which, you know, if they had asked me about my apartment, I probably would have said "yeah, it's a fun little place" too.
But the idea of me wanting to live here is a bit different. I love my cozy apartment, mostly because it's mine. But yes, I would have liked a kitchen. I would have liked a bigger room, or maybe even a one-bedroom. Making the choice to live in available housing isn't the same as wanting it.
See, there's another part of the Seattle housing story that the Politico piece didn't tell. It's hard to find a place to live. Seattle's alt-weekly The Stranger just ran an article on an apartment search that went nowhere:
Here's a question for you: Someone with a sign swaying outside in the summer breeze, someone who's taken the time to photograph an apartment for Craigslist — how on earth do you get them to return your calls? Is this a secret? Landlords with vacant apartments for rent want people to call them… right? Or do they not? Are there so many people calling every day that it isn't worth their time to call people back?
In the end, the Stranger writer gets a rental not by comparing two or three available choices and deciding which one he wants; he takes the unit that he is able to view by "sheer luck." That's how my apartment search went, too. If I had been able to choose between two or more apartments, I might not have picked a microunit. (Or, maybe, I would have learned that there were only microunits available.)
Also, since you're going to ask: rent is $675.
---
Support The Billfold
The Billfold continues to exist thanks to support from our readers. Help us continue to do our work by making a monthly pledge on Patreon or a one-time-only contribution through PayPal.