Career Advice from Amy Poehler: Practice Ambivalence, Let Go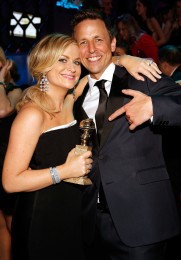 God bless the genius Amy Poehler. Her advice to all of us — especially the ladies — is not lean in but rather take a deep breath, hang back, cool down. We do not have as much control over whether we succeed in our passions or our careers as we might like, so the only thing we can do is focus on the process.
If you are a reader who is not exactly sure what Sandberg actually does for a living, but knows it doesn't sound like any fun, books like Lean In can feel less than helpful. If, in other words, you are more interested in a life of creativity than corporate dominance, you may find more to take away from Poehler's advice to, as she writes, "treat your career like a bad boyfriend."
What's refreshing about Yes, Please, and a tiny bit radical, is the way Poehler doesn't assume career follows passion. In fact, she writes, "your career and your passion don't always match up." Still, she counsels, you should work as hard as you can to follow your passion, and even then, "hard work doesn't always matter." So you should just let go. "Try to care less," Poehler writes. "Practice ambivalence. Learn to let go of wanting it." Because "career is the thing that will not fill you up and will never make you truly whole. Depending on your career is like eating cake for breakfast and wondering why you start crying an hour later."
I would cry an hour later out of pure happiness and wishing I could have more cake, but that's just me. Poehler sums up her philosophy this way: "You have to care about your work but not about the result."
---
Support The Billfold
The Billfold continues to exist thanks to support from our readers. Help us continue to do our work by making a monthly pledge on Patreon or a one-time-only contribution through PayPal.