Producing a Beyoncé-themed Burlesque Show on a Budget: Part II
by Amanda Green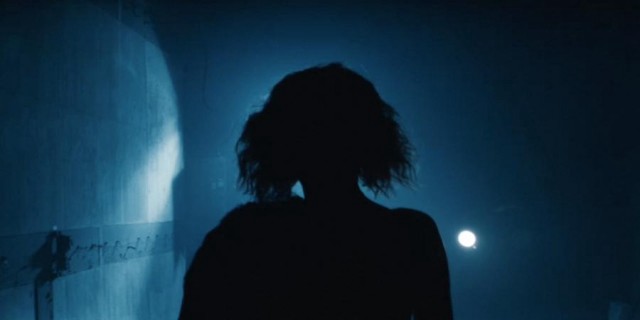 Part two of a series, wherein the author attempts to answer the question, "Can I produce a NYC burlesque show without losing my shirt?" Part one is here.
Last time I wrote about the "All the Single Ladies" Beylesque show, it still felt hypothetical. Now it's really about to happen. (Shameless plug: On Saturday, September 6, at 11 p.m. at Parkside Lounge!) My co-producer Calamity Chang and I are trying to spread the word and split the last few tasks, but the hard parts are behind us. And the hardest of the hard parts was the search for outside support. Calamity and I were comfortable setting an $800 budget for the show and not breaking even, but we decided to pursue sponsors to avoid footing the whole bill.
There's this irritating thing that happens in a lot of profiles of entrepreneurs. The subject will seem so relatable and like someone you could emulate…until the piece reveals some privilege or lucky break you'll never have. For example, "With a $150,000 inheritance and a dream, Trevor opened the eco-friendly skateboard shop for dogs."
This is not that profile. Calamity and I are what the Eurythmics would call "sisters doin' it for themselves." That said, we've made the most of the connections and skills we have. Calamity has strong relationships with burlesque performers and venues. When she's not in pasties, she's an art director. I'm a freelance writer/editor with an assortment of random connections to publicists and people I've used as sources.
Targeting Sponsors:
Calamity and I started by asking ourselves WWBB — what would Bey buy? I mean, if she were a normal person, like us. We didn't have months to court big brands, and "All the Single Ladies" is a small production, anyway. We made a dream team list of local businesses that are fun, sex-positive, and loved by the women we want to come to our show. Any business we have a personal connection to was put at the top of the list.
The Pitch:
Calamity and I met working in advertising, so we're adept at putting pitches together. Usually it's for something like Metamucil, but whatever. We went above and Beyoncé on a 10-page deck explaining the reason for the show and outlining three sponsorship levels named Run the World ($850), Suga Mama ($550), and Diva (product donation). The more a business gave us, the more we promised to promote it. For example, here's what Run the World sponsors could expect from us:
• [Brand] mentioned as the presenting sponsor of "All the Single Ladies" in all promotions
• [Brand's] logo displayed above the stage
• [Brand] incorporated into a custom live performance at the event
• [Brand's] logo included on all printed and online marketing materials and in all social media/online promotions with a link to its website, Twitter, or Facebook page
• [Brand] has the option to set up a vendor table at the show
• [Brand] included in two coveted raffle bags
If Calamity and I had to make the deck again, we'd probably think smaller. All sponsors really want to know is 1) who's your audience, 2) what's the seating capacity, and 3) and what you can do for their business. This can be covered in three pages or so. Another thing we'd suggest is being transparent about how you'd use a full sponsorship. Businesses want to know that you're not going to Scrooge your performers over and then swim in a pool full of gold coins or something.
The Sponsors:
We emailed our pitch decks about a month and a half before "All the Single Ladies." In hindsight, we should've done it sooner. I immediately heard back from the businesses where I had contacts. Calamity and I met with one potential sponsor who was really excited, but then backed out due to conflicting vacation plans. But there's a happy ending! We had a conference call with the good people at Blowfish for Hangovers, an effervescent over-the-counter hangover remedy that works like Alka-Seltzer. They agreed to be our official sponsor at a negotiated rate and will pass out free Blowfish tablets to All the Drankin' Ladies. (Thanks, Blowfish!)
I felt so confident after Blowfish signed on, that I started telling people that the show would include free cupcakes for Beyoncé's birthday. The only problem was that cupcakes weren't in our budget. Calamity doesn't care for sweets, which is probably why she can pull off wearing a g-string in public, but she helped me make a shorter deck for cupcake donations. I received a quick "no" from one purveyor of mini-cupcakes. Another bakery close to Parkside Lounge never responded. I wanted delicious cupcakes, but I also needed a bakery that didn't already have so much buzz that it didn't want our publicity. On a whim, I reached out to one more bakery that's off the beaten path, but has great Yelp reviews. A few days later, I got a yes! Sweet and Shiny in Bushwick will be donating four dozen cupcakes to our show, in exchange for promotion, our undying gratitude, and maybe my firstborn food baby. (Thanks, Sweet and Shiny!)
With hard work, Calamity and I got super lucky. Still, most businesses we pitched didn't get back to us. When Babeland replied that it unfortunately didn't have the budget to donate money, I asked if it could spare toys for our raffle bags. It could — and did! (Thanks, Babeland!) The lesson: Always remind businesses that product donation is better than nothing.
Another Money-Making Scheme:
Early on, Calamity and I decided to raffle off two goodie bags to make more money. Other than the Babeland toy donation, we knew we had to spend money to (hopefully) make money. This is where our connections also paid off. Because Calamity and I work in advertising and magazines, we get a lot of freebies. Another one of the biggest perks of magazine publishing is super-discounted product sales. Every quarter or so, magazines clean out closets full of products they were sent by different brands. A few have been photographed or gently sampled, but most go untouched. Magazines hold sales to get rid of these items, usually for $1 each, and then usually donate the proceeds to charity. This is why I'm now addicted to expensive beauty products.
Calamity and I scored big at a sale a few weeks ago. For $15, we bought full-size Prada and Issey Miyake perfumes, Urban Decay cosmetics, Kat Von D nail polish, and more. Our raffle swag bags are each valued at over $200. We're selling one ticket for $2, three tickets for $5, and a $20 body wrap option, in which you wrap tickets around the widest part of your body. Honestly, I sort of wish I could enter the raffle.
Marketing The Show:
"All The Single Ladies" has all the makings of an awesome event. But if an awesome burlesque show happens in the Lower East Side, and no one is around to see it, is it still awesome? We don't think so. Calamity and I won't be sure of the turnout until the night of September 6. We've created a Facebook event page, but I don't really know anyone who reliably responds to those invites. Sadly, a number of my friends have weddings to attend that weekend. NYC is also the flake capital of the world.
Calamity and I aren't going to pay for ad placement in a newspaper, but we've sent a press release about "All the Single Ladies" to a few different print and online publications. I've added the show to online event calendars, including doNYC, and we'll be mentioned in The Skint next week. When we first brainstormed Beylesque, I imagined taping flyers to street lamps and leaving postcards in coffee shops. Calamity designed a great poster, but we've only been using the digital image. At this point, we don't really have the budget to print hundreds of copies. Let's hope that wasn't a mistake.
Total expenses to date: $771
If you're in NYC, please come to "All The Single Ladies" Beylesque at Parkside Lounge on September 6! Doors open at 10 p.m., and the show starts at 11 p.m. We have a cupcake and Ring Pop for you.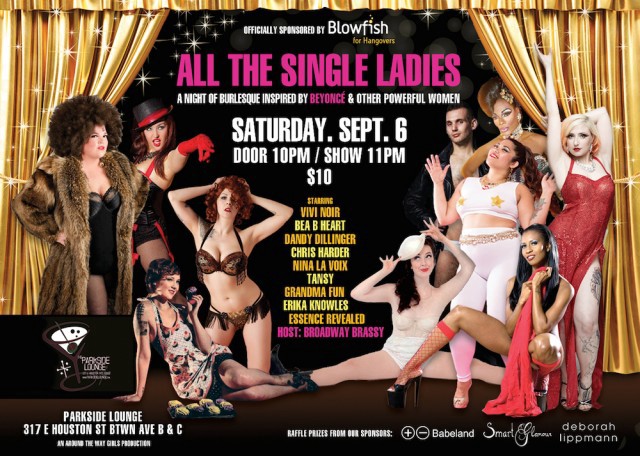 Next post: Was our show too bootylicious for ya, babe?
Amanda Green is a freelance writer and editor in New York City. She's written for Mental Floss, Popular Mechanics, Marie Claire, and various other print and web publications.
---
Support The Billfold
The Billfold continues to exist thanks to support from our readers. Help us continue to do our work by making a monthly pledge on Patreon or a one-time-only contribution through PayPal.