Parent Penalty FOR MOMS ONLY Blah Blah Blah Let's Talk About Something More Cheerful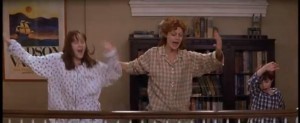 Mommies, especially low-income ones, take a hit in the labor market, whereas daddies, especially already privileged ones, reap rewards. You must be as tired of reading this nonsense as I am of writing about it.
Ms. Correll asked participants how much they would pay job applicants if they were employers. Mothers were offered on average $11,000 less than childless women and $13,000 less than fathers. In her research, Ms. Correll found that employers rate fathers as the most desirable employees, followed by childless women, childless men and finally mothers.
Low-income women lost 6 percent in wages per child, two percentage points more than the average. For men, the largest bonuses went to white and Latino men who were highly educated and in professional jobs. The smallest pay bumps went to unmarried African-American men who had less education and had manual labor jobs. "The daddy bonus increases the earnings of men already privileged in the labor market," Ms. Budig wrote.
GAH SEXISM UNEQUAL OPPORTUNITY OUR CLASSLESS SOCIETY okay I'm out. Only good news now:
+ Jesse Mecham of YNAB did an AMA.
+ New Orleans's economy has seriously bounced back post-Katrina; it reversed a pre-hurricane decline and is now outperforming the country in general.
+ Here's what Rupert Giles maybe studied at Watcher / Librarian school.
+ New pizza box will save the world.
---
Support The Billfold
The Billfold continues to exist thanks to support from our readers. Help us continue to do our work by making a monthly pledge on Patreon or a one-time-only contribution through PayPal.