Beauty Products Will Destroy You, & Not Just Financially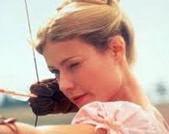 Because apparently we've gone from Feminist Socialist Revolutionaries around here, with Mike gone, to a Blog About Shoes, Dresses, and Cosmetics, here's some delightful news: nail salons are germ-factories and lipsticks are full of lead.
It's not just lead we're slathering on our mouths, either. According to Mother Jones, a variety of lip-products tested contained all sorts of elements from the Periodic Table:
In a small study out last week, researchers asked a group of teenage girls to hand over their lipsticks and glosses and tested them for toxic metals, including lead and cadmium. Though metal content varied widely from brand to brand, they found that women who apply lipstick two to three times daily can ingest a significant amount — 20 percent of the daily amount that's considered safe in drinking water or more — of aluminum, cadmium, chromium, and manganese. Depending on the lipstick, in some cases women who slathered it on (14 times a day or more) were meeting or surpassing the daily recommended exposure to chromium, aluminum, and manganese. Lead, a metal that humans should avoid exposure to entirely, was detected in 75 percent of the samples.
Mother Jones, it goes without saying, doesn't wear makeup. If you must, though: "The FDA's 2012 test found less than one part per million of lead in Wet n' Wild, Bobbi Brown, and Shiseido brand lipsticks."
Great! Now what about our nails? They / we are doomed, too, according to the New York Observer.
More than half of the nail salons in New York were found to be in violation of health and safety rules. Customers have contracted hepatitis and staph infections, although hopefully not at the same time. The situation is toxic for the employees too:
• Nail salon employees (of which there are 13,100 in New York) are most at risk, and they report frequent instances of skin problems, eye irritation, allergies, neck or back discomfort and asthma. Many work long hours and don't have health insurance. Imagine those health bills. In New York City, nail technicians earn an average of $8.95 per hour.
• There are no regulations governing proper ventilation in salons.
• Nearly 75 percent of nail salons in the U.S. don't comply with standards for disinfecting nail equipment. This includes reusing nail files and failing to sanitize foot baths. The latter can cause staph infections, hepatitis and bacterial infections.
• UV lamps used to dry your nails can be as harmful to the skin as tanning beds are. There is "little to no regulation on the manufacturing of these nail lamps," the report says.
Beauty is pain. Life is pain. I guess the only solution is to become Feminist Socialist Revolutionaries after all.
---
Support The Billfold
The Billfold continues to exist thanks to support from our readers. Help us continue to do our work by making a monthly pledge on Patreon or a one-time-only contribution through PayPal.