An Interview With a Friend Who Got Bedbugs The First (And Last) Time She Used VRBO
by Amanda Green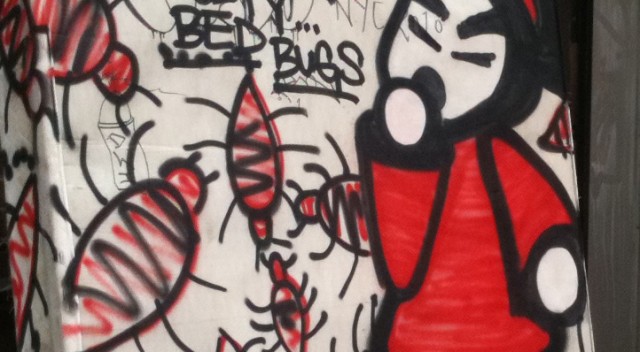 So, what have you been up to?
I went to Big Bear Lake, California for a bachelorette party. Twelve of us stayed at The Moose Lodge at 209 Elgin Road, which another friend had found on VRBO. It looked great — cute cabin, moose stuff everywhere, very rustic, close to the lake… And full of bedbugs.
Nooooooo!
I went to sleep earlier than the other girls on Friday night, and I could hear them hanging out in the other room, so I slept with my right arm under my pillow and put another pillow over the left side of my face. One of my friends shared the bed with me and went to sleep much later. Saturday morning, she woke me up saying she saw bedbugs under her pillow. I jumped out of bed panicking. My suitcase had been unzipped on the floor next to the bed all night. The rooms have shag carpeting. Everything in the cabin is dark-colored, so it you're not looking closely, you probably wouldn't notice it. We found bedbugs in all of the bedrooms, climbing on the walls, in the sheets, on the couch. There were even blood stains on some bedsheets from rolling over bedbugs after they'd been feasting on us. It was disgusting.
Were you covered in bites?
Initially, it was just 10 bites on my arm, but the bites don't always show up right away. As the day went on, I could see bites all over my body and face. By Sunday evening, the ones on my hand were hot to the touch and so swollen that it hurt to make a fist, so I went to urgent care. The doctor stood 10 feet away from me and said it was the worst case of bedbugs he'd ever seen. He prescribed steroids and antibiotics, and said I might need an IV if it got worse. I have over 200 bedbug bites — 50 on my right hand alone.
I had the worst initial reaction, but as the days go by, more and more girls are finding bites. Another girl is now covered head to toe and had to go to urgent care for steroids and antibiotics. Fortunately, the others' bites haven't been as severe, and the bride was spared.
I've always considered bedbugs a New York thing. Did you ever get them when you lived in the city?
I did about eight years ago when I lived in Manhattan. The exterminator came multiple times, but it wasn't as bad as the situation at The Moose Lodge.
How did the rest of the weekend go?
On Saturday, we pretty much spent the whole day at the laundromat and found another place to stay. The friend who rented the cabin called the property manager right away. Apparently, a woman who stayed at the cabin two weeks before us complained about bedbugs and left a review on VRBO about it, claiming she hadn't gotten her money back. Our group had reserved the cabin a long time ago. The girl who rented the cabin saw the review before we arrived and called the property manager, who assured her that the situation had been taken care of. The property manager also responded to the review online, saying the same thing. I know there are many steps to getting rid of bedbugs, especially in a case this severe. You don't just wash all the linens. I doubt that they even called an exterminator.
So we called the property manager, and she said the owner would meet us at the cabin to inspect it. He was aggressive and said he had to see live bugs. At this point, we'd all taken hundreds of photos of bedbugs we saw and bites we had. Then the guy didn't show up! We called the owner, and he said he was eating lunch and would come over when he wasn't hungry! My friend who rented the place stayed there to wait for him, and the rest of us went to the laundromat. When the owner finally showed up, he told my friend he didn't have the money to give us a refund. He asked if he could pay us back in installments. She said yes and asked if she could have that promise in writing. He said no and told her to leave the premises. None of our emails or phone calls have been returned by the property manager or owner since. However, the owner did send my friend a weird text on Monday, saying that he would pay her back on September 1 and October 2. She emailed him back to ask for our money now, and got no response.
One of the worst things about the whole situation is knowing that this cabin is rented out all month. How many other people are going to get bedbugs before someone fixes this situation?
Have you contacted VRBO?
Multiple times. On Monday, my friend called the customer service number, and someone there told her to submit a complaint online. We submitted a complaint. Twenty minutes later, we got a form letter back that basically said, "We're sorry to hear about your unfortunate experience. We're a third-party marketer, and we encourage both parties to find a mutually agreeable solution. Thank you for using VRBO!"
I did some Internet digging to find someone on a management team who would actually do something. I found Brent Bellm, the COO of HomeAway.com, which is the parent company of VRBO. Through trial and error, I figured out his email address, and I sent him my complaint with attached pictures. I explained that this active listing has a severe bedbug infestation, and it's a public health matter. He responded, "Yuck. I've asked our team to look into it. Thanks."
Then I realized that the online reviews we wrote to warn other people about bedbugs still haven't been posted! I emailed Brent Bellm again, he forwarded me to customer service, and someone there said it can take over a week for reviews to be moderated and posted. Basically, there was no way to warn the poor souls who checked into this cabin over the Labor Day weekend. I feel horrible about it.
I've used Airbnb a number of times, and this is my worst nightmare. Now that I'm thinking about it, I've never read the fine print about who's responsible in situations like this.
This is my only experience with VRBO, and I've never used Airbnb. I'm pretty sure VRBO isn't going to take responsibility, but allowing this listing to stay active is unacceptable. They're putting a lot of people at risk.
That's the danger of sites like VRBO. If I were staying in a hotel, it would take responsibility for this and at least refund my money right away. It turns out, The Moose Lodge is actually owned by an LLC. We're probably going to have to go to small claims court to get our money back.
Wait. This is your first VRBO experience? Oh my God.
Yeah. Other friends have recommended VRBO and had good experiences. But this has been horrific. When I showed up at work Wednesday, some of my co-workers were concerned that I was putting the building at risk. I'm in physical pain, I'm humiliated, I feel cheated by The Moose Lodge and VRBO… And all my stuff from that weekend is still sitting in garbage bags. Everything's been washed multiple times, but it takes really high temperatures to kill bedbugs, and they can live for months without eating anything. It's a lot to deal with right now.
How much would you say this whole experience has cost you so far?
We paid around $1,500 for the weekend upfront. It cost $140 to go to urgent care and fill my prescriptions. When I finally got back home to Seattle, I took a day off from work to deal with all my belongings that had been exposed to bedbugs. I'm a contractor, so I don't get paid if I don't show up. There's the humiliation and disgust I feel. Now I'm worried about scarring on my feet, legs, and hands. I don't know how to put a price on those things.
I'm so sorry you're going through this. It makes me hope there's bedbug karma.
That's what I wanted to say to these guys! If you think this cabin's okay, then you spend the night there.
Sleep in the nude…
And snuggle up! Then tell me that this room's fine and there's no problem.
Was the bachelorette party totally ruined?
I mean, yes. It was supposed to be about celebrating my friend and having fun together. But it was good to see my friends. We bonded through bedbugs. I just want VRBO or The Moose Lodge, whichever, to do the right thing, give us our money back, and remove the listing until it's safe to stay there.
Amanda Green is a freelance writer and editor in New York City. She's written for Mental Floss, Popular Mechanics, Marie Claire, and various other print and web publications.
Photo: Dan Nguyen
---
Support The Billfold
The Billfold continues to exist thanks to support from our readers. Help us continue to do our work by making a monthly pledge on Patreon or a one-time-only contribution through PayPal.