A City that Drives You So Crazy, You Buy a $4,000 Jacket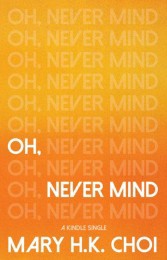 Our pal Mary H.K. Choi has a collection of five essays about leaving New York (but, it is, of course, more than that), which you can buy in the form of a Kindle single for $1.99.
The essay that is most in our wheelhouse is called "Money Isn't Everything; Just Most Things. Basically Everything. It Just Depends." and is excerpted at The Cut, though the full version from the single is much better. Choi recalls walking into a Rick Owens store, shopping for 30 minutes, and walking out with a $4,000 jacket paid with a credit card. She's nonplussed by her decision:
I'm not one of those people who shops compulsively, feels feelings, and then shoves all that dread in a drawer and backs away. In fact, it's a telling signal of egregious incompetency that my bank didn't call me right then to see if shit was cool. What's screwy is, I'm way too practical and far too accustomed to being broke. I'm the daughter of immigrants who work in the service industry. My dad salts away shirts older than I am, and my mother mends them when they tear. They live in San Antonio, Texas, and will never see this jacket, and if they do, I'll lie about the cost in order to protect them. They're not poor, they're practical, and trying to be a writer in New York is a big-enough crazy that you get just the one before somebody puts a foot down. Even I know that.
To make up for my dubious profession, I don't loll around ordering garbage off the Internet, nor do I sashay into boutiques, cooing and air-kissing salespeople who refer to me as their "client." I am not plied by overpriced gewgaws, nor do I commission saberings of jeroboams while declaring Macau the "new Vegas." I don't do "baller" things on Instagram. I have never purchased anything Kanye West has ever yelled about.
As Choi describes it, she essentially bought "two MacBook Airs' worth of lightweight coat."
The decision is based on a confluence of events related to working as a writer and living in pre- and post-Recession New York, writing about fashion to pay the bills, and living in a city where money doesn't make sense; where the odds of making it are exponentially higher if you have financial assistance or a trust fund — the kind of money that could buy a $4,000 jacket. New York drove Choi crazy, and in the frenzy, she bought a $4,000 fur-lined motorcycle jacket. And then she left.
If this city ever makes me crazy enough to buy a $4,000 jacket, it'll be a sign that I'll need to leave too.
---
Support The Billfold
The Billfold continues to exist thanks to support from our readers. Help us continue to do our work by making a monthly pledge on Patreon or a one-time-only contribution through PayPal.