When Restaurant Workers Can't Afford to Eat
by Dory Kornfeld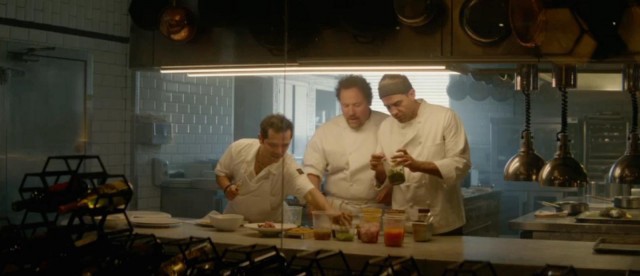 In July, the Restaurant Opportunities Center (ROC) of New York, an organization dedicated to improving wages and conditions for people who work in restaurants, released a report called "Food Insecurity of Restaurant Workers." The report, based on surveys and interviews with people in the restaurant industry in New York and San Francisco, shows the ways in which the employment conditions of restaurant work make it very difficult for workers to feed themselves.
Though the low-wage nature of serving, cooking and dishwashing is well-known, the report puts some hard numbers on this phenomenon: 32% of restaurant workers meet the USDA definition for food insecurity, more than twice the national average. (The definition of food security that the USDA uses is "access by all people at all times to enough food for an active, healthy life" — food insecurity is measured by asking people if they ever didn't have enough money to buy food, if they skipped meals, etc.) This is particularly jarring given that food prep — i.e. restaurant work — is one of the fastest growing jobs this decade, and the ROC report claims that it's the segment of the food system that employs the most workers.
Specifically, the employment conditions the report writes about include wage theft, tip theft, failure to pay overtime, and a constantly changing work schedule (see: the Times' Starbucks story).
There has been some great writing recently about the class dynamics and poverty aspects of working in the food industry. A few recent favorite of mine — which I've taught in an urban food studies class at Columbia — include Gabrielle Hamilton's Blood, Bones, and Butter, Tracie McMillan's The American Way of Eating, and Molly Osberg's "Inside the The Barista Class."
In Blood, Bones, and Butter, Hamilton talks about the restaurant and catering work she did when she was young and broke (before she opened Prune), describing the rampant overwork of freelance cooks in New York City's warehouse catering kitchens. McMillan's The American Way of Eating describes her time working in three different part of the food system — as a farmworker in California, picking fruit; in the produce section of a suburban Detroit Walmart; and in the kitchen of the downtown Brooklyn Applebees — and carefully and thoughtfully shows the links between the industrialized food system, low-wage labor, poverty, and food insecurity. Osberg's piece at the Awl is about working as a barista in a fancy-pants Greenpoint Café and the added pressure of the emotional labor of being cool for customers while being more aware that she can't afford the life of the social strata she inhabits.
These women offer well-told accounts of their personal experience that expose deeply troubling things about business that we interact with constantly, and seamlessly. The ROC report makes the smart move of highlighting the irony of food insecurity among those who make our food, provides data about how widespread this is, and transforms the stories of low-paid, tip-reliant, freelance, uninsured, precarious food-industry employment into concrete policy recommendations: increase the minimum wage, offer paid sick leave and other benefits, develop paths for career mobility, increase actions against wage theft, increase the unionization of food workers, guarantee regular schedules.
Yes. Yes to all of that. But yes and.
In the urban food studies class I taught, I had my students read about the supermarket industry, food access inequities, food employment, the role of food in neighborhood change, and food justice. Many of the books and articles we read ended with a call to look beyond food and address unemployment, poverty, racism, and disinvestment. We read over and over again that framing problems of food access as lack of supermarkets and overabundance of bodegas, or a lack of knowledge about how to eat healthy on a budget is shortsighted. In fact, food access problems are principally cashflow problems. When people have enough money, they buy the food they want, which is generally basic healthy stuff. When people are not working three part-time jobs scattered across the city, they have time to go to the supermarket, buy the stuff they need, and prepare food at home.
Beyond that, for people who live in poverty, food choices are not the only factor that influence health. As Heather Tirado Gilligan put it in a Slate article earlier this year:
"Researchers who focus on health disparities have suspected for decades that people who live in poverty die early because of the stress of poverty itself rather than the poor health choices low-income people make. That's not to say that poor people don't make decisions about diet and exercise, but in general they are preoccupied with very different choices than wealthier people are: Should I pay my electricity or my water bill? Can I pay my rent and buy my kid a pair of school shoes? The immediacy of these pressures may make it more difficult to think about how eating choices today will affect health 10 or 20 years from now."
Tirado Gilligan critiques the policies that put more supermarkets in the inner cities and teach former convicts about fennel and ignore the deep poverty issues that actually produce health disparities. So planning reports like New York City's FoodWorks, which assert that strengthening the city's food system includes creating jobs in food processing, manufacturing, and retail, seem like a bright spot on the horizon. Here is an approach that recognizes that poverty is an issue to address alongside improving links with regional agriculture, and seeks to use the seriously hot issue of improving our food system to push forward more opportunities for employment in a city where 21% of people live in poverty and 45% live below 150% of the poverty threshold.
But when the articles and the memoirs and this report from ROC continue to highlight the low-wage, low-status, precarious nature of food sector work, is this the right idea? It seems really neat and tidy to talk about simultaneously strengthening the food system, providing jobs, and improving the economy of New York City, but unless there is a plan to make sure these jobs are living wage jobs, or better, unionized jobs, it seems irresponsible to promote them.
Those of you who have worked in the restaurant industry: What do you think the possibilities are for improving wages and working conditions? Can this line of work be stable and secure?
Dory Kornfeld is a Ph.D. candidate in Urban Planning at Columbia. Her best side gig is teaching economics to IBEW union members at the Harry Van Arsdale Center for Labor Studies. She also makes quilts for all the weddings and the babies. Her halfhearted tumblr is greenpeugeot.tumblr.com.
---
Support The Billfold
The Billfold continues to exist thanks to support from our readers. Help us continue to do our work by making a monthly pledge on Patreon or a one-time-only contribution through PayPal.